Levon Satamian | January 8th, 2019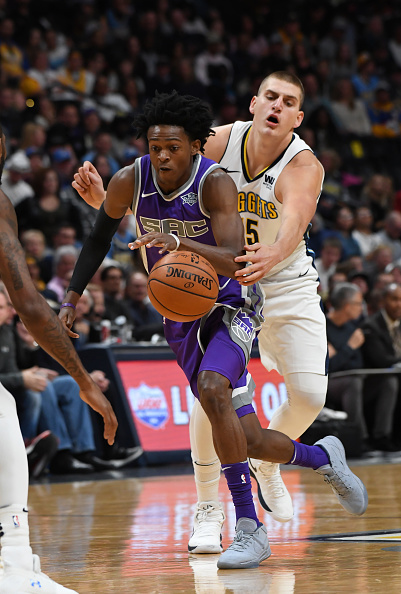 Last season, the Sacramento Kings drafted Kentucky guard De'Aaron Fox. He was my favorite player from the draft. However, it was not the best of seasons for Fox or the Kings. It was understandable because they were a young team and did not have many veterans to mentor them. They finished last season 27-55. It was a disappointing season but there is a lot of potential on this team. Fox averaged just 11.6 points, 2.8 rebounds, 4.4 assists, 1 steals, 0.3 blocks, and 2.4 turnovers per game, on .412 FG%. Some people started calling Fox a bust and saying he is not the real deal, he's overhyped, etc. But I knew that Fox would definitely come back better than ever and put the league on notice.
This season, Fox is averaging 17.8 points, 3.5 rebounds, 7.5 assists, 1.7 steals, 0.5 blocks, and 3.1 turnovers per game, on .468 FG%. As you can see, Fox has improved tremendously. If he reduces his turnover, he will be one of the top point guards in the league. He has formed a three-point shot as well. Last season he averaged just 0.6 threes per game, this season he is averaging 1.1 threes per game. The Kings as a whole have evolved, but, Fox has led the ship. Buddy Hield has been another impressive player this season, alongside Bogdan Bogdanovic, Nemanja Bjelica, and  Willie Cauley-Stein.
Hield has averaged 20.5 points, five rebounds, 2.4 assists, and a staggering 3.3 threes per game. The 2nd pick in the draft, Marvin Bagley III, has been out with a knee injury. He started off the season slowly, but before getting injured he turned it up, now averaging 12.7 points, 6.1 rebounds, and one block per game. Iman Shumpert is another player who has played well. Maybe the Cavs should have used him more when they had the chance. Now that Shumpert is getting a chance to showcase what he's made of, he isn't putting up eye-popping numbers, but he is helping the Kings win games with his defense and three-point shooting.
They have a closer in De'Aaron Fox and at Bogdanovic, which is always a good sign for any team. Fox and Hield are an underrated backcourt but one duo that no one mentions is Bogdon Bogdonovic and Nemanja Bjelica. Bogdanovic this season is averaging, 15.7 points, 3.5 rebounds, 3.9 assists, and 2.1 three-pointers per game. Bjelica's minutes constantly fluctuate, but he is averaging 11.2 points 6.3 rebounds, and 1.6 three-pointers per game. He has four double-doubles this season, but coach Dave Joerger plays Bjelica more when his shot is going in. When it's not, he doesn't play as much.
The Kings are currently sitting in 10th place, with a record of 20-20. They are just 1.5 games behind 8th place and seven games behind first place. I'm not saying the Kings will be in first place, but they could sneak into the playoffs if they keep this play up. They are in a bit of a slump now but, as I mentioned earlier, this team has plenty of potential and I expect them to continue getting better game by game.
Questions and comments?
thescorecrowsports@gmail.com
Follow Us on Twitter @thescorecrow
Follow Us on Reddit at u/TheScorecrow
Follow Levon Satamian on Twitter @TheSportsNotes Main Credit Image: [getty src="864832394″ width="401″ height="594″ tld="co.uk"]