Pranav Ramasubramanian | March 23rd, 2019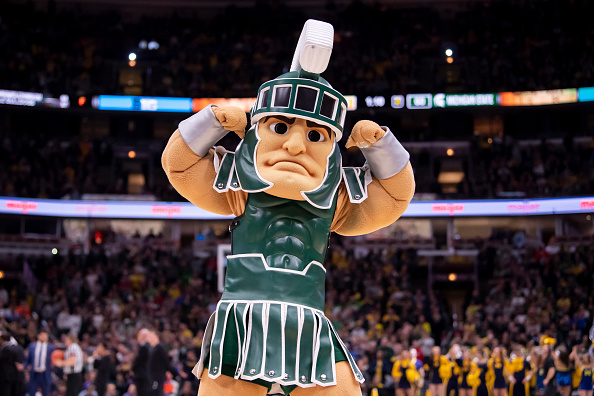 The most popular time of the year in college sports is finally upon us and March Madness brings a ton of surprises, upsets, and Cinderella stories. The 1st round concluded on Friday ending many teams' seasons. Now it's on to the Round of 32.
East
Michigan State vs Minnesota
Minnesota shot the lights out against Louisville hitting 3 after 3 and that's the formula they need to bring to this game while Michigan State must be on their game after an off-game vs Bradley. Gabe Kalscheur needs to keep his hot shooting streak alive and hit some threes to give the Golden Gophers a chance. The Gophers also need to get a little balance down low from forward Jordan Murphy, and center Daniel Oturu, who had strong showings last game and need to do it again. Michigan State can use their toughness to counter whatever Minnesota tries to run down low by either playing straight up defense or waiting back and then using their size, but they need to be sharp on defense and Nick Ward and Xavier Tillman should be ready for the challenge while also being ready offensively as Tillman just needs to keep up his scoring while Ward needs to step up if he wants the Spartans to advance. Matt McQuaid can do a good job of stretching out the perimeter so he needs to shoot more and give himself a chance to get more involved in the game to help the Spartans offense. The X-factor player for Michigan State will be guard Cassius Winston, who can drive to the rim and shoot threes on offense or find his teammates in good spots to help run the offense while Minnesota's X-factor is Amir Coffey, who will be trusted in key moments to get big baskets and he needs to come through when it matters most to give his team that chance. This should be an even matchup, but I have to give the Golden Gophers the edge because they are gonna play with more energy and hunger and their perimeter game is gonna be stronger while Michigan State will play better, but it won't be enough this time around.
Prediction: Minnesota 79 Michigan State 73
LSU vs Maryland
LSU likes to play with a lot of speed and they used it to beat Yale after stopping their furious comeback effort and it all starts with the Tremont Waters, who shoots 51% percent from the field and plays good defense to keep the team connected and ready. LSU can also mix it up with big bodies like Naz Reid and Kavell-Bigby Williams while Naz Reid's passing ability helps him find teammates for good looks his offensive game when clicking is unstoppable and he needs to play in the post to try and make Maryland lose energy on defense so they don't have enough on offense while Kavell-Bigby Williams can rebound and box out well so he should control Maryland's bigs well. The three-point shooting for this team comes mainly from Skylar Mays, who can just seem to rise up and drain one from anywhere on the court. Maryland got out of a dogfight of a game against Belmont and they really need to find some consistency from their guards because other than Anthony Cowan nobody has shown up consistently and they must show up if they want a chance to advance. The freshman sensation Jalen Smith could have a big impact in this game if he brings his edge and toughness along with post scoring prowess and could really push Naz Reid on defense. The X-Factor for Maryland will be Bruno Fernando, who is a great rim protector and can use his frame to control the paint while the X-Factor for LSU will be Ja'Vonte Smart, whose ability to run the transition will be the Tigers greatest weapon. Will Wade needs to push all the controversies away and just coach and this should be a tight battle, but the Tigers better outside shooting gives them the tiny edge to eke out a win and a Sweet 16 berth.
Prediction: LSU 77 Maryland 74
Midwest
Kentucky vs Wofford
PJ Washington will seem to be out yet again so the Wildcats will have to turn to their freshman guards Tyler Herro and Keldon Johnson just like in their win against Abilene Christian. Herro is a playmaker, who can get to the hoop and shoot floaters while also playing solid defense so he should be on his A-game to supplement the loss of Washington while Keldon Johnson is a volume scorer, who knows how to get baskets and should keep Kentucky up on the scoreboard as much as he can. The bench needs to show up and give some decent production because Wofford likes to run as they showed in their win against Seton Hall so they need some of the other guys to step up and give valuable minutes to keep pace. The outside shooting really helped Wofford last game and it's a formula they should consider yet again centering around their best player Fletcher Magee, who was hitting threes at a ridiculous rate and if he wants his team to compete he's gonna need to hit more of those in this game to help dictate pace as he is one of best three-point shooters in the country. The other guards also need to step up as Storm Murphy must find some consistent offense to try and counter Kentucky's defense, and Nathan Hoover just needs to keep shooting it with confidence to help Wofford gain some footing in this game. The X-factor player for Wofford will be Cameron Jackson, who needs to use his size and ability to score while pulling down key defensive rebounds or getting some key offensive rebounds to create more second opportunities to keep Wofford in the game while Kentucky's X-Factor is Reid Travis, PJ Washington's replacement, who can play as a stretch four because of his ability to create more space on offense by being a perimeter threat and his toughness on defense could turn this game in the Wildcats favor. Wofford's great three-point shooting should keep them in this throughout, but when bend comes to break Kentucky just has a little too much for Wofford to handle so Kentucky should win, but not without a little challenge.
Prediction: Kentucky 76 Wofford 67
Kansas vs Auburn
Auburn survived a late meltdown against New Mexico State while Kansas routed Northeastern on Thursday. This will be the battle of the guards as both teams run their teams through their guards and Auburn runs their offense through the pick and roll with guards Bryce Brown, Jared Harper, Samir Doughty, Malik Dunbar, and J'Von McCormick. All these guards have a unique skill set as Bryce Brown can use his shooting to keep the defense honest, but he needs to generate good shots and not force too many of them to ruin the offensive flow, Jared Harper has his three-point shooting and his ability to throw alley-oops so he can run the offense smoothly, Samir Doughty is known for his great defense and just needs to hit open shots if Kansas decides to trap or take one of Harper or Brown away, Malik Dunbar has his senior leadership to calm down some of his younger players while playing solid defense and hitting threes to keep Auburn in striking distance, and J'Von McCormick's ability to hit close shots could exhaust the Jayhawks defense so they don't just shut down the three-point line and blow out Auburn. The Jayhawks have both good shooters and post players so it's gonna be really hard to stop what they run on offense and it all starts with Dedric Lawson, who can do it all by driving to the hoop for easy shots and also shoot jumpers and make them with a high-efficiency rate because of his speed and quickness and if he gets near a double-double Kansas might start rolling. Bill Self always constructs teams around his guards and same is the case this year as his guards will change this game as Lagerald Vick will be running off screens looking for a three to find his rhythm, however Devon Dotson will need to play more on the perimeter after tweaking his ankle against Northeastern so don't be surprised to see Quentin Grimes and him switch in and out of the game with Grimes speed making things happen and Marcus Garrett, who anchors the defense while making timely shots. The X-Factor player for the Jayhawks will be Udoka Azubuike because Auburn doesn't really have a counter for his bully ball and towering presence and he could create tons of offensive rebounds with his scoring that could cause instant trouble for the Tigers while the Tigers X-Factor will be Chuma Okeke as his ability to get to the rim and consistent three-point shooting will give the Tigers a possible counter to Dedric Lawson and could force the Jayhawks out of their defense giving the Tigers some space to run some great offensive sets. This will be a coaching battle between Bruce Pearl and Bill Self and whoever has their kids better prepared will win this game and Bill Self has more experience and his kids are well-prepared so Kansas should pull away in the second half.
Prediction: Kansas 85 Auburn 72
Game schedule
9:10 PT/12:10 ET CBS LSU vs Maryland
11:40 PT/2:40 ET CBS Wofford vs Kentucky
4:45 PT/7:45 ET CBS Michigan State vs Minnesota
6:40 PT/9:40 ET TBS Kansas vs Auburn
The Round of 32 will continue on Sunday to decide who advances to the Sweet 16 next weekend. Many brackets should still be safe after the Saturday games from this side of the brackets as these games shouldn't see many upsets. It is March for a reason though and the fun is watching and finding out what happens as the tournament progresses.
Questions and comments?
thescorecrowsports@gmail.com
Follow Us on Twitter @thescorecrow
Follow Us on Reddit at u/TheScorecrow
Follow Us on Facebook at The Scorecrow
Follow Us on Instagram at The Scorecrow
Follow Pranav on Twitter @PranavRama1
Main Credit Image: [getty src="1131280866″ width="594″ height="396″ tld="com"]