It's been just over two months since Los Angeles Lakers legend Kobe Bryant and his daughter, Gianna, were among nine people killed in a horrific helicopter crash. The crash occurred as Bryant, his daughter and some of her basketball teammates and their parents were on their way to a basketball game at the Mamba Center, which was founded by Bryant himself.
That tragedy turned the entire sports world upside down. Fans, family, friends and athletes alike mourned the losses of Bryants and the seven other victims. Dedications to Bryant came early and often in the form of teams taking 24-second shot clock violations to start games. Some players got tribute tattoos to honor the man who donned a Lakers jersey for 20 seasons.
---
Two months removed, the sports world is at a standstill. This hiatus from sports is expected to last through the summer as the country deals with the COVID-19 pandemic.
Sports like the NBA and NHL, who were both inching closer to playoff time, and the rebirth of the once-defunct XFL were all halted in the middle of their respective seasons. MLB was preparing for opening day and the NFL's free agency period was just about to begin.
But both the helicopter tragedy and the current pandemic plaguing the United States and the world have one eerily parallel that many sports fans didn't even know at the time.
On the Jan. 27 edition of USA TODAY, the biggest article on the front page was dedicated to the story of the helicopter crash. But just to the left of that story was an article written by reporter Ken Alltucker titled, "Rush is on to develop a vaccine for coronavirus."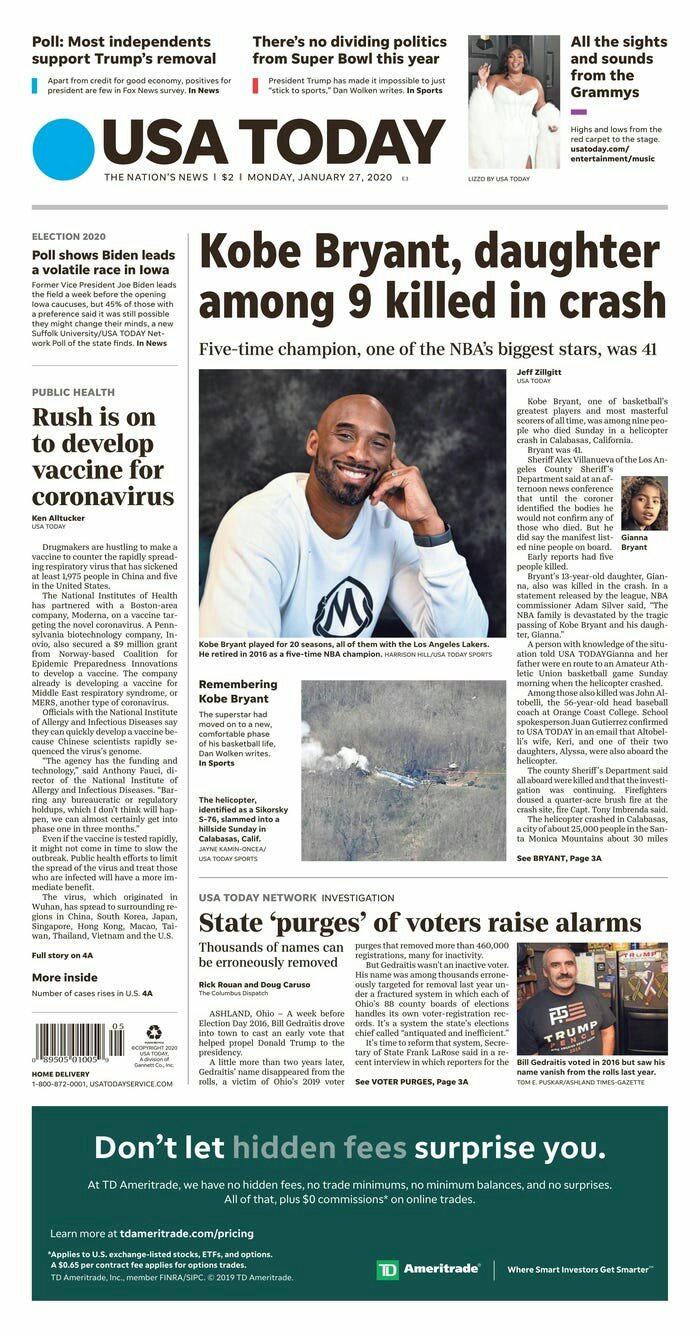 For obvious reasons, that coronavirus story was overlooked. Kobe Bryant was a popular basketball legend. His daughter, Gianna, was seen with him at various spring events following Bryant's retirement. They were "known" figures.
But had more of those who read the paper that day also read that smaller article that was just to the left, things could very well be much different in the world of sports and life in general.
It is just crazy that the two biggest stories in sports in 2020 were both mentioned in the same newspaper on the same day.