Many have questioned the legitimacy of the "Betts to the Dodgers" reports that have been swirling over the past week, but Peter Gammons of MLB Network has dubbed this trade "inevitable."
Three different NL folks today predicted Betts-to-L.A. is "inevitable." Consensus deal:Alex Verdugo, Inf Jeter Downs, pitcher, maybe A prospect. Think P is LH Caleb Ferguson, 95 MPH FB/CB guy, 113-39 K-BB in 93.1 IP, eventual starter. Got brushed off Gray

— Peter Gammons (@pgammo) February 2, 2020
Gammons goes on to list three players that would be going back to Boston in this trade, but the list of names that have been tossed around since the reported interest from the Dodgers began extends much further than the three mentioned in Gammons' report.
Let's take a look at each of the potential pieces that the Red Sox could acquire in this budding blockbuster deal, as well as why Chaim Bloom and co. would have interest in each player.
Alex Verdugo – OF 
Starting off the list is the guy that has found himself in every mock trade between the Dodgers and the Red Sox for Mookie Betts, Alex Verdugo. Verdugo finally got an opportunity in 2019 to showcase his talent, and he was quite impressive.
In 377 plate appearances, Verdugo had a .341 wOBA (higher than the likes of J.T. Realmuto and Manny Machado), as well as a 114 wRC+. He also logged 14 defensive runs saved (30 DRS/150 as a right fielder) and two outs above average in 756 innings patrolling the Dodger outfield in 2019.
He struggles primarily on pitches low and on the corners, but that didn't hinder Verdugo enough as he posted a 39.3 percent hard-hit rate. His 7.4 percent walk rate is rather low, but if he can do damage on balls he makes contact on, Red Sox brass certainly wouldn't mind.
Oh, and Verdugo has five more seasons of team control (including 2020), and won't be a free agent until he is 29 years old.
Caleb Ferguson – LHP
Ferguson has just 93.2 innings under his belt in the MLB, and it's been kind of a mixed bag of results.
The 23-year-old southpaw was impressive in 2018, posting a 2.95 xFIP, a 2.82 SIERA, and a 29.2 percent strikeout rate across 49 innings. However, he took a step back in 2019, as his xFIP was 4.88, his FIP went north of five, and his SIERA skyrocketed to 4.49.
So why would the Red Sox be interested in him?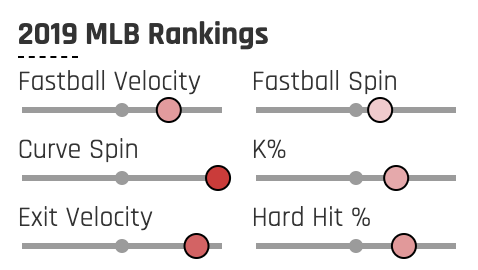 If you have been following the moves the Red Sox have made this winter, you'll notice a trend with each reliever they've acquired –– they have a curveball spin rate that ranks in the 90th percentile or better.
Examples:
Austin Brice – 94th percentile
Matt Hall – 96th percentile
Acquiring Caleb Ferguson would give the Red Sox a pitcher with a curve spin in the 98th percentile as well as having Brice and Hall, who can also spin it with the best of them.
Tony Gonsolin – RHP
Gonsolin came up and appeared in 11 games (six starts) last season for the Dodgers. Across 40 innings, the 25-year-old right-hander posted a 2.93 earned run average along with a 22.7 percent strikeout rate.
His peripherals weren't particularly impressive (4.90 xFIP, 4.63 SIERA), but a 40-inning sample size is not much to base your opinion.
Although he did rank in the 89th percentile in fastball spin, as well as 73rd percentile in curve spin –- both things that Red Sox brass is in love with.
Keibert Ruiz – C
Ruiz is the first one to appear that has no major league experience. In fact, he's only played nine games in Triple-A.
Ruiz ranks 73rd on MLB.com's top 100 prospects list, despite not having the best offensive season in 2019 across Double-A and Triple-A (.679 OPS, 89 wRC+). However, he did finish the season with more walks than strikeouts.
He is a switch-hitting catcher who projects to be a team's No. 1 catcher, and with Christian Vazquez' contract expiring after 2021 (Club Option for 2022), they can afford to be patient with Keibert Ruiz.
Josiah Gray – RHP
Gray is unlikely to be included in a Betts package, but his name has been a part of potential packages.
Josiah Gray, 21, is the No. 67 ranked prospect according to MLB.com, and has a fastball that tops out at 97 miles per hour, but often sits between 90 and 95. On top of that, his breaking pitches (Slider: 55, Curveball: 50) both rank in the 50s on the 20-80 scale.
The Le Mayne College (Division 2) product posted a 2.43 FIP and had a 25.5 percent strikeout rate in 39.1 innings in Double-A, and the Red Sox see that as a great opportunity to improve their depleted pitching prospect pool.
Jeter Downs – SS/2B
What makes Downs such an attractive piece for the Red Sox is his ability to play either shortstop or second base.
With Dustin Pedroia likely out the door within a couple seasons and the lack of confirmation that Chavis can be a productive player on both sides of the ball, Downs adds much needed middle-infield depth in a farm system that features C.J. Chatham, Tzu-Wei Lin, Marco Hernandez, and that's it.
Not particularly impressive.
Downs is the No. 44 ranked prospect according to MLB.com and tore the cover off the ball in 2019. Over 535 plate appearances, Downs posted a .390 wOBA and 141 wRC+, on top of posting a .250 ISO.
He projects well, and would immediately become the Red Sox top prospect (ranks 33 spots ahead of Triston Casas, the Red Sox' lone top 100 prospect).