Levon Satamian | January 8th, 2019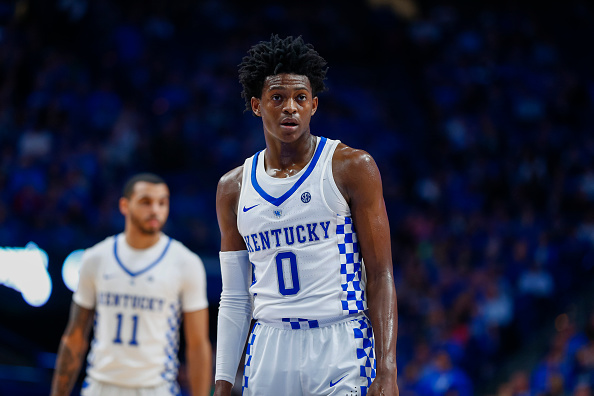 Did the Los Angeles Lakers make the right decision by drafting Lonzo Ball over De'Aaron Fox? Let's compare the 2nd and 5th overall picks in the 2017 NBA Draft and see, a year later, who has started his career off better.
Last season, Lonzo Ball averaged 10.2 ppg, 6.9 rpg, 7.2 apg, 1.7 spg, 0.8 bpg, 1.7 three-pointers made. 2.6 turnovers per game, shooting just .360% from the field, .451% from the free throw line, .305% from three, and his eFG% was .440%. De'Aaron Fox did not have a big season in his rookie year, averaging 11.6 ppg, 2.8 rpg, 4.4 apg, 1.0 spg, 0.3 bpg. 0.6 three-pointers made, 2.4 turnovers per game, shooting .412 FG%, .307% from three, and his eFG% was .441%.
Lonzo Ball got LeBron James on his team this season, meaning, he should have a better season, because as many claim, LeBron makes his teammates better. Well, Lonzo Ball this season has averaged 9.6 ppg, 5.2 rpg, 5.0 apg, 1.4 spg, 0.4 spg, 2.2 turnovers per game, 1.6 three-pointers made per game, shooting .408%, .305% from three, and his eFG% is .440%. Some people said that if Lonzo plays more than Rondo, he will do better, this was at the start of the season. Then they said he's not doing well because LeBron has the ball in his hands too long with Lonzo just standing in the corner. Well, now both LeBron and Rondo are out, Lonzo is averaging 13.3 ppg, 6.0 apg, 5.6 rpg, 2.4 threes made per game, and 1.1 steals. So, Lonzo has done better. But, he needs to be more aggressive and stop shying away from the moment. Most games he doesn't finish the fourth quarter because they hack him and send him to the free-throw line. Also, he is the 2nd pick of the 2017 draft. Magic Johnson drafted him, claiming that showtime is back. He quickly drew comparisons to Jason Kidd, but, he needs to improve his shooting, free-throws, and needs to be more aggressive. Some games, he plays well, some games, it's like he's not interested in playing and just doesn't look like he wants to play. Those games cannot happen when you're playing in the bright lights, in LA, Magic Johnson drafting you at number two in the draft, saying showtime is back.
De'Aaron Fox has been really good this season so far. Averaging 17.9 ppg, 3.5 rpg, 7.4 apg, 1.8 spg, 0.5 bpg, 3.0 turnovers per game, shooting .472%, .367% from three, and his eFG% is .512%. As you can see, De'Aaron Fox has improved from last season and he is doing better than Lonzo Ball. When LeBron has been out, which is a small sample size, compared to the whole season, Lonzo has averaged 13.3 ppg, 6.0 apg, 5.6 rpg, and 2.4 three-pointers made per game, along with 1.1 spg, as I mentioned earlier. Even with LeBron out, Fox is still playing better than Lonzo.
So, I stand with my choice, the Lakers, Magic Johnson, should have drafted De'Aaron Fox. Fox is the future for Sacramento. Lonzo's future in LA is up in the air. Even though, they said he's off the trade table, if they're going to trade for Anthony Davis or any superstar, everyone on that team can be traded, no matter what, except for LeBron. I don't think any team would give De'Aaron Fox for Lonzo Ball right now. Fox has led a Kings team that has no superstar, to a 20-20 record. Lonzo, without LeBron, has the Lakers at a 2-5 record. Fox isn't scared of the big moment as he's shown previously.
https://youtu.be/Cy_fEeItdrE
Lonzo has played sensationally on the defensive end this season, however, Fox is a good defender too. For Lonzo, the talent is there, but when will he shine? De'Aaron Fox put in work during the off-season and we're seeing the result of it this season. He is putting the league on notice and keeping his team in the playoff hunt in the wild West. So, in my opinion, I still think the Lakers made a mistake by drafting Lonzo, they should have drafted Fox for the various reasons I mentioned. Fox is proving that he is the best player of the 2017 draft class.
Questions and comments?
thescorecrowsports@gmail.com
Follow Us on Twitter @thescorecrow
Follow Us on Reddit at u/TheScorecrow
Follow Levon Satamian on Twitter @TheSportsNotes
Main Credit Image: [getty src="624015916″ width="594″ height="396″ tld="com"]