Josh Elias | June 13th, 2019
In a draft class like this one that is widely seen by the public-at-large as a three-player draft, there are bound to be surprises, good and bad. One of the best types of surprises we see in the NBA is when an undrafted player comes out of nowhere to carve out a serious role in the league. Fortunately, that happens quite often. Today we're going to use ten of the most successful examples in league history and profile which players who are projected as either undrafted or late second-round picks that seem to fit the bill in one way or another.
An undersized center from a mid-major program who just so happens to be a defensive wunderkind with the natural ability and desire to hustle more than anyone else on the floor and the athleticism to match it.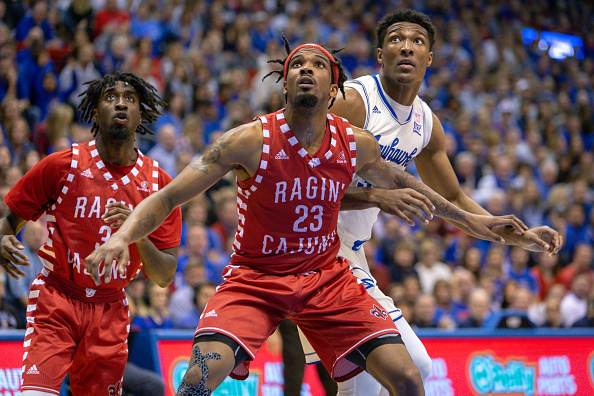 While he has seemingly not gotten any real NBA attention, there's frankly no valid reason for that. As a senior, Gant led the Sun Belt in field goals, field goal percentage, offensive rebounds, and blocks, notably blocking 2.6 shots per game and getting 0.8 steals per game en route to the Sun Belt Defensive Player of the Year award.
As the number one option on his team offensively as well as their defensive anchor, he managed to shoot 59.8% from two-point range and 37.5% from three-point range despite a sky-high usage rate of 26.7%. He's one of just 20 players all decade to shoot that well from both areas of the floor on that high of a usage rate.
One question mark that may come up easily has to do with his size, at just 6'8″ and 215 lbs, numbers that suggest a potential rough transition, especially if he ends up playing center in the NBA, which is a high likelihood. He also possesses a 7'0″ wingspan that should help make up for the height disparity though, and while his relatively thin frame could cause some issues at first, that should not be a major problem. If he works on  his defensive awareness, particularly limiting his fouls, his combination of rim-protecting ability and shot-making ability gives him an opportunity to stake a claim to a lengthy NBA career if given the right opportunity.
An exciting high-potential player with lottery talent is forced to take the path less traveled after scandal (perhaps undeservedly?) ends his NCAA career before it even begins.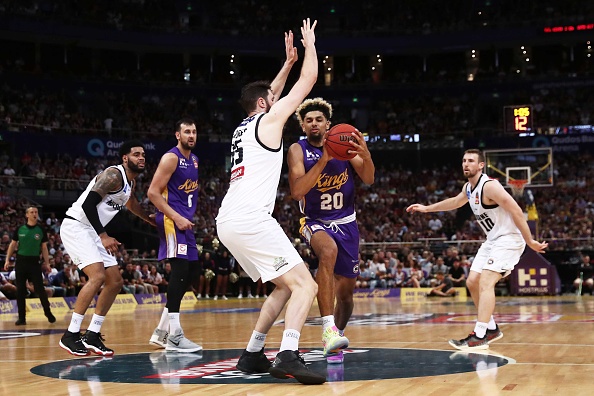 The name Brian Bowen has become synonymous with the NCAA's most recent pay-for-play scandal ever since his identity was shoddily concealed in the FBI's initial report into the corruption. So much so that many people have forgotten that he's still also a basketball player, and a highly talented one at that.
Before the news broke that fateful day, nbadraft.net had him projected as the 14th pick in the 2019 draft. Today, that number is down at 52nd. That is despite the fact that he's been playing professional basketball in the Australian NBL this year, and he's hung in there with the pros.
Averages of 6.3 points and 3.2 rebounds may not be the flashiest things in the world, but they're significantly better at face value than those of Terrance Ferguson two years ago, and Ferguson has already secured a starting spot in Oklahoma City. Even considering that though, Bowen's performance leaves something to be desired, particularly in terms of his underwhelming  34.2% shooting from behind the arc. While he will need to improve on that, he's a silky smooth scoring threat with the assets to turn into a versatile NBA defender, and both his mid-range game and ability to consistently impact the game in small positive ways even when his shot's not falling make him a unique commodity in today's market.
A lack of high-profile offensive weapons on his team means that this versatile defensive ace was regularly put in tougher offensive situations than necessary, making the eye-test unreliable at showing exactly how proficiently his game should translate to the next level.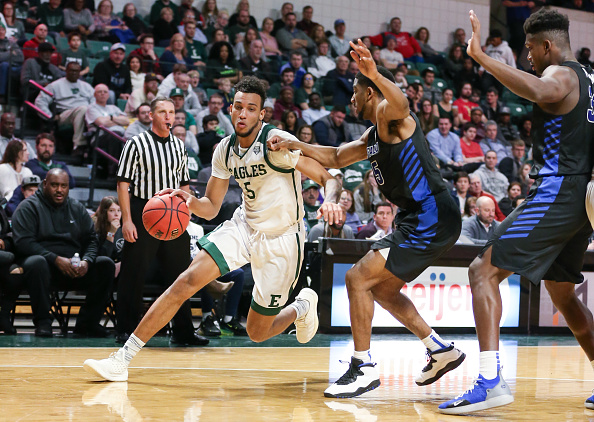 When looking at an overview of Minnie's senior season, three numbers will pop out to you. 1.6 steals per game, 1.2 blocks per game, and 41.3% shooting from the field. Minnie has done a good job at trying to adapt to today's game and stylize himself as a 3-and-D prospect, but his shot never significantly improved and he was relied on too much offensively to get to pick and choose the shots he takes to the extent he would've at a bigger school.
His defensive play has been stand-out all four years of college though and his length should allow that to continue at the next level. He has always excelled at getting steals and blocks, the next step will come with the opportunity to have one-on-one matchups night-in and night-out defending elite NBA scorers.
He's not just a specialist though, he's a capable leader on the floor and a good defender for his position. His only major weaknesses are as far as shot selection and distribution goes, and the shot selection should naturally work itself out to some extent as he's solidified as a role player offensively. As a college player, his job was to create matchup problems. As an NBA player, his job will be to exploit matchup problems.
A former JuCo sensation dominates mid-major basketball and looks very efficient doing it, but a lack of March Madness success leaves him without the attention he deserves.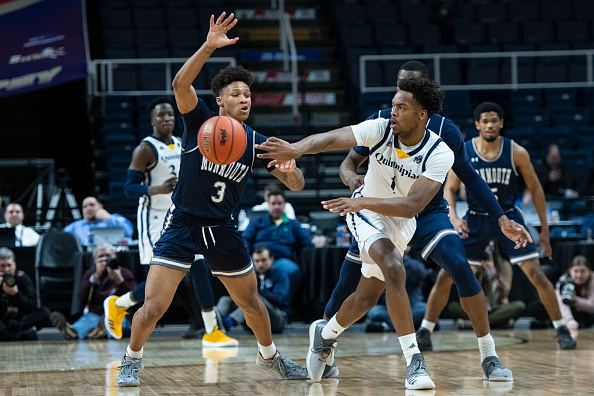 A 6'6″ wing who will primarily play shooting guard in the NBA, Young's offensive game exploded in his senior season, averaging the 12th-most points in the entire NCAA on the best effective field goal percentage in his conference. Not only did he win MAAC Player of the Year, he also provided the college basketball world with one of the best performances of the whole year when he scored 55 against Siena.
Young only started playing basketball at 15 years old, which means he has more room to grow than the average 23-year-old. That's both a good thing and a bad thing. It's a good thing because he still has the potential to grow into a more complete player than he is, and a bad thing because there are things that he badly needs to. While he has the physical tools to develop into a serviceable defender, his defensive instincts are far from an NBA level at this point in his career, and on the offensive end, he has a lot of room to grow as a facilitator if he wants be handed the reins of an offense to the extent in which he'd be given the isolation opportunities he got at Quinnipiac.
That being said, if he does develop enough to get some of those same opportunities, he is an elite-level scorer who has the ability to simply put the ball in the basket more than many NBA starters. This last season, Young shot nearly 44% from three-point range on 7.7 attempts per game and proved to be one of the best isolation players in all of basketball too. One particular move that even the best NBA defenders will have to work hard to stop him on is his pull-up off the dribble. Not only does he convert those shots at an amazing 1.22 points per possession rate, but he also is able to draw fouls on these attempts at a rate reminiscent of prime Jamal Crawford.
One of the most skilled players in college basketball is overlooked in favor of players "with higher potential" when teams begin to question how his athleticism will translate to the NBA despite his great success in a Power Five conference.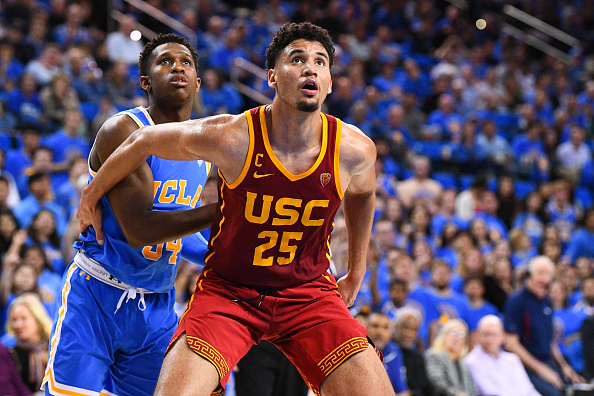 Generally when a well-known prospect returns from a major injury and goes on to play better than he ever has, he's at the very least a consensus second-round pick. Somehow though, Bennie Boatwright seems to be on the outside looking in at this point despite averaging 18.2 points per game and 6.6 rebounds per game as a senior.
The main concern that could be leading teams to shy away from him is that he isn't exactly an outstanding athlete across the board and a particular weakness that could be exposed at the next level is his lack of foot speed. Matchups that pit him against quicker big men and defensive switches that put him in one-on-one situations with a guard will be his kryptonite.
On the offensive side of things though, he can be what every team is looking for in big men at this point, as he not only possesses one of the most complete post games in college basketball, but also shot 42.9% from three this year, and 38.0% for his four-year career. Especially if he continues to specialize in doing the little things on offense that don't show up in the box score, if he can work on his agility and acceleration enough to be a serious threat coming off of screens and an above-average transition threat for a post, he should have a role in the league carved out for himself for a while.
This unexpected college star used his great shooting and craftiness to reach the top of the college basketball world in just one year but is still doubted by NBA teams because of a positional height disadvantage and a lack of elite foot speed to make up for it.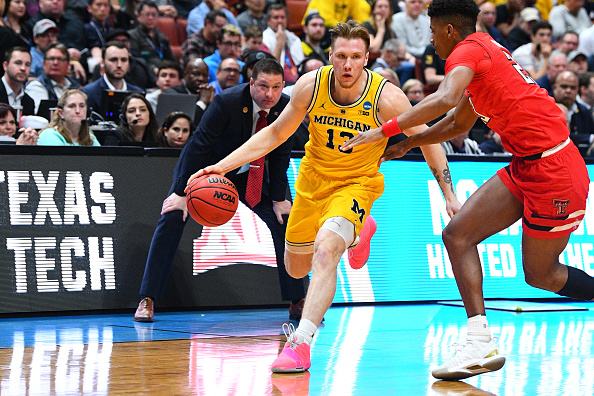 Brazdeikis was objectively one of the best players in college basketball this year. He made the All-Big Ten and All-Big Ten Tournament teams, won Freshman of the Year for his conference, and was even given the Wooden Award, which is given to the top 20 players in all of college basketball. Most players in his situation as freshman would be likely lottery picks.
Unfortunately he's a small forward with a wingspan of just 6'8.75″, and that's a number that's going to scare away a lot of teams. It hurts his defensive game, both in actuality and potentiality, but there are certainly situations where that wouldn't be as big of a problem as projected. In a small-ball lineup, which is increasingly common in the NBA, he should be able to thrive.
As of now, he's a great shooter who's more than capable of moving without the ball in his hands, and even if he doesn't round out his game as much as is hoped, he can get somewhat of a role just based on that. If he can work hard on team defense and improve his ability to find teammates when he has the ball in his hands, Brazdeikis should be able to succeed.
This foreign-born college player proved his own worth and showed that he can create opportunities for himself and his teammates, but his team's lack of success stole his thunder by the time draft day came around.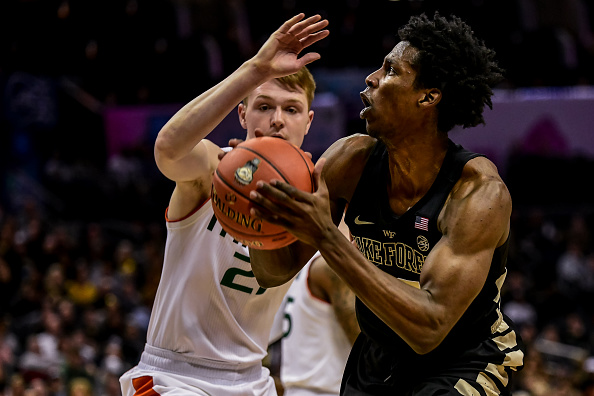 Hoard showed gobs of potential this year as a freshman, but there were also enough things that scouts didn't like to keep him from rising up the draft board. His athleticism is a big plus, with an 8'9″ standing reach and the ability to finish through contact.
The Frenchman also showed flashes of a very good ballhandler and always worked hard to pull down as many rebounds as possible, which gives him a large range of directions he could choose to develop his game in at this point.
On the other hand, he has a disastrous track record at shooting the ball that includes shooting just 22.6% from deep and he seems to often disappear on both sides of the floor when he's off his game. Additionally, he recorded considerably more turnovers than assists and needs to get better at decision-making with the ball in his hands. He definitely has the most work to do in order to become ready for significant NBA minutes, but he also has the highest potential by far. Now it's just a matter of whether he can reach it.
This high-IQ pure point guard may not have the flashiest game or particularly impressive physicals, but he is a coach on the floor and should be viewed as a sure thing to have a positive impact on any team he plays for.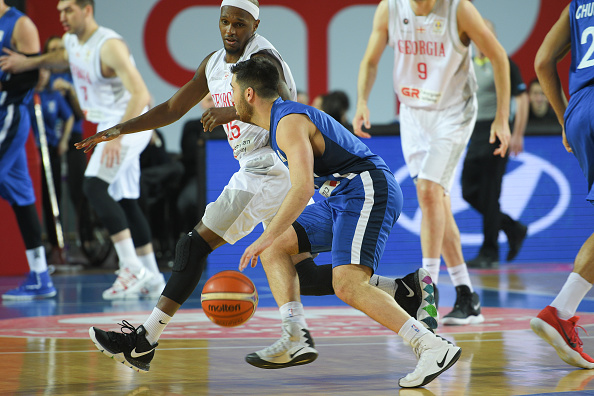 Blatt is far from an elite athlete, and that has prevented him from getting as much attention outside of Europe as his game has warranted. He is, though, one of the smartest pure point guard prospects we've seen all decade, and he truly has the ability to dictate a top-tier offense already at just 22 years old.
On the offensive side of things, aside from his playmaking, he's a great shooter. He shot 39.8% from behind the arc this past season and shot over 40% from deep in two of the previous three years. The problem comes in when he ventures too far inside of the three-point line. As just a 38.5% shooter from two, he's a poor finisher and easily gets flustered when he's heavily contested. He's a decent defender in the Israeli League, but that should be expected to not translate to the NBA as well as he'd hope.
As he gets into a situation in the NBA where he becomes a liability on defense and his mediocre first step off the dribble almost guarantees he can't get past the average defender, he badly needs to improve his presence inside the three-point line if he doesn't want to become a liability in the last few seconds of the shot clock. But none of that takes away from his elite court vision, something teams will see as intriguing. The son of former Cleveland Cavaliers coach David Blatt, there's no more literal example of a coach on the floor, but beyond that, he's a great decision-maker in his own right, with 5.9 assists per game and just 2.4 turnovers per game this season.
A player who's dominated his competition at every level is overlooked after playing four seasons for an Ivy League school despite being a major weapon on the offensive side of things.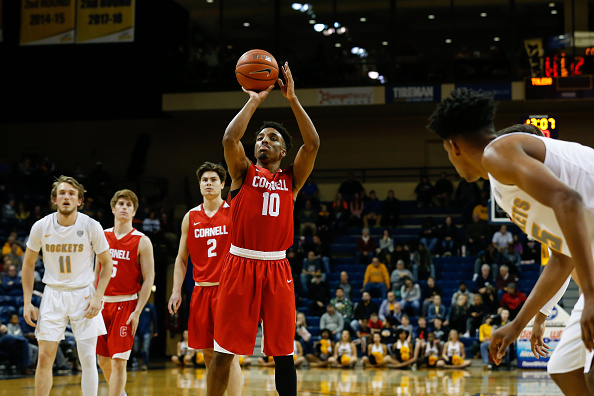 Matt Morgan is a special breed of college player, as he came in as a scoring sensation back in his freshman year and has improved as an offensive player every year since. Particularly impressive is how efficiently he's played at the volume he's relied on, shooting 51.3% from the field and an incredible 43.1% from three-point territory, coming only seven free-throws away from the fourth player ever (only including those who qualify for three-point percentage leaderboards) to record a 50-40-90 season.
Not only is he a great shooter, but another thing Morgan excels at is cutting, which was an important skill to possess within the Princeton Offense and will be equally advantageous in the NBA. He gave himself great opportunities to finish at the rim thanks to that and took advantage of them.
For someone who primarily plays point guard, he's not as good of a passer as teams would hope for him to be, and at just 6'3″ (perhaps 6'2″ even, according to some sources), he doesn't have the size to easily transition to shooting guard. In either situation, he wouldn't have the ball in his hands nearly as much as he did in college, and the main thing to work on for him to maximize his impact out of the gate is moving without the ball outside of the confines of the Princeton Offense.
A player known primarily as a sharpshooter struggles to stand out at shooting in college but shows enough defensive tools to have big-time 3-and-D potential.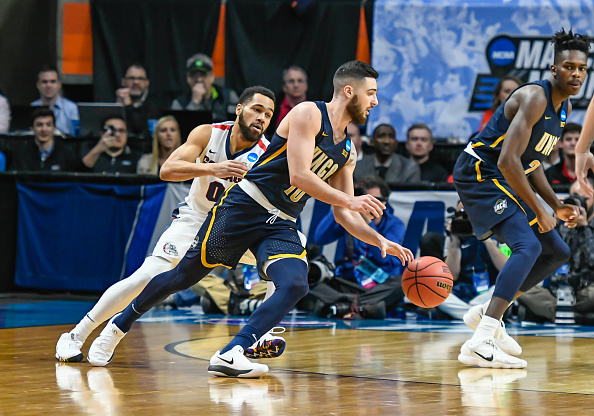 Alonso shot only 37.1% on threes this year, and while that's a very respectable number, it's not exactly enough to attract NBA attention when that's your main attribute. That number comes far from telling the whole story though, as he made some of the most difficult shots in college basketball and his efficiency would absolutely have been higher had he gotten easier shots. In addition, in his previous three years, he shot 41.8% from deep, so he clearly has that ability in a major way.
This year saw some new aspects to his game, including markedly a newfound tenacity in isolation opportunities that saw him make defenders look silly at times and gave him great opportunities to score from the mid-range and at the basket.
It seems most likely at this point that Alonso will return to Spain in the immediate future to play for Unicaja Malaga in the Liga ACB and EuroLeague, and in that setting he will get a chance to adapt to a role closer to the one he would fill in the NBA. If he continues to play solid on-ball defense and prove his worth offensively at that level, there's no doubt that NBA teams will come calling.
No Prototype
While he doesn't fit along with any of the prototypes above, perhaps Wright-Foreman might just be good enough to create a prototype of his own. He just led Hofstra to their best record since 2005-06 on the back of his outlandish 27.1 points per game, and should be getting attention from just about every team in the league at this point.
The problem is that at just 6'1.5″, he's not going to get serious minutes at the wing, which means he needs to take it into his own hands to develop stronger point guard skills at this point. Averaging just 2.9 assists per game, Wright-Foreman showed the ability to make the right pass when necessary, but it was far from his first option in any situation. That needs to change to some extent.
That being said, it's not like there's no chance he can develop a role in the league, by any means. He's an amazingly talented and versatile scorer with above-average athleticism even for the NBA level. And shooting guards with point guard size shouldn't be looked at as a guaranteed problem anymore, especially with the season Lou Williams just had. In the right situation, Wright-Foreman can get a similar sort of opportunity, and if he does, he's going to be a spark plug of a player who can change games in the blink of an eye.
Questions and comments?
Follow Us on Twitter @thescorecrow
Follow Us on Reddit at u/TheScorecrow
Follow Us on Facebook at The Scorecrow
Follow Us on Instagram at The Scorecrow
Follow Josh Elias on Twitter @thejelias
Main Credit Image: [getty src="580012024″ width="594″ height="418″ tld="com"]
Advertisement