Pranav Ramasubramanian | October 10th, 2018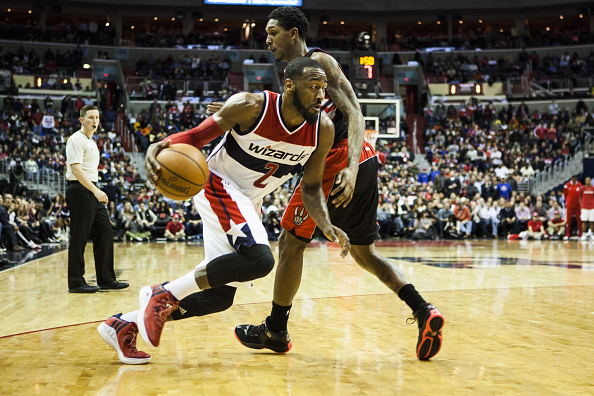 The Washington Wizards finished as the 8th seed last year. Will John Wall be able to bring them to a higher spot this year in a wide-open Eastern Conference?
Recap of Last Season
If only the players had any type of chemistry they could've found a way to save themselves last season from a mediocre season. You know there is an issue when the Washington Wizards seemed to be a better team when their best player John Wall was out because of the way the ball moved faster and the offense flowed more smoothly with his teammates taking clear shots at him in the media and Wall firing back. Here is what Marcin Gortat had to say:
Unbelievable win tonight ! Great "team" victory!

— Marcin Gortat🇵🇱 (@MGortat) February 2, 2018
Wall fired back on Twitter in a now-deleted tweet saying LOL and then went on ESPN to criticize Gortat for his comments.
"He gets the most assists from me and the most spoon-fed baskets ever" 😳 pic.twitter.com/aOk4mxkNpo

— Sports Illustrated (@SInow) February 6, 2018
John Wall returned on March 31st after missing 28 games in a crucial juncture because of a minor knee procedure and only played half of the regular season for the Wizards. They went 43-39 and got the 8th seed in the East, despite being in a weak conference with a talented squad. Bradley Beal and Otto Porter Jr. did a solid job picking up the slack as Beal had averaged 22.6 points and Porter averaged 14.7 points with both players using their size nicely on defense as well. The Wizards played a hard-fought six-game series with the Toronto Raptors in the first round of the playoffs, but couldn't get the job done because of lack of composure in big moments and their disappointing season came to a brutal end with an early exit as they were heralded as one of the East's top teams and a real challenger to LeBron's throne when the season started.
Offense
John Wall is indisputably the best player on the team and can rack up doubles-doubles very fast with his 19.4 points per game and 9.6 assists per game so expect to see the offense run primarily through Wall. Health will be the key to Bradley Beal's success this season and for the first time in his career he played 82 games last season and should stay healthy to help Wall carry the load offensively. The Wizards were thirteenth in offensive scoring with 106.6 points per game last season with Beal's ability to be a sharpshooter from 3 leading to a true shooting percentage of 60.4 last season switching his game from a traditional shooting guard to a shooting guard. Expect Beal to finally thrive as the second option to Wall more than ever this season. The Wall-Beal combination yields some great results and it seems like they have figured out how to unlock their potential. Just look at their last win from last season in Game 4 against the Raptors:
https://www.youtube.com/watch?v=2JzYx0qPKZo
The biggest new addition to the Wizards in the offseason was center Dwight Howard, who looked like he was a serviceable center as he averaged 16.6 points and 12.5 rebounds while shooting 55% for the Charlotte Hornets last season. Howard could bring some solid second chance points with his rebounding with some solid post presence and highlight-worthy dunks to energize the offense when he returns from the injury that is, which is something that Gortat couldn't provide last season. John Wall's injury didn't just benefit Bradley Beal, but also helped out Otto Porter Jr., who became a three-point sniper, shooting 44.1 percent from 3 with 1,134 points on the season, which was second on the team and a career-high averaging 14.7 points per game last season so look out for Otto Porter Jr. to really excel as a third option. The Wizards should establish some offensive consistency even with Wall's struggles and if everyone stays healthy, they will be an explosive team on offense.
Defense
It's surprising that on a team with so many athletes that Kelly Oubre Jr. would be the best defender among the pack and he is just a bench player, but his energy goes unmatched in his 27 minutes per game as Oubre can block shots, give effort by diving on the floor for loose balls, and get into the opponent's head by clapping his hands in their face with physical play disrupting opponent's offensive efficiency. The issue for Oubre is that he doesn't do this consistently so he misses out on clutch time minutes. However, Oubre should clean that up this season as his flashes of great defense still make him better than other Wizards players right now.
Ok, Otto Porter Jr. should be the best defensive player on this team given his length as he is good at switching with ease, getting deflections, getting steals, and being a good rebounder. Porter seems to help the defense too far from the opponent leading to open shots for the opponent and only plays solid defense against average small forwards. He becomes more offensive minded so expect Porter to play average defense yet again this season. You remember Dwight Howard when he was three-time defensive player of the year cause Howard showed some real flashes back to form last season with 1.7 blocks per game and was an elite defensive rebounder with 9.3 per game leading the Hornets to 1st in defensive rebounding so expect Howard to keep giving more effort this season as looks to resurrect his career.
https://www.youtube.com/watch?v=vBzQ-z_NQ4Q
The Wizards have to show consistency on the defensive end of the floor to realize their potential. The Wizards were 17th in defense last season with a rating of 106.2, which has to improve this season if they want to have any kind of shot at the NBA Finals.
Bench
The Wizards really got themselves a nice acquisition via trade when they were forced to trade either Marcin Gortat or John Wall when they were in a rift during the season. Gortat was shipped to the Los Angeles Clippers for Austin Rivers, who can play point or shooting guard getting good insurance for Wall and bolstering the bench as Rivers can be a volume scorer when he's creating his own shot and nailing three's while his defense is serviceable enough. Kelly Oubre Jr.'s offense is really frustrating because instead of using his athleticism to get to the rim he tends to make to take too many three's and long jumpers. He doesn't make them with enough efficiency so this season shouldn't be any different as he will get the ball less with new additions to the bench and will try to force the issue too much rather than letting the ball come to him. Another key addition for the Wizards bench was Jeff Green, who helped the Cleveland Cavaliers reach the NBA Finals and should help the Wizards when they need a timely basket, but his defense isn't great as he is old so his role might be decreased. A former shell of himself is who Jodie Meeks has become as the three-point sniper only averaged 6.3 points and only made an impact in very few games and expect the same as his touches will likely decrease. The player who made some nice strides off the bench was Tomas Satoransky, who helped the Wizards with some team chemistry when Wall was injured when he put together some nice offensive games mixed in with some scrappy defense thanks to his versatility and size getting nice blocks and steals.
GET SOME. Tomas Satoransky just caught Russell Westbrook with a sick block.

LIVE STREAM: https://t.co/Uvk3ibqA3C pic.twitter.com/H8KTXydDko

— NBC Sports Wizards (@NBCSWizards) January 31, 2018
The Wizards should implement new additions properly so their bench will be improved and not as much of a burden as last season.
Prediction
The Wizards should struggle early on because of their new pieces and not knowing what lineup to properly use. Scottie Brooks should be able to mix it up well and try some wacky lineups early on to fix it so expect the team to be really good by December. The chemistry should improve as long the team is healthy and everybody executes their role well. The Wizards should win 53 games next season as they should stay more coherent and the East is now up for grabs with LeBron's absence so look for the Wizards to take advantage. A lot of players are playing for contract years so look for them to play with some crazy energy and a high-level for most of the season. The Wizards should sustain some consistency this season so look for them to be one of the top contenders for the East crown.
Questions and comments?
thescorecrowsports@gmail.com
Follow Us on Twitter @thescorecrow
Follow Us on Reddit at u/TheScorecrow
Follow Pranav on Twitter @PranavRama1
Main Credit Image: [getty src="462594734″ width="594″ height="396″ tld="com"]