Pranav Ramasubramanian | September 25th, 2018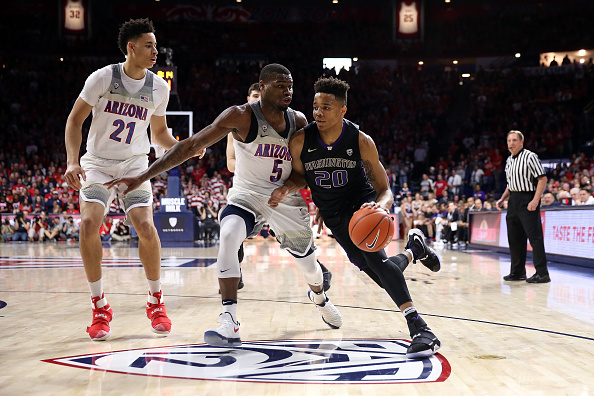 The Philadelphia 76ers had a great playoff run in 2012 pushing the Boston Celtics to seven games in the second round, but core players were traded for a rebuilding process. They had quite a few early picks but one stands out and could come back to haunt them.
All-Star Andre Iguodala and Nikola Vucevic were involved in a four-team trade sending Iguodala to Denver and Vucevic to Orlando to pave the way for a Howard-Bynum swap for the Lakers with Evan Turner also getting shipped out of town to Indiana for Danny Granger. This would trigger Lou Williams to go to the Atlanta Hawks for a better winning situation and Jodie Meeks to leave for the Lakers. Sam Hinkie decided to embrace losing and started doing it on purpose and in 2013 the 76ers drafted Micheal Carter-Williams with the first pick and he won Rookie of the Year. The 76ers kept losing and drafted Joel Embiid in 2014 with the third pick, even though he had injury issues. In an effort to lose even more the 76ers traded away Micheal Carter-Williams and just kept losing to land the 3rd pick in the 2015 draft, who was Jahlil Okafor, another big man and insurance for Joel Embiid, but the Philadelphia 76ers didn't pull a real gem until 2016. The draft experts projected a player with the talent almost identical to LeBron and the 76ers played so badly that they secured the first pick and drafted Ben Simmons, who had looked to be a young prodigy at LSU. Embiid played 31 games in the 2016 -2017 NBA season, impressing many in his limited action and Simmons chose to sit out the year with back issues.
Reminder. They Fired Sam Hinkie for drafting Embiid and Simmons #76ers

— Doug Gottlieb (@GottliebShow) November 16, 2017
The Philadelphia 76ers had built a contending team by tanking and set themselves up well to run the East post-LeBron.
The Trade
The Philadelphia 76ers wanted a point guard for the future so the 76ers, who had the 3rd pick, decided they wanted to trade up for the first pick. They also would have to give up the Los Angeles Lakers' 2018 first-round pick or Sacramento's 2019 first-round pick based on where their positions were in the draft. This huge trade happened just four days before the draft because both teams were negotiating hard with other teams about trades for even superstar players for their draft position, but settled on this trade instead. After the Boston Celtics point guard Isaiah Thomas had hip surgery in the offseason, it seemed foolish to miss out on at least one marquee point guard in Markelle Fultz. The Boston Celtics didn't want someone as young as Fultz to run the show considering it may take some time for him to get accustomed to the Brad Stevens system so the Celtics had their eyes on another top draft prospect so they worked out a deal with the Philadelphia 76ers. Philly would end up drafting Markelle Fultz with the first pick while Boston drafted who they wanted all along in volume shooter small forward Jayson Tatum out of Duke University. The Celtics were also looking into Josh Jackson, but he refused to even work out for them and they didn't want someone who wasn't committed to the future of the team.
Danny Ainge has brought up in multiple settings/interviews Josh Jackson didn't want to be a member of #Celtics. Not a favorable impression.

— Adam Kaufman (@AdamMKaufman) June 23, 2017
It looked as if both teams had won the trade as it seemed the 76ers had completed their process and the Boston Celtics were stacking more and more talent.
The Results
Markelle Fultz hurt his shoulder just four games into the 2017-2018 season suffering soreness and scapular muscle imbalance in his right shoulder. This threw off his shooting form as he was only able to average 6.0 points in his first four games. He wasn't able to return until March 26th being out for nearly 68 games because his mechanics and jump shot were broken to a point where they had to be careful with how they handled the situation. Fultz played in the remaining ten games very sparingly, but he did manage to put up a triple-double in the last game of the year with 13 points, 10 assists, and 10 rebounds and became the youngest player in NBA history to achieve it.
Markelle Fultz becomes the youngest player in NBA history to record a triple-double (19 years and 317 days), passing Lonzo Ball who accomplished it earlier this season.

Before this season, the youngest player to ever record a triple-double was a man by the name of LeBron James pic.twitter.com/m1ax4ASsrF

— ESPN Stats & Info (@ESPNStatsInfo) April 12, 2018
Fultz didn't get many playoff minutes though because of Brett Brown, head coach of the Philadelphia 76ers feeling that he was not ready for that kind of pressure so he only played the first three games of the series against the Miami Heat and totaled 5 points in his 22 minutes in the playoffs. Overall, he played 14 games of the 92 games that the Philadelphia 76ers played last season and will be looking to bounce back, but after all this time Fultz has to step up soon or else he will be a forgotten name in the NBA.
The Boston Celtics made more moves in the summer of 2017 as they traded for Kyrie Irving and then added small forward Gordon Hayward, who was projected to start and make the Boston Celtics instant contenders. Unfortunately, in the first game of the season when Kyrie Irving threw a lob to Gordon Hayward something went terribly wrong. Hayward twisted his left ankle badly while also landing very awkwardly and the Cleveland Cavaliers reactions showed just how gruesome the injury was. It was later found out he had a dislocated left ankle and fractured fibula that knocked Gordon Hayward out for the season.
https://www.youtube.com/watch?v=p1Px8ei8wHc
This would give the youngsters on the Celtics roster more chances to score and grow with their experience and Jayson Tatum was presented this new opportunity exceeding more than 30 minutes per game. Tatum was a little inconsistent, which is common for young players finding their footing in an 82-game season. With Kyrie Irving and a bunch of solid players on the Celtics, Tatum just had to score whenever he could, but when Kyrie Irving went through a knee surgery that revealed an infection that required more surgery it knocked him out for the rest of the regular season and the playoffs after 67 games.
https://www.instagram.com/p/BhMonavHMi0/?utm_source=ig_embed
Jayson Tatum was then the No.1 scoring option despite the bevy of options due to his flashes of volume scoring. He reinforced this in the last 13 games when he averaged 17 PPG putting together some of his best scoring games in that stretch leading the Boston Celtics into the playoffs as a No.2 seed. Tatum averaged 15.4 points in a hard-fought seven-game 1st round series win against Milwaukee. He also averaged a marvelous 23.6 points outplaying young guns Ben Simmons and Joel Embiid in the second round to help the Boston Celtics advance to take on LeBron James and the Cleveland Cavaliers for the East crown. Tatum averaged 17.9 points in the series and was one game from nearly leading the Boston Celtics to the NBA Finals until LeBron James saved the day for the Cleveland Cavaliers eliminating the Boston Celtics. Jayson Tatum did get an amazing highlight play on LeBron James.
Jayson Tatum's poster dunk & celebration bump on LeBron. pic.twitter.com/lsGimfheFp

— Ballislife.com (@Ballislife) May 28, 2018
Jayson Tatum turned himself from role player to one of the NBA's rising stars in just one year and has shown some potential that he could really be a Celtic great.
Looking Ahead
Now Markelle Fultz will have a full year to prove his worth and his jumper has been looking better so he could still be a very good NBA player. However, Jayson Tatum went up against the NBA's best in year one and held his own almost even topping the best player on the planet, LeBron James and that type of talent isn't easily found in today's NBA with just two rounds in the draft. The one thing working against both of them is their crowded backcourts as Kyrie Irving and Gordon Hayward will return for the Celtics and Joel Embiid and Ben Simmons of the 76ers will be more determined so the ball-handling duty will be minimal for both. Even if Fultz gets back in form, Tatum is still the better player as he gets you more buckets when you need them and his ability to shoot from all over the floor opens up the lane for easy layups. Philadelphia thought they had the finishing piece to a puzzle in Fultz, but didn't see the gold in front of them and didn't want to push Ben Simmons to the four so they rolled the dice on Markelle Fultz knowing his injury history. Boston landed their guy in Jayson Tatum and his work ethic shows for it even training with Kobe Bryant. Even though Markelle Fultz won't be a bad NBA player, Jayson Tatum may hit a Hall of Fame level with the Boston Celtics. The Philadelphia 76ers may regret missing out on him by instead giving the Celtics a stacked team that the 76ers may not be able to overcome.
Questions and comments?
thescorecrowsports@gmail.com
Follow Us on Twitter @thescorecrow
Follow Us on Reddit at u/TheScorecrow
Follow Pranav on Twitter @PranavRama1
Main Credit Image: [getty src="633050872″ width="594″ height="396″ tld="com"]