Josh Elias | March 21st, 2019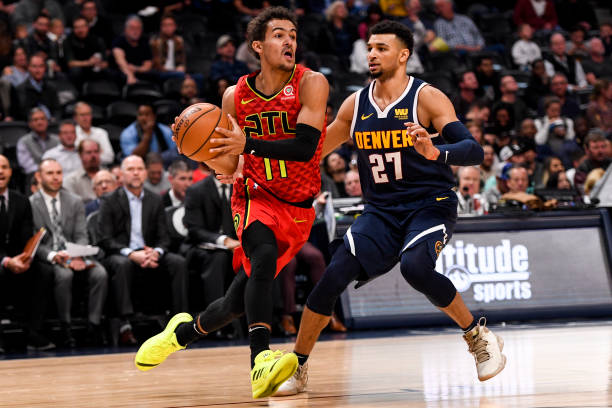 Let me get this out of the way before I say anything else: Trae Young will not be Rookie of the Year.
To say he started the year off rough would be an understatement. So would saying he's redeemed himself in the latter part of the season.
Through the end of December, Young averaged 15.6 points, 7.4 assists, and 2.9 rebounds per game, which is quite good at face value, until you see the shooting splits of 39.6/27.5/78.2 that he was putting up as well.
Meanwhile, since the All-Star break ended, he's returned to Atlanta as a man on a mission. The team has posted a half-respectable 5-8 record (compared to 19-39 prior to that) since then carried on the back of his averages of 25.3 points, 8.2 assists, and 4.7 rebounds. He's figured out how to score at a high level against other NBA stars, and his three-point percentage has increased from that woeful 27.5% through the first 36 games to 42.0% in the 13 games since All-Star Weekend.
If we were able to take this recent stretch he's had and pretend that was his whole season, it would not only be up to Rookie of the Year standard – it would be, fairly inarguably, the best rookie year from any backcourt player outside of Michael Jordan and Oscar Robertson.
Overall, the situation Young is in as a rookie compares favorably to that of Allen Iverson 22 years ago. Iverson was also on a terrible rebuilding team that immediately pinpointed him as the future of their team and gave him the reigns to their offense.
An injury-addled Derrick Coleman and a young Jerry Stackhouse were the main support system for Iverson in his rookie year as he led the Sixers to just 22 wins. He predictably won Rookie of the Year in one of the league's best ever draft classes by averaging 23.5 points per game to go along with 7.5 assists per game and 4.1 rebounds per game.
Now, Trae Young's Hawks have already surpassed the 22-win mark with 11 games left to play. His scoring statistics over the course of the full season are a ways off of Iverson's (although that's mostly due to playing time. Young actually leads Iverson 21.6 to 21.1 per 36 minutes), but his assists and rebounds are comparable (assists slightly better and rebounds slightly worse). In fact, Iverson even similarly went off at the end of the season, putting up a mindboggling 29.9 points per game, 8.4 rebounds per game, and 4.2 rebounds per game in the last twenty games of his rookie season.
If Young's development can continue in the same path as Iverson, he's in pretty great shape.
One thing that stands out about his play that should probably be talked about more than it is is his outstanding passing ability. Coming into the league, Young was proclaimed the heir to Stephen Curry's throne by the media, and while that's a massive compliment, it honestly does a disservice to Young's abilities as a floor general.
He is currently second in the entire NBA in terms of total assists. Granted, he is quite a ways behind league leader Russell Westbrook, but that means he, as a rookie, has assisted on more shots than all of the other 513 players not named Westbrook who have set foot on an NBA court this year. If he can fend off Ben Simmons and hold onto that #2 spot, he'll be just the fourth player ever to place in the top two in assists as a rookie. (Oscar Robertson, Mark Jackson, and Ernie DiGregorio are the three to have accomplished that.)
It's led him to form potentially the most formidable one-two punch between a point guard and a post player since Steve Nash and Amar'e Stoudemire. Notably, his assists per game are higher than that of point guard luminaries Magic Johnson (who had to play out of position at shooting guard on a stacked Lakers team that had a borderline all-star in Norm Nixon controlling the tempo and dishing out 7.8 assists a game in his own right), John Stockton (who was stuck as Rickey Green's backup for the start of his career), and Jason Kidd (who has no valid excuses for not assisting more than Trae. Maybe Trae's just better).
Which brings me back to my first point. How can a player who's good enough already as a rookie to make invoking the names of Magic Johnson, Allen Iverson, and Steve Nash possible not be the obvious frontrunner for Rookie of the Year at the very least? Well, the answer is that the draft class also features a player who already has somewhat of a case for the Naismith Hall of Fame at 20 years old.
If you threw Young into another draft class, he'd very likely come away with the award. He's arguably having a better season than around 15 of the last 20  Rookie of the Year winners. He certainly has more of a claim to the award than Malcolm Brogdon, Amar'e Stoudemire, or Mike Miller ever did.
Which goes to say, Young having as much of an uphill battle as he does for the award doesn't really matter. Look how Michael Carter-Williams turned out. Ben Simmons beating out Donovan Mitchell last year shouldn't viscerally mean that Simmons was a better player the day he won the award than the day before, and Mitchell missing out doesn't make his rookie year any less special to his fans that experienced it. The same goes for Luka Doncic and Young.
If all goes according to plan, Doncic and Young will be the next great player-rivalry. Taking sides in a rivalry is one thing. It's natural, and it's what makes rivalries like this fun in the first place. But don't let the rivalry, or even how you feel about the outcome of a somewhat career-defining accolade, blind you to how great the other player is. If you're a Doncic fan, take a moment to appreciate what Young is doing. If you're a Young fan, vice-versa.
Yes, Luka Doncic will be Rookie of the Year, but that's just the first of many battles. And just because Luka's going to win this one doesn't take anything away from Trae.
Questions and comments?
thescorecrowsports@gmail.com
Follow Us on Twitter @thescorecrow
Follow Us on Reddit at u/TheScorecrow
Follow Us on Facebook at The Scorecrow
Follow Us on Instagram at The Scorecrow
Follow Josh Elias on Twitter @_SunsofThunder_
Main Credit Image:[getty src="1062176050″ width="594″ height="396″ tld="com"]