Josh Elias | May 14th, 2019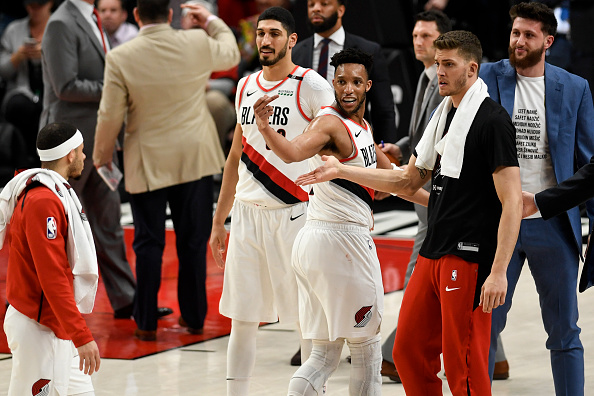 The series between Portland and Denver that just wrapped up should easily be remembered as one of the closest, most well-fought series in recent memory. Two moments seem very likely to really stand the test of time and be pointed to as defining stages of the battle between the two Northwest Division pseudo-rivals.
One is the 68-minute dogfight that happened in Game 3, with heroics from nearly everyone on both sides of the floor, from CJ McCollum to Damian Lillard to Enes Kanter to Nikola Jokic to Paul Millsap to Jamal Murray, before Rodney Hood iced the game with a dagger late in the fourth overtime – the first time a playoff game's gone to four overtimes since 1953.
It's perfect enough that that moment came down to Hood. Atoning for last year's playoffs with Cleveland, I suppose.
It wasn't just him though, the entire Portland bench has had a massive impact on their playoff run. They've really staked their place in the conversation at least when it comes to the best two-way bench corps in the league. Which is impressive and weird, considering they were easily one of the league's five worst benches last year and they lost most of that bench either without replacing them or replacing them with apparent downgrades
The other is McCollum's two shining moments toward the end of Game 7. His chase-down block on Murray is bound to be just as iconic in the Pacific Northwest as LeBron James' chase-down block in the Finals three years ago is to everyone else. And of course the game-winner.
But that game-winner wasn't always guaranteed to be the game-winner. After all, there were still 11.4 seconds remaining when he hit the mid-range stepback that put the Blazers up by three. It looked like it, but with as suspenseful of a series as it was, the Nuggets couldn't be counted out, even when Jokic split his free throws at the other end.
And so there was quite a lot of pressure on whoever Denver would manage to foul on Portland's next inbound, with a two-point lead that could potentially become a two-possession lead with two made foul shots.
Incoming: Evan Turner.
Evan Turner is far from a fan favorite in Portland. Quite the opposite really. To many, he symbolizes wasted chances in the team building process, and perhaps the biggest failure of General Manager Neil Olshey, alongside Meyers Leonard. The 2016 offseason.
Throughout the entire league, that summer featured the weirdest cavalcade of NBA teams lining up to spend hugely inflated sums of money on aggressively average players. Here Miles Plumlee, take $50 million. Bismack Biyombo? $72 million. Ian Mahinmi? Timofey Mozgov? Both $64 million. And how about $94.4 million for Chandler Parsons?
The cream of the crop though when it comes to bad moves that summer was the Portland Trail Blazers, with Neil Olshey clearly terrified of losing key pieces again after four starters left the team the year before.
And frankly, after the departures of LaMarcus Aldridge, Wesley Matthews, Nicolas Batum, and Robin Lopez, making sure to lock down the talent the team already had by overpaying somewhat didn't seem like the worst plan this time. Sure, handing out over $100 million to CJ McCollum after only one year of significant impact was risky, but could they afford to lose him?
The answer, both at the time and in retrospect, is a resounding no, especially after this last week. Much less resounding of a no at this point in time was the same question applied to Allen Crabbe and Meyers Leonard. They locked down Leonard for four years at $41 million and matched Brooklyn's $75 million offer to Crabbe. On the same day. They gave away over a quarter of the salary cap for nearly half a decade to two guys who'd combined to start 43 games total in their careers at that point on the same day.
Imagine if they'd gotten what they wanted though. Olshey's top target that summer was someone who I already mentioned as one of the worst signings of the summer, Chandler Parsons. Thank god we missed out on him so we could… give $70 million to Evan Turner? Oh. So that's where he comes into things.
See, even at the time, when a pre-injury-stricken Parsons still had backers, signing Turner to a four-year deal for that much money seemed insane. Even compared to Crabbe's equally absurd contract and a deal that paid Meyers Leonard almost as much as Stephen Curry was making, that was a bad deal.
See, the signing of Turner was entirely about avoiding regression. Portland had somewhat surprisingly upset the Los Angeles Clippers in the first of the playoffs a couple months earlier, and the only veterans on the team in Gerald Henderson and Chris Kaman were both leaving. Henderson, in particular, needed a direct replacement, and Chandler Parsons was Olshey's guy.
And Turner was his second choice when Parsons chose Memphis.
At least keeping Crabbe, Leonard, and Maurice Harkless on long-term big-money deals were decisions largely provoked by upside, with all three players at 23 years old or younger. Turner was going to be 28 by opening day, coming off a season where he averaged a respectable but far from special 10.5 points, 4.9 rebounds, and 4.4 assists per game for Boston. Prior to that, he'd been perhaps Philadelphia's least sympathy-garnering casualty of the beginning of "The Process" before being nearly chased out of Indiana after less than half a year.
ESPN Insider Amin Elhassan criticized him at the time as "a ball-dominant wing who is an atrocious spacer" and suggested Marvin Williams or Jared Dudley would have been better signings. His colleague Kevin Pelton expounded on that, saying "not only is Turner a poor fit alongside Portland's ball-dominant backcourt of Lillard and McCollum, but I'm also not sure he's all that useful when he has the ball in his hands."
Elhassan, Pelton, and Bradford Doolittle all labeled him the worst signing of the summer, and he's frankly done little to prove them wrong since, not only not matching the season he had in Boston (which, remember, was already far from worthy of his contract) but even regressing in each and every year since joining the team.
Recently, Elhassan and Pelton's words from back then have rung true throughout much of the NBA fanbase.
Somebody please explain what Evan Turner provides on the basketball court

— Jordan (@Jmbhanji) May 10, 2019
Eject Evan Turner! He didn't do anything I just don't want to watch him.

— Lindsay Mills (@lindsaymills) May 10, 2019
For the first eleven games of the playoffs, Turner had a great argument for the worst player from any of the 16 participating teams.
That's not to say he didn't have competition for that place. Thon Maker shooting 26.9% from the field en route to averaging 5.5 points per game and 2.3 rebounds per game as a starting 7'1″ center is hard to beat. As is Treveon Graham shooting 20% and averaging 1.4 points per game while getting legitimate rotation minutes.
Through those first eleven games though, Turner managed to end up with a grand total of 0.6 points per game in 12.7 minutes per game, going scoreless eight times and shooting a whopping 15.8% from the field. He did average 4.2 rebounds and 2.3 assists though, giving Terry Stotts just enough reason to keep him on the floor despite his historically ineffective play.
A few years ago, it would've made some sense to look into the future and see Evan Turner stepping up to shoot a pair of free throws that a series depended on. After all, he was supposed to be a potential franchise player who could do a bit of everything on the basketball court. He was a Naismith Player of the Year his last year in college and the second pick in the 2010 draft, right after John Wall and chosen over DeMarcus Cousins, among others.
NBADraft.net started off his draft profile by comparing him to Portland's then-all-star Brandon Roy and praising him as a "big combo guard with great versatility and a tremendous feel for the game". DraftExpress called him "a dynamic shot-creator to give [a team's] half-court offense a huge shot in the arm" and "arguably the most versatile prospect" in the draft.
While it took him a while to rise to even any semblance of stardom, he showed tons of promise from the start. He debuted with 16 points, 7 rebounds, and 4 assists off the bench and earned himself a starting spot a week and a half later. Then again, he lost it a month later after a four-game stretch displaying exactly what he's displayed recently.
The 2013-14 season was Turner's chance to really prove he can lead a team. Jrue Holiday was gone after the trade that sent him to New Orleans, and now Turner, alongside rookie sensation Michael Carter-Williams, was set to be the main option on offense.
How does 69 points through the first three games of the year, in three straight wins, sound?
If you guessed "better than losing 80% of the rest of the season's games and being traded at the deadline to a team that he doesn't fit with at all, then not once scoring double-digits in consecutive games before being unceremoniously removed from the rotation altogether midway through the playoffs", you're correct.
If there was ever a time to unceremoniously yank Turner from a playoff rotation, this Denver series would've been the time. After making a layup from less than a foot away from the rim early in the second quarter of Game 1 against Oklahoma City, he didn't make a shot for the rest of the series and went three straight games without an assist, steal, or block, only scoring a lone free throw in Game 5 – missing the other one of course.
He even went scoreless again five of the next six games against Denver, too. But something seemed different by the end of that stretch. Coach Stotts had found a loophole. Despite the fact that Evan Turner was objectively the worst player of the playoffs, he was still becoming a matchup problem.
See, matchup problems are always important no matter what, of course, but against a team that starts a natural shooting guard at point guard and a center who's capable of playing point guard, the only logical way to counter them is by featuring a swingman in the midst of his worst stretch of his career at power forward while having him play the role of a point guard with two actual ball dominant guards plus another combo guard on the floor.
It worked.
Of course it worked.
Even in a scoreless Game 6, he made an impact. He didn't attempt a shot. In fact, there wasn't a single play in the game where it ever even looked like he would attempt a shot. What he did do though was play the role of facilitator to a T. He embraced the Ben Simmons-esque role he was given and grabbed seven boards and dished out seven assists. Four of those rebounds and five of those assists were in the fourth quarter, and he was responsible for setting up some great opportunities for Hood and McCollum in particular.
Next up, Game 7. Rodney Hood hyperextended his knee and Al-Farouq Aminu was so thoroughly outplayed in such a short amount of time that he was checked out of the game with five minutes left in the first quarter and spent the rest of the night glued to the bench. Time for the next man up mentality. Time for Evan Turner to shine.
He checks in at the start of the second quarter and the very first thing he does is commit a foul. But it's okay, because it's Mason Plumlee he fouled. Plumlee misses the free throw, Turner grabs the rebound himself, and everything's fine. Until Turner fouls Paul Millsap the very next play. A minute later, Turner's subbed out. Portland's down 35-19. The dream looks just about over.
A few minutes later, Portland has some momentum going, and it's time to bring their secret weapon back in. Turner quickly repays the decision, drawing a foul on Paul Millsap and knocking down a pair of free throws to put his name on the scoreboard for the first time since Game 2. And more importantly, to cut the Denver lead to single figures.
Then he misses a shot and commits an unnecessary loose ball foul. Eh, you win some, you lose some. Turner goes to the bench. On comes Meyers Leonard.
When Hood went down though midway through the third quarter, it was Turner who stepped up and subbed in. Two short possessions later, he saw his chance and took it. A clear lane to the basket to cut the lead to six… denied by Jokic. But they got the offensive rebound, and then something amazing happened.
Harkless sent it back to Turner, and he made a shot. An actual, real jump shot.
No, really. With the form he was in, that was a legitimate achievement for him, as sarcastic as that sounds. Evan Turner hadn't hit a jump shot yet that day, he hadn't hit a jump shot in Game 6, he hadn't hit one in Game 5, he hadn't hit one all series.
The last time Evan Turner made a shot before he sank this thirteen-footer was in the regular season, in a game against the Lakers exactly a month prior to this shot. He had gone a whole two hours, 26 minutes, and 52 seconds of time on various NBA courts since the last time he made a jumper in-game.
By the time the fourth quarter rolled around, Portland had caught up entirely. The score was 71-72, and one Zach Collins three-pointer later, they had their first lead of the game. After Will Barton tied it back up, it was Evan Turner who would give Portland the lead back with a layup, which he followed up with a block on the other end (although Denver would eventually level the score on that play after an offensive rebound).
It was also Evan Turner who was responsible for their first two-possession lead of the game, with just under nine minutes left to play. A badly missed three-pointer by Seth Curry bounced just the right way for Turner to come up with the offensive board in a scrappy play and kick it back out to an open Damian Lillard from 26 feet out.
The very next play, Turner got another crucial offensive rebound, and the play after that, he converted on a three-point play. He drew foul after foul and knocked down free throw after free throw.
Lillard's ever-important steal and give-and-go that got him an open corner three that gave Portland their biggest lead of the game at 92-85 and all the momentum in the world? Yep, that was also Turner who got in just the right position for Lillard to find him.
Almost every major moment in the fourth quarter of this game had Evan Turner's handiwork woven all through it.
Which brings us back to where we started this. With 8.0 seconds left and a very tenuous 98-96 lead, with a man at the line, with the game in the balance, who, up until the start of this quarter, was the worst player of the entire postseason. He needed to hit both in order to end any hope for Denver, and while Turner was 6-7 so far on the night, he also shot just 70.8% from the line this year, worse than about three-fourths of the league. The chances of a 70.8% free throw shooter going 2-for-2 at the stripe on any given possession are 50.1%. Almost exactly the flip of a coin.
He swooshed 'em.
Questions and comments?
Follow Us on Twitter @thescorecrow
Follow Us on Reddit at u/TheScorecrow
Follow Us on Facebook at The Scorecrow
Follow Us on Instagram at The Scorecrow
Follow Josh Elias on Twitter @thejelias
Main Credit Image: [getty src="1148131015″ width="594″ height="396″ tld="com"]