Kit Shepard | January 19th, 2019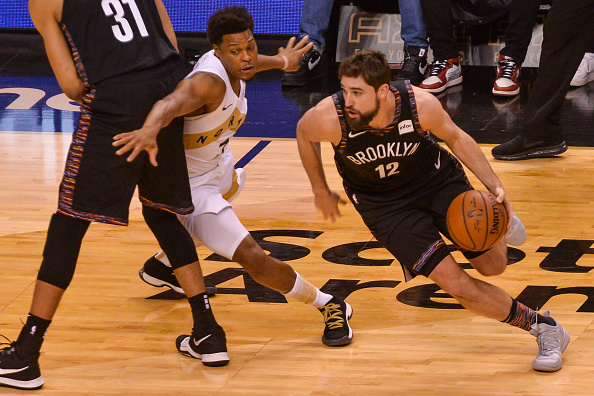 In August of last year, I spoke to Joe Harris of the Brooklyn Nets about his aspirations for both himself and his team ahead of the upcoming NBA season. The then 26-year-old was reluctant to reveal exactly how far he believed the team could go, but he assured me that they had "a lot of reasons to be optimistic". Three weeks into 2019, with over half of the regular season complete, that could be a serious understatement.
Following Friday night's superb comeback win on the road over the Orlando Magic, the Nets pushed their record above .500 for the first time this season and are one of the hottest teams in the league. They have won 16 of their last 21 games to storm up to sixth place in the Eastern Conference standings and, with a 2.5 game cushion between themselves and the ninth-seeded Detroit Pistons, must no longer be hoping that they can make the playoffs. Surely now, a spot in the postseason is an expectation.
After seemingly trading away their future in an (unsuccessful) attempt to win immediately in 2013, General Manager Sean Marks has turned a group of NBA outcasts into a highly impressive unit. Point guard D'Angelo Russell, after being drafted second overall by the Los Angeles Lakers in 2015, was traded to the Nets after just two seasons to make way for the circus that was Lonzo Ball and his family. This season, he has run the offense with the calmness of a veteran, averaging careers highs in points (18.5) and assists (6.4) per game. His backcourt partner in crunch time is Spencer Dinwiddie, who spent much of his early years in the D-League before he was picked up by Brooklyn. Now, after several scoring outbursts off the bench, he has earnt the reputation as the Nets' best closer, a three-year contract extension, and a place in the conversation for Sixth Man of the Year:
The list goes on. There was not much buzz around Jarrett Allen when the Nets took him with the 22nd pick in the 2016 draft, but he is fast growing into a prototypical modern-day center, as well as developing a knack of blocking dunk attempts from some of the league's biggest names. Rondae Hollis-Jefferson and Allen Crabbe have blossomed after being offloaded by other teams. Rookie Rodions Kurucs, taken with the 40th overall pick, looks to be one of the steals of the draft.  They are led by Kenny Atkinson, who took up the coaching job in Brooklyn after stints as an assistant and a playing career where he bounced around Europe. The Nets players and coach do not have glamorous backstories, but they are proving plenty of people wrong this season.
Harris perhaps epitomizes the Nets' roster of misfits the best; the second round pick saw very little playing time while at the Cleveland Cavaliers, but has thrived since joining Brooklyn and leads the league in three-point percentage for players who have shot over 200 triples (for the record, he has shot 47% on 219 attempts from behind the arc). This stat is of little surprise after he told me that he prioritized perfecting his already exceptional shooting in the offseason.
The fifth-year wing out of Virginia did not give himself enough credit for his ability in other areas of the game, such as his solid passing and smart finishing at the rim, and the same can perhaps be said for his analysis of the Nets. He told me that a playoff berth was achievable, but not an imperative for Brooklyn in 2019, stating that even a five-win improvement on last season's 28-54 record could be considered satisfactory.
As mentioned earlier, the Nets are firmly in the hunt for a spot in the postseason and are on pace to win around 15 games more than the previous campaign. Their 24-23 record is, in a vacuum, nothing to write home about but they could, and in truth should, be in the high twenties in the win column. Prior to this current 16-5 stretch, Brooklyn endured a torturous eight-game losing streak, due to their abysmal efforts to close out games. Heartbreaking home loses to the Philadelphia 76ers (Brooklyn led by 13 with under five minutes remaining), Memphis Grizzlies (defeated in double overtime after being up by seven with 30 seconds left), Cavaliers (a two-point loss to one of the NBA's worst teams), and Oklahoma City Thunder (ESPN gave the Nets a 99.5% win probability with under nine minutes to play), left them destined for the lottery.
https://www.youtube.com/watch?v=7Y1htjFl4xw
Fast forward a month, and that optimism that Joe Harris championed has returned emphatically. The losing streak was broken with an overtime win against the high-flying Toronto Raptors, which was clearly a monumental turning point in the team's mentality. Since then, the Nets have been transformed, boasting the joint-best record in the league and a top ten offense. This has all been without arguably their most important player, Caris LeVert, who has been out since November with a gruesome injury but is expected to return this season.
Most impressive of all is the fact that the Nets are 8-0 in games decided by five points or less since the Thunder collapse. Compared to the team that looked a bundle of nerves in clutch situations earlier in the season, Brooklyn at present are unrecognizable and their newly-found confidence in closing out games been on full display in their two latest victories. They held their nerve down the stretch to see off the Magic after the aforementioned comeback, but the final confirmation that they had turned the corner came two nights earlier against the Houston Rockets. Facing a nine-point deficit with little over two minutes remaining, the Nets, spearheaded by a barrage of Dinwiddie threes, were able to force overtime from nowhere. In the extra five minutes, they recovered from seven points down to finish the game on a 10-0 run, highlighted by the persistent double-teaming of the red-hot James Harden, as Brooklyn dared someone other than the reigning MVP to beat them, and no Rocket could. Through miraculous shot-making and gutsy defensive strategy (earlier in the game, they had also unsettled Houston by playing zone defense), the Nets won a game that, with 30 seconds left in the fourth quarter, they had a 98.3% chance of losing. They are doing to opponents what teams were to them a mere six weeks ago.
So, with a bunch of underestimated players shining, the late-game demons seemingly well and truly banished and one of their key pieces coming back soon, what is the ceiling for this Brooklyn team? A playoff seed would be a major achievement but, barring any major injuries, it will take a performance for the ages to win a series. There are five teams out East (the Raptors, Milwaukee Bucks, 76ers, Indiana Pacers, and Boston Celtics) that are considered to be a level above the others. The Nets, despite their sensational recent run, are still four games off the fifth-placed Celtics, and are pushing to establishing themselves as the best in the second tier of the conference, battling the likes of the Miami Heat, Charlotte Hornets, Pistons, and possibly the Magic and Washington Wizards for the last spots in the postseason.
Yet Harris' measured hopes indicate that a first-round exit against one of the East's 'big five' would be more than enough to signal success in Brooklyn. The team appears united and focused on winning, but equally is simply enjoying the season and curious to discover where their superb, unexpected performances of late will take them. That being said, on current form, you would have to imagine that the Nets do not fear anyone out East and will surely relish being heavy underdogs. A team with nothing to lose is always a dangerous one.
There is still plenty of regular-season basketball to be played and, just as this current winning run came out of nowhere, the Nets could see their fortunes change just as quickly. That being said, they have already shown enough this season to prove that they are heading in the right direction. A couple of years ago, a Brooklyn victory would have been embarrassing for their opponent and triggered claims like 'how did this team lose to the Nets?'  If nothing else, the Nets are no longer the Nets. 
Brooklyn has had to build something from nothing, and although this achievement may be more of an indictment on how poor the team was in recent years, it is a fantastic achievement nonetheless. As the last year of an eventful decade begins, the Nets boast a group of discarded players that can take them back to relevancy and the playoffs. If they can make the postseason, they will be counted out in any series they play but this Nets team has shown that, for better or worse, it can defy all odds.
Statistics correct as of January 19th, 2019
Questions and comments?
thescorecrowsports@gmail.com
Follow Us on Twitter @thescorecrow
Follow Us on Reddit at u/TheScorecrow
Follow Kit Shepard on Twitter @KitShepard Main Credit Image: [getty src="1081231902″ width="594″ height="396″ tld="co.uk"]