Lourdes Gurriel Jr. is one of the better hitters available in free agency this offseason in one of the weakest hitting classes of recent memory. However, there is reason to believe Gurriel has additional untapped potential that he started to flash this past season.
MLB Trade Rumors projects Gurriel to receive a four-year contract worth $56 million and I strongly believe that to be a bargain. Setting a new career-high in home runs and significantly improving his defense, Gurriel's only weak output in 2023 was his BABIP, 30 points lower than his career average.
Gurriel's career wRC+ of 113 is above average, though consternation regarding mediocre fielding corner outfielders has impeded his overall value. A league-average player (approximately 2.0 fWAR) makes about $16 million annually on the open market. Given his age and comparable players' contracts, the MLBTR projection looks spot-on.
Most statistical models have Gurriel performing at similar rates, both offensively and defensively, over the next couple of seasons. The reason for doubting these statistical models is that they cannot properly grasp players' changes in talent level.
The goal of statistical models is to generalize performance while mitigating aberrations. Therefore, deep into a player's career year, the model will tend to project a regression for that player the following season. Yet, a player like Gurriel, who has made serious alterations and improvements, is anomalous and therefore a difficult case for projection models.

While it is impossible to quantify what Gurriel is capable of, we can understand how his growth has impacted his play up until now and try to incorporate this new information into statistical models.
Gurriel has improved his swinging strike rate every season following his initial promotion to the majors. He had a 15.7 percent rate in his first full major league season (bad but not terrible), but that figure has decreased every season, reaching a terrific new low of eight percent.
This change in swinging strike rate is no accident; Gurriel has worked tirelessly to improve his swing and he's finally gotten it to a point of sheer excellence.
When Gurriel was young and inexperienced, his long swing stunted his growth and prevented him from becoming an All-Star-level player despite possessing superb natural gifts of bat speed and power. That being said, baseball departs from other team sports because it is skill-based as well as talent-based, so while talent level may slip with age, a player can continue refining and improving his skill set.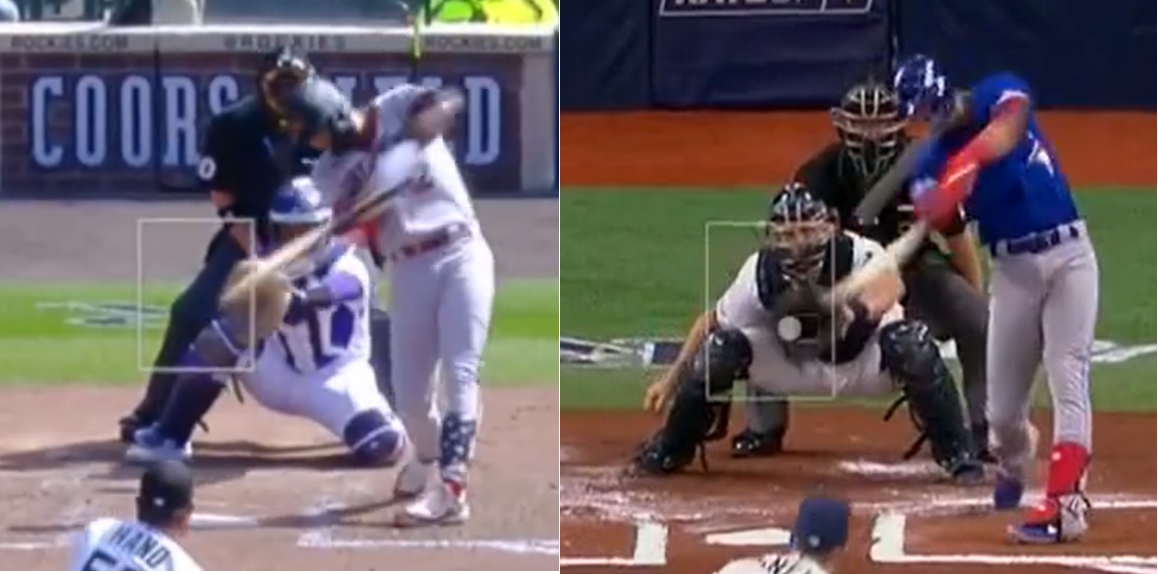 Gurriel's improved swing mechanics led to a smoother swing path and a vast improvement in contact. Smoothing out your swing path means fewer whiffs on hittable pitches, bringing out a hitter's natural hand-eye coordination. His once-long swing, which had a dreaded loop in it instead of a direct path to the ball, was finally fixed. The problem in his swing path was caused by an inability to keep his left elbow tucked into his body.
As soon as Gurriel fixed this problem, he became one of the most unique hitters in MLB. There was only one player in the majors in 2023 who made as much contact in the strike zone as Gurriel while also hitting the ball harder than him, and that player was Mookie Betts. The only other players who were even remotely close to this feat were Yandy Diaz, Corey Seager, and Ronald Acuna.
Gurriel's elite Z-Contact% (percentage of contact on pitches in the strike zone) of 91.2 percent ranked 14th in MLB and his excellent 39.3 percent hard contact rate (percentage of contact made at or above 95 MPH exit velocities) ranked 23rd.
Yet, his unique ability to contact almost any pitch thrown to him, due to elite bat control, is also his biggest weakness. Gurriel's inability to walk is the only thing keeping him from becoming an All-Star. However, once you consider his ability, willingness, and desire to improve his game, laying off pitches outside the strike zone is the next challenge he must overcome. While a difficult task, it is an attainable goal for a hitter as gifted as Gurriel and is also a cause for optimism, given the tremendous strides he's already made to improve as a hitter.
If looking toward analytics alone, you would have been led to believe that much of Gurriel's improvements last year and over the past couple of years would be due for regression toward the mean. Yet, the opposite could be true after scouting showed that his swing path, swing mechanics, and improved plate approach all vaulted from the realm of aberration into the sphere of confirmation. Not only have we discovered the reason for Gurriel's improvements, but we can now understand that those improvements are less likely to erode with age.
So while his ceiling as an overall baseball player will never overcome his mediocrity in the field, Lourdes Gurriel Jr. may very well be the best free agent deal this offseason.
---
Main Image Credit:
Advertisement