Josh Elias | January 27th, 2019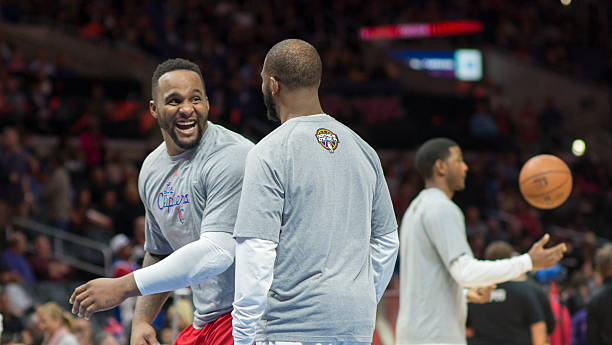 If there's one thing that's talked about more than anything when it comes to basketball, it's 'the GOAT question'. Who is the greatest of all-time? Almost everyone says either LeBron James or Michael Jordan, with the occasional instance of Wilt Chamberlain, Bill Russell, Kareem Abdul-Jabbar, Larry Bird, Magic Johnson, or Kobe Bryant.
The point guard, shooting guard, and small forward versions of this article are a good introduction to this concept of the evolution of each position and how important it really is.
The Average Power Forward: '50s to Now
Today let's take a look at the evolution of the power forward position.
They shall say to the elders of his town, 'This son of ours is stubborn and
rebellious. He will not obey us. He is a glutton and a drunkard.'

Barkley 21:20
Some people refer to the 1950s as the era of "White and Height" when it comes to the NBA, and that led to the two big man positions dominating the game.
Power forwards, ironically, considering their name, were generally a more "finesseful" version of centers, and many of them had been centers in college.
Many of them were known for their high post-ups, and others simply posted up on the opposite side of the center, which was a less successful tactic comparatively and would eventually fade out of the NBA as a mindset, as it caused spacing problems that allowed the defense to collapse in on them both.
The best power forwards of the decade, most notably the consensus top two of the decade, Dolph Schayes and Bob Pettit, were masters of the mid-range shot, even more than many wings.
Ten points and seven rebounds were the decade's averages.
In the sixties, the league trended away from those types of power forwards though, and more towards hard-working bulldogs of players. Every team either had or wanted to have the next great center, and the four position became more of an afterthought.
Most systems saw them as hockey-style enforcers who would defend the star center and other leading scorers to all ends, and other than that their role would be to grab some rebounds, go after a few loose balls, and act as hard-nosed help defenders.
As a result of that, we saw Bailey Howell and Willis Reed, the two best scoring fours, change position to small forward and center respectively later in their careers as their teams realized how good they actually could be.
As we head into the decade after that, the position benefitted from the ABA stealing away stars of other positions.
It was actually respected as a position again, especially after Rudy Tomjanovich was punched, in-game, so hard that parts of his skull shattered and he almost died, and then returned the next year and got right back to being the East's All-Star starter at power forward.
https://youtu.be/BI8nVJLHDMo
The guy that started at the four opposite him for the West the year after that? Kermit Washington, the guy who'd punched him.
Despite that amazing storyline, the pure statistics went down from the decade before, mostly (but not entirely) because of the decrease in the league's pace.
Getting into the 1980s, the most notable change was the decrease in rebounds and the correlating increase in blocks: down to below six rebounds per game for the first time and they haven't gone back above it since. It signaled a change in the play style necessary for the position.
With the three-pointer, which they shot at a rate of just 22%, added into the NBA game, the ability to hit a mid-range jumper was almost a necessity now, and defensively they aimed for blocks, like centers, much more often than previously.
Points, assists, and steals all slightly went down, turnovers increasing instead, and the average power forward came very close to hitting half their shots.
The '90s saw another statistical decrease, in almost all categories this time, although the main reason for the drop across the board is the increase in "iso offense" slowing down the tempo.
Three-pointers increased drastically, to a semi-respectable 31% average, and defensive output, adjusted for pace, looked quite good.
They didn't have many stars in the position – just Karl Malone and Charles Barkley. They're two unforgettable talents and the rest of the field mostly was made up of "sixties guys", those tough guy characters like Charles Oakley, Tyrone Hill, and the most obvious name for that category, Dennis Rodman.
In the 2000s, we had Tim Duncan, Dirk Nowitzki, and Kevin Garnett in the mix, and these were stars who were much more comfortable with the ball in their hands, which saw a little bit of a trend toward increasing assists and decreasing turnovers, despite a continued general drop in possessions.
This decade saw the invention and adoption of the stretch four – the average power forward shoots 1⅓ threes a game, and at almost a 35% clip.
As they spent more time around the perimeter, their ball handling ability hadn't caught up with their growing shooting abilities, meaning many of them would be turned into catch-and-shoot options, and therefore all their offensive quantity stats took a hit, while, on defense, blocks stayed the same but steals dropped.
The Average Power Forward Personified
So who's the ever-changing average power forward throughout the league?
Starting way back in the fifties again, it's Jack Nichols.
A very good second option in the post throughout his career, and a lefty – something you didn't see very often in those days – and he was a specialist of the hook shot and the fadeaway… from the low block, that is.
He was one of those guys I mentioned earlier who would play in the low post opposite the center, ruin spacing, and then fall out of NBA relevance.
In fact, he did so very drastically, going from near-All-Star form one year to one of the league's worst players the next, before getting traded and slowly managing to reinvent his game under Red Auerbach's Celtics.
John Tresvant is actually the perfect example, I think, of that type of hard-nosed guy that played power forward in the 1960s.
He apparently wasn't skilled enough at basketball to make his high school team, so then he went to the military, was in the Air Force, and then finally starting playing basketball afterward.
He was known for being that player who would get into fights – even when he was the star of his team back in college, he started a brawl when his Seattle University played at Montana, and then two weeks later when Montana came and played at their court, he grabbed 44 rebounds.
In the NBA, he was still one of the hardest-working rebounders, and it was actually a rebound that ended his career, when, going for a loose ball off a teammate's missed shot, he hit his knee so hard into the opponent he was battling for the rebound with that he'd never play again and would quickly need two knee replacements, both on that one knee, in the few years after that.
He was a star rebounder even after he couldn't play anymore – in fact, he invented a literal rebounding machine when he was coaching a girls' high school team because he didn't like that they didn't rebound enough.
In the seventies, Mr. Average was Steve Hawes. Also from Washington state, like Tresvant, he had a bit of an interesting path towards the NBA, like a lot of players from the '70s did.
But while many of them started their career in the ABA, he actually went over to Italy to play for Reyer Venezia for two years after being drafted.
Unlike his nephew Spencer Hawes, who spent a lot of his career making money by being a tall guy who can actually shoot the ball, Steve's best assets were on defense, and he was one of the best outlet passers in the league, which was taken much more seriously as a skill in that decade. (Wes Unseld once won MVP based primarily on the fact that he could rebound and then chuck the ball down the length of the entire court to a streaking teammate.)
It was James Bailey for the eighties, and most people aren't going to know who that is, an odd occurrence for a contemporary of Jordan, Bird, and Magic.
Aside from two seasons of very good offensive showings of 13 and 14 points per game, he had pretty much no visceral impact on the NBA.
The one thing that did play an important piece in is that he was one of the pioneers of the alley-oop. He was a very athletic player, though a bit undersized for a power forward in terms of both height and strength, so he had to use his acceleration to get some sort of an advantage, and that was how he chose to do it.
J.R. Reid did bring us a bit more toward that physicality of the nineties that had largely been lost for a couple of decades for the position.
He was a football player in high school but got recruited as a basketball for college because of his height.
He's arguably a bust at the NBA level, considering the expectations. A lot of people predicted he could be a Hall of Fame-level talent, which obviously never materialized.
Here's a weird J.R. Reid story:
When he was playing, he owned a hip hop label as well, and there was a longstanding feud over the royalty rights to Blackstreet, one of the groups signed to his label. Apparently, it led to an altercation where, somehow, Bobby Brown and Keith Sweat emded up pinning him down while Big Daddy Kane shaved off Reid's high-top fade.
The next day, A.C. Green mentioned the incident to Reid in a game, and Reid responded by elbowing him in the face, hard, knocking out two of Green's front teeth.
Is there a point to mentioning that story? Absolutely not, it's just weird and entertaining.
https://www.youtube.com/watch?v=pO1TB0az1YA
In the 2000s, there wasn't really anyone who was perfectly average.
The closest, I guess, would have to be Vladimir Radmanovic, at least statistically. But even then, his rebounds were a bit less than average and his three-point frequency was obviously way above average, not to mention accuracy.
Vlad Rad was generally the sixth or seventh best player on one of the worst teams in the league for pretty much his entire career – for Seattle, the Lakers, and for Charlotte.
I'm so sorry for reminding you that the Bobcats used to be a thing.
And the average power forward for this decade is… (drumroll, please)…
Oh god, it's Glen "Big Baby" Davis.
I'm just going to have let that sink in for a moment, but it's not like he was a bad player by any means when he was in the league.
He had quite a good run in the playoffs in '09, even hitting a buzzer-beater to beat the Magic, and then when he joined the Magic, he stepped up there as well. At least until he got cut by them.
A very goofy personality during his time in the league, now holding a questionable criminal record and a BIG3 Championship (he's one of the only players to have actually successfully made a comeback based on his time in that league) – none of those things negate the fact that, as an NBA player, his career is the definition of average this decade.
Questions and comments?
thescorecrowsports@gmail.com
Follow Us on Twitter @thescorecrow
Follow Us on Reddit at u/TheScorecrow
Follow Josh Elias on Twitter @_SunsofThunder_
Main Credit Image:[getty src="528785542″ width="594″ height="335″ tld="com"]