Caleb Mynatt | August 17th, 2018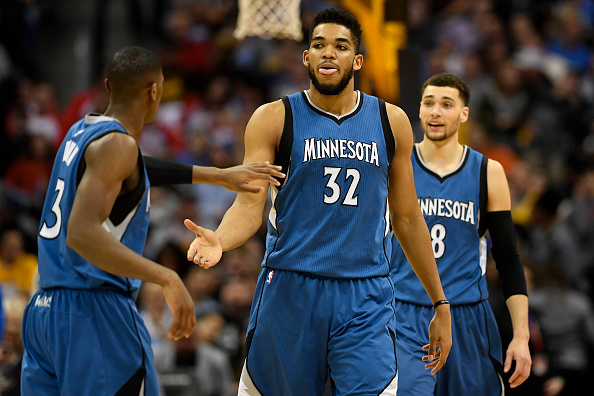 Only four years ago, the Minnesota Timberwolves looked as though they would become a newfound story of success as opposed to the regular story of sorrow. After failing to make the playoffs with Kevin Love at the helm, the Wolves traded for draft darling Andrew Wiggins to begin ushering in a new era of Minnesota basketball. Garnering comparisons to Tracy McGrady, the Minnesota faithful were excited for their young star to lead their once-successful franchise for years to come.
Then only one year later, the Wolves found themselves drafting another talented player: Karl-Anthony Towns. After an amazing rookie and sophomore campaign in which the true seven-footer showed off his low-post scoring ability as well as his shooting, the Timberwolves became the league-favorite to be the next contender-to-be, being compared to the likes of the Warriors and Thunder as teams that have successfully built themselves through the draft. Minnesota didn't want to wait to compete, however, and traded for All-Star Jimmy Butler in the 2017 NBA Draft. With a solidified leader and star, the Wolves fan base was ecstatic. After 13 long seasons, the T'Wolves were ready to contend again.
But after an eighth seed finish and losing in the first-round in merely five games, the team clearly left a lot to be desired.
It seems unbelievable how quickly Minnesota's fortunes changed good to bad. With Tom Thibodeau as the head coach, critics and fans alike expected him to recapture some of his success with the Bulls, leading the Wolves expecting to be formidable on offense and stellar on defense. But with the Wolves ranking eighth in points per game on 47.6% shooting and having the eighth-worst defensive rating in the league, the Wolves got the exact opposite of what they were expecting. The Wolves were not suffering from foul trouble either; their defense just did not pan out how many thought it would with an All-NBA defender and a young, talented core around him. And when Butler went down with an injury in February, things got even worse on defense for the Timberwolves: with Butler on the floor, the Timberwolves have a 105.1 defensive rating as opposed to a 112.2 with him off.
What Went Wrong
While the defensive side of the floor didn't end up working out as the team had planned, their offensive numbers offer surface level optimism. A top 10 scoring offense on top five shooting seems good, a deeper look in the numbers can explain why it may not be as good as it seems. 45% of the Wolves points came from the paint this season, 60.3% came from the two-point range, 8.8% from fast breaks and 17.7% from the free throw line. With these numbers, it makes sense that the Wolves shooting percentage was high. While it is impressive that they were able to score that much given their lack of three-point scoring, it is also important to remember that the Timberwolves started played a league-high 34.8 minutes per game. Like most teams led by Tom Thibodeau, this left his best players with seemingly good numbers, but extremely fatigued at the end of games. While there was potential for an extremely capable and efficient offense, it wasn't good enough to make up for their poor defense.
There are many critiques you could make of the Timberwolves: the game plan isn't great, the starters play too many minutes, Wiggins isn't improving like many thought he would, etc. The one extremely concerning thing that has come to light, however, is how bad the team's chemistry and focus is. In June, it became known that Jimmy Butler was unhappy with the Wolves, even turning down a contract extension, because of what he deemed to be poor management decisions and lack of seriousness from the players on the team. It's an accusation that his agent used a lot of words not to deny, and in turn, has had Butler linked to eyeing New York or Boston in free agency.
Outside of Butler's unfortunate injury that sidelined for about two months, this would explain a lot about the Timberwolves struggles. A disgruntled star and a less-than-focused team could definitely lead to a team falling short of their goals. Partner that with a high-intensity game plan that doesn't feature much spacing and it makes sense that the Wolves hopes of contending in the Western Conference did not come to fruition.
Looking Forward
While the 2017-2018 Timberwolves didn't succeed how they would have liked, there is still hope for the 2019 team. The talent this team possesses is undeniable because three athletic, mobile scorers are really hard to come by. In theory, the Wolves are returning one of the best cores in the NBA. But the real question for the T'Wolves is at what point does talent on paper not mean as much as a commitment to improving not only as individuals but as a team. This team is much more talented than an eight-seed if they play to their potential, but can they accomplish that? The reported lack of commitment and team chemistry are huge red flags for a team built on young talent that needs minimum distractions. Perhaps this summer will be the wake-up call that this team needs to finally become serious about winning. But if they continue down the path they are going down, things are going to get a lot worse before they get better.
Questions and comments?
thescorecrowsports@gmail.com
Follow Us on Twitter @thescorecrow
Follow Us on Reddit at u/TheScorecrow
Follow Caleb Mynatt on Twitter @CalebMynatt
Main Credit Image: [getty src="630632448″ width="594″ height="396″ tld="com"]