Kit Shepard | September 19th, 2018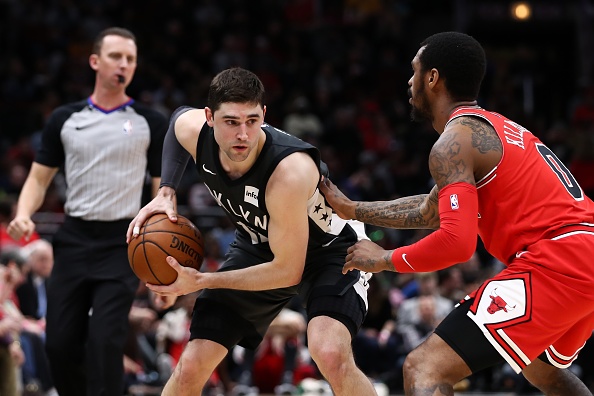 The Brooklyn Nets do not have the reputation as the most patient organization in the NBA. In 2013, they gave up four first-round picks to the Boston Celtics for (among others) a 35-year-old Paul Pierce and a 37-year-old Kevin Garnett, in a desperate attempt to contend now. It was a disaster for Brooklyn. Garnett and Pierce had both left by 2015, leaving the franchise's present looking bleak, and their future looking horrific.
Yet ahead of the 2018-19 season, Nets wing Joe Harris believes the franchise is moving in the right direction. Coming off of an encouraging season, he believes that there are promising times ahead. Brooklyn seems content to focus on long-term advances, a strategy that Harris is willing to buy into.
Last season, Harris logged career highs in points, assists, and rebounds per game, but his value lay in his ability to consistently knock down shots from long range. His three-point percentage (41.9%) put him in the top 10 for players who shot over 300 triples, and his effective field goal percentage (61.2) ranked fourth in the league for those who attempted over 600 field goals.
It is no surprise then, that Harris is not looking to make radical changes in the offseason. "I wouldn't say I alter a ton of things…I know where my skills and strengths lie, so I try to be really good at them," states the 26-year-old. "I work on shooting and finishing, the things that I have niche strengths at".
While he is fairly satisfied with his offensive game, Harris hopes to develop his defensive attributes. "I'm trying to improve my conditioning, lateral quickness, things that will help offensively, but also defensively too, because I'm trying to get better on that end of the floor". Being "efficient on both ends" is a major personal goal, with his role in Brooklyn steadily growing.
And Harris' increased importance to the Nets, a team who are also attempting to make gradual but consistent progress, was reiterated in July's free agency. His impressive showings since arriving from Cleveland in 2016 were rewarded with a new contract, earning him $16 million over the next two seasons, and he was more than happy to remain in Brooklyn.
"I really wanted to stay in Brooklyn, that was my goal from when free agency started", Harris revealed. "Over the course of the year, I knew I was going to be an unrestricted free agent going into the offseason, and Brooklyn was always the place where I hoped to get something done. I did contemplate going elsewhere because there were other options, but ultimately Brooklyn was where I wanted to go and I was glad we were able to work things out."
Brooklyn's Mix of Youth and Experience
This desire to stay with the Nets was in no small part down to the promising young core of talent that the team boasts. At 26, Harris is one of many in Brooklyn who are on the verge of or just entering their primes, with the list also including the likes of Spencer Dinwiddie (aged 25), Caris LeVert (24), D'Angelo Russell, and Rondae Hollis-Jefferson (both 23), who all averaged over 25 minutes a game for the Nets last season.
"We have a lot of reasons to be optimistic…we have a lot of young, solid players who have been improving each year". Indeed, while the Nets 28 wins last year was not exactly a dream season, the total was eight greater than the year before. Further progress could be just around the corner, with chemistry unlikely to be an issue. "We've all been together for a year now, some of us two years…and I've seen everyone improve. Spencer has got better. D'Angelo has got better. Caris has got better."
The Nets are far from a team of total novices though, with offseason acquisitions Kenneth Faried, Ed Davis, and Jared Dudley carrying 26 seasons of NBA experience between them, and Harris thinks they are ideal to help that young core make the jump. "It's a good balance now with the veteran players and a lot of the young guys that we have. Ed and Shabazz [Napier] have come from playoff teams, and Kenneth and Jared have played on playoff teams in the past".
Brooklyn will be hopeful that these new additions will be on a playoff team in the coming season also. They have been languishing near the bottom of the East for three straight seasons, but the postseason seems a possibility in 2019.  "It's not something that's out of reach by any means", asserts Harris, but the playoffs are not a necessity for the Nets right now. "We're looking to try and take the next jump, whether that's five more wins than last year or ten, we're just trying to improve on the season we had last year and the momentum we have." With the catastrophic consequences of the infamous trade with the Celtics finally over, it appears that the Nets are happy to take a more patient approach moving forward.
The Bright Future
Harris is not alone in his faith in the Nets roster. Dinwiddie has been particularly bullish, claiming that Brooklyn is the best team in New York in an ongoing Twitter battle with Knicks center Enes Kanter, who never backs away from an online feud. Although Harris himself is not an avid user of social media, he has no issue with the very public, but seemingly light-hearted, exchange. "There is a cross-town rivalry, regardless of what anybody says. There's always a little bit more energy around those games." If Harris' buoyant feelings regarding his team are justified, then the Nets have every chance to pull away in the battle for the Big Apple.
But if Harris and Brooklyn want to continue their progression, then they must think beyond the Knicks. After representing the East in the Finals for the previous eight seasons, LeBron James' move west to the Lakers blows the conference wide open, with multiple teams set to fight for dominance over the coming years.
Harris' views on the post-LeBron East mirror the long-term approach that he and the Nets are championing: "Just as our team is young, there's a lot of teams in the East that are like that". He lists Boston, Philadelphia, Toronto and Milwaukee as teams "trying to get over the hump and take over". As for the criticisms that the Western Conference is far superior, Harris contends that "in terms of where the league is going and young star power, the East is every bit as talented as the West."
As far as next season is concerned, Harris is both optimistic and willing to be patient as he and his teammates develop: "We're trying to solidify ourselves as a young, up and coming team in the East". Nevertheless, with a new era about to begin in the conference, the Nets have time on their side and, if they can continue their pragmatic attitude, may just peak at the perfect moment.
Questions and comments?
thescorecrowsports@gmail.com
Follow Us on Twitter @thescorecrow
Follow Us on Reddit at u/TheScorecrow
Follow Kit Shepard on Twitter @KitShepard
Main Credit Image: [getty src="943205618″ width="594″ height="396″ tld="com"]