Kit Shepard | April 28th, 2019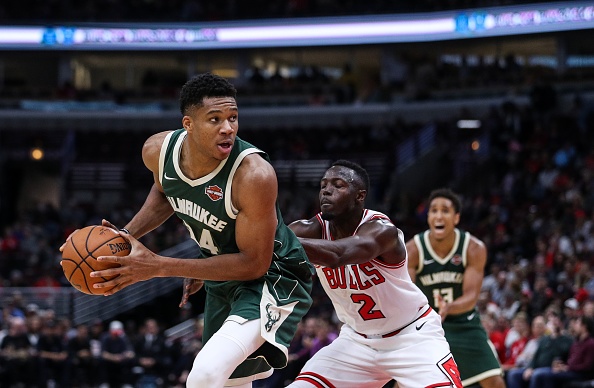 The Milwaukee Bucks and Boston Celtics both swept the first round to set up a rematch of last year's series between the pair in the Eastern Conference semi-finals. How each team defends the other's superstar, coaching strategy and injuries will all play a significant part in this highly-anticipated clash.
How they Got There: A Tale of Two Very Different Sweeps
Few expected the Bucks to have any problems handling the Detroit Pistons in their first round match-up, but their total annihilation of the eighth seed was impressive nonetheless. Milwaukee ran riot from the opening tip of game one, winning each encounter by at least 16 points and by an average margin of over 23 on their way to a sweep and their first series win since 2001. As they have been throughout the season, they were spearheaded by Giannis Antetokounmpo, who physically demolished the Pistons. The Bucks finished the regular season with the league's best record (60-22), and this dominant, professional display demonstrated why.
The Celtics also swept their first round match-up, ably handling a spirited Indiana Pacers outfit. There was a gaping, Victor Oladipo-shaped hole in the Pacers offense throughout the series, and Boston took full advantage with stifling defense, holding the fifth seed to a mere 91.75 points per game, the lowest in the playoffs so far. Yet despite Kyrie Irving looking as devastating as ever in high-pressure situations, Jayson Tatum showing flashes of the player that was sensational twelve months ago, and Gordon Hayward demonstrating aggression not seen since before his traumatic leg injury, a 4-0 victory flattered the Celtics. Each game was decided by ten points or less, with Boston trailing for extended stretches in all of them. They escaped unscathed against an overachieving team that was missing its best player, but the Bucks juggernaut will ruthlessly punish this degree of complacency.
Key Questions
How will Horford fair against Antetokounmpo?
Celtics coach Brad Stevens made Philadelphia 76ers star Ben Simmons borderline unplayable in last year's playoffs, exposing the young playmaker's lack of a jump shot to devastating effect by having Al Horford sag off him completely in the halfcourt. And although Antetokounmpo outside shooting is poor (he shot a meager 25.6% on triples this season) rather than non-existent like Simmons, Boston will likely use a similar strategy; it might be the only way to stop him:
Peep the Nets bench after the Giannis Antetokounmpo airball pic.twitter.com/dmoQxUMzbn

— Def Pen Hoops (@DefPenHoops) 5 February 2019
But even if the Celtics do not have to guard Giannis on the perimeter, he will be very tough to handle in the paint, as shown by his average of nearly eight field goals in the restricted area per game during the regular season, the best in the league by a distance. Fortunately for Boston, Horford is perhaps the most capable player in the NBA to handle the 6'11" behemoth inside. It is no secret that the 12-year veteran defends Joel Embiid, another exceptional scorer down low, better than anyone, and the advanced numbers suggest that the Celtics benefit when both he and Antetokounmpo are on the floor together. The MVP favorite cannot be stopped, only contained, but if anyone can force him into a few misses at crucial junctures, it might just be Horford.
Can Bledsoe Bounce Back Against Kyrie?
The Celtics made the Conference Finals last year, and one of the primary reasons for their postseason success was Eric Bledsoe. In the first round match-up between Milwaukee and Boston, the Bucks guard was terrible, as his reputation as one of the league's elite guard defenders was heavily tarnished by Terry Rozier.
Bledsoe, much like the Bucks as a whole, has recovered superbly after underachieving in last year's playoffs, contributing to Milwaukee's success on both ends, but especially with his tenacious defense. However, he will be tested to the limit by the Celtic who, to grossly over-simplify, is a substantially better version of Rozier; Kyrie Irving.
After missing last postseason through injury, Irving has returned this year as if he had never been away, making timely, priceless contributions in the clutch. Nobody needed convincing, but his impeccable handles, automatic finishing at the rim and deadly pull-up three were all on show against the Pacers, reminding everyone that the 27-year-old's isolation game is perfect for the postseason. Stopping Irving, the focal point of the Celtics offense, is an intimidating task even for a defender of Bledsoe's quality. That being said, what better way to gain redemption?
How Will the Celtics Cope with Milwaukee's Spacing?
The three five-man line-ups to play significant minutes for the Bucks in last year's Celtics series all included Antetokounmpo and one of John Henson, Tyler Zeller or Thon Maker, three players who shot a combined one three-pointer a game. This crippled Milwaukee's spacing, therefore limiting Giannis' ability to penetrate.
This season, coach Mike Budenholzer has revolutionized the Bucks offense, surrounding Antetokounmpo with four shooters at all times to give him maximum room inside. This includes Brook Lopez, Nikola Mirotic and Ersan Ilyasova, who all stand at 6'10" or taller, and shot over 35% from deep on 7.9, 9.2, and 4.7 attempts per 36 minutes respectively this season. Unsurprisingly, this has seen Antetokounmpo lead the league in points in the paint and achieve a career high in assists per game (5.9):
THE VISION!!! pic.twitter.com/JFhwSttMYN

— Bucks Film Room (@BucksFilmRoom) March 23, 2019
Stevens is considered one of the NBA's great tacticians, and it will be fascinating to see how he combats the Bucks' four-out system. Hayward, Jaylen Brown and Tatum are all mobile wing defenders with the ability to scramble and rotate quickly to prevent open looks, while Horford is anything but a liability on the perimeter at the five. Yet despite Milwaukee's plethora of solid shooters from outside, expect Boston to prioritize stopping Antetokounmpo by forcing him to pass, even if this gives up wide open looks. He's that good.
Who Will Handle the Loss of a Key Player Better?
Both sides are without a pivotal piece in their system, with the Bucks missing Malcolm Brogdon for at least the first two games, while the Celtics will not have Marcus Smart until a theoretical game six at best.
Brogdon was excellent for the Bucks all season, becoming only the eighth player to join the hallowed 50-40-90 club. The guard's aptitude at playing both on-ball and off-ball offense is a major loss for Milwaukee, increasing the pressure on all-star Khris Middleton to create when Giannis takes a breather.
Meanwhile, Smart is arguably the Celtics' third-most important player after Irving and Horford. He is the emotional core of the team and his relentless, dogged defense is something Boston could have done with against the East's best offense. His knack of forcing turnovers in critical moments is ideal for the playoffs and will be almost impossible to replace.
Neither team seemed to be hampered by injuries at all in their first round sweeps, but as the opposition gets better and the stakes get higher, their absences could decide the series.
Facts and Figures
Prediction
This is a tough one. The Bucks will begin the series, deservedly, as favorites and after such a dominant regular season and destruction of the Pistons. Despite this, their lack of experience at this stage of the playoffs is somewhat concerning and could leave them vulnerable against a Celtics outfit who were a quarter away from a trip to the Finals last year.
And although they are underdogs, the key match-ups seem to favor the Celtics. Again, Horford cannot stop Antetokounmpo, but nobody would be surprised if he kept the 24-year-old quiet in at least one game. Likewise, Bledsoe is under huge pressure to perform after last postseason's catastrophe, and Irving is more than capable of making him look silly, particularly in the clutch. On the sidelines, Budenholzer will most likely win Coach of the Year, but Stevens will certainly have a scheme or two up his sleeve to limit the Bucks' spacing.
The injuries to Brogdon and Smart could also play a huge factor, but the Celtics' playoff know-how and tendency to play to the level of their competition could be enough to pull off an upset.
Celtics in six. 
Questions and comments?
thescorecrowsports@gmail.com
Follow Us on Twitter @thescorecrow
Follow Us on Reddit at u/TheScorecrow
Follow Us on Facebook at The Scorecrow
Follow Us on Instagram at The Scorecrow
Follow Kit Shepard on Twitter @KitShepard
Main Credit Image:
[getty src="858528858″ width="594″ height="388″ tld="co.uk"]