Pranav Ramasubramanian | October 13th, 2018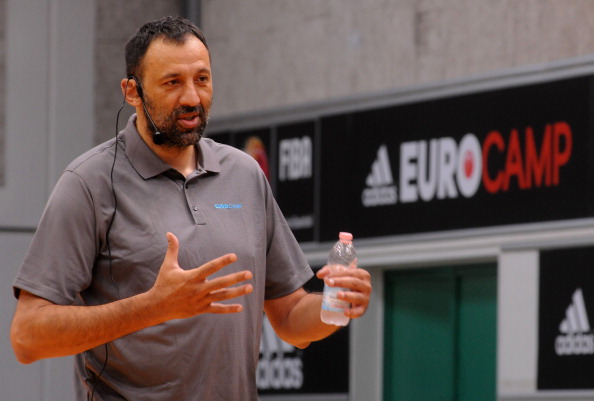 The Sacramento Kings were 12th in the Western Conference last season going 27-55. Will they improve enough to make the playoffs this year? Or will it be another year of tanking?
Recap of Last Season
The Sacramento Kings have the worst front office in the NBA as they chased away DeMarcus Cousins, their franchise player because he was so disgruntled by the team's constant failures and Vlade Divac, GM of the Kings, admitted he had a better deal for Cousins two days earlier, but ultimately traded him to the New Orleans Pelicans along with Omri Casspi for Tyreke Evans, Buddy Hield, Langston Galloway, a 2017 first round protected pick, and a 2017 second round pick. It put the Kings in full tank mode as they looked to hit the reset button rather than paying the best center in the league in free agency.
Kings GM Vlade Divac on why he didn't wait until closer to Thursday's trade deadline to make a move … pic.twitter.com/r2o3piEByL

— ESPN (@espn) February 20, 2017
The Kings got some nice pieces in the draft as they got De'Aaron Fox, Justin Jackson, and Harry Giles in the 1st round and picked up Frank Mason in the second round to surround themselves around young talent. Dave Joerger's second season didn't go as planned as no one on the team averaged more than 14.5 points, which is horrific for a team that plays very free-flowing and through young players. It's like the Kings just don't have that go-to guy and in the Western Conference they just couldn't win games or be any type of competition. The Kings finished 27-55 and 12th in the Western Conference while being the NBA's 6th worst team, but got the lottery balls to fall in their favor.
Offense
The Kings got lucky with the No.2 pick of the NBA Draft last season and drafted power forward Marvin Bagley III, who should be the Kings best offensive weapon as Bagley can really dominate in the post with his smooth and fluid movements and quick feet. He has great hands along with good body control and can anchor the Kings offensively like he anchored Duke last season. Bagley can also shoot three's so he will be able to really open up the floor by nailing a decent amount of them while also running some lethal pick and roll action with De'Aaron Fox this season so expect Bagley to steal Zach Randolph's minutes, which will decrease due to age.
https://www.youtube.com/watch?v=b8npmjEKwbs
In addition to being anchored by Bagley, the offense will also run through De'Aaron Fox, who will clean up some consistency issues on offense as Fox only averaged 11.6 points and will probably average 20 plus points per game because of his ability to get to the rim. Willie Cauley-Stein is a decent shooter that can hit from anywhere on the court and can dominate the post in small stretches, but his true shooting percentage dropped last year because he was forcing up too many shots. That will likely continue this year as he will be fighting for minutes in a contract year so offensively Willie Cauley-Stein will digress. One of the good college players that hasn't really played well yet for the Kings is Justin Jackson, who after being drafted very highly had underwhelmed last season with only 6.7 points per game. Expect to see that increase after Jackson's impressive Summer League games where he showcased his quick, smooth release shooting from the perimeter with a mid-range game and finishing in the lane for nice floaters. The most consistent piece for the Kings was Bogdan Bogdanovic when he used his offensive versatility by facilitating in an off-guard role. He moved the ball by having the best pass to assist ratio at 9.4% creating valuable possessions while shooting 47% from mid-range and 39% from three showing he could be a consistent scorer. Expect him to grow next season and get the most minutes on the team yet again. The Kings ranked 30th in pace, 30th in points per game and 29th in offensive rating. They will get better with all the young players flying up and down the floor.
Defense
A team with long arms should be able to defend very well, but Sacramento struggled on the defensive end as well allowing 111.1 points per game, 28th in the league and 24th overall with one of the bright spots on the defense being Willie Cauley-Stein, who has quick lane agility and swats shots at the rim. He has the ability to guard multiple positions, but his mental lapses on defense need to stop and will come back and haunt him this season. Some big men just get drained by their offense, and they forget about defense. Marvin Bagley III is one of them as he can't keep his man in front of him, constantly getting burned for easy buckets and Duke had a better net rating with him off the court as he lacked awareness. Another player, who needs to use his athleticism more is Justin Jackson as he flashed some good potential because of his defensive IQ. The consistency isn't there yet so expect to see growth in Jackson's defense as he tries to become a 3-and D player. While being the leader of the team it's important to anchor the defense and De'Aaron Fox did just the opposite of that as he had a lack of strength and defensive instincts losing assignments by sometimes overplaying them. One-on-One Iso matchups are just straight disasters for him as he gives up too many easy baskets. Don't expect to see it get any better as Fox just isn't as tall as other players. Another bright spot on the defensive end of the floor was Bogdan Bogdanovic last season with his long wingspan and a knack for the ball he averaged 1.1 steals a game bringing defensive intensity each game. The Kings seem to lack urgency on the defensive end of the floor despite bright spots and will be in the bottom of the league for defense again.
Bench
Vivek Ranadive praised Buddy Hield as the next Stephen Curry because Hield was a great three-point sniper and his new role as a sixth man has made him comfortable offensively. He averaged 13.5 points and less pressure helped him shoot 35% from 3, decreasing turnovers while getting in the flow of the offense so expect Hield to keep growing and getting closer to his real potential this season.
The defense off the bench will be provided by NBA veteran Iman Shumpert as Shumpert can guard positions 1-3, disrupting other players and making them take tough shots and miss. With his aggression and physical nature, he has taken many tough defensive assignments and made opponents shoot 13.7 percent less than their normal shooting percentage and just 32.6 percent overall. Shumpert can anchor the defense off the bench as the Kings need some toughness established. Once a force in the NBA down low, Zach Randolph is getting older he will have to accept a bench role and brings grit and personality banging down low for rebounds and easy points as he averaged 15 points and 7 rebounds shooting 35 percent from three and 63 percent from the rim last season. An inspirational story was what Yogi Ferrell was when he got his chance in the NBA and continued to impress with his great offensive efficiency and great ability to score in bunches as he had five 20-point games and 17 15-point games so expect him to boost the offense while playing decent defense. The overabundance of forwards should hurt the Kings as they are uncertain what they will be getting out of Skal Labissiere, Harry Giles, Wenyen Gabriel, Cam Reynolds, and Nemanja Bjelicas because they are all new additions. The bench looks much improved and will really help the Kings improve their horrid offense to at least keep up with teams in the NBA this year.
Prediction
Dave Joerger is on the hot seat this year so expect him to put together the best lineup possible to win and should be the getting the Kings to play very hard and aggressively. The problem is all these players are very young and in an 82-game season, the consistency just isn't there. They also have to play to win because their draft pick is in the hands of the Boston Celtics so if they are the bottom of the league it won't benefit the Kings. It will just help turn the Boston Celtics into more of a championship force. The Kings really did improve their team, but they don't seem to give much attention to defense and they will lose tons of games because of that this season. It should truly be a losing season for the Kings as they will be towards the bottom of the West yet again and no draft pick to really show for it.
Questions and comments?
thescorecrowsports@gmail.com
Follow Us on Twitter @thescorecrow
Follow Us on Reddit at u/TheScorecrow
Follow Pranav on Twitter @PranavRama1
Main Credit Image: [getty src="450282502″ width="594″ height="401″ tld="com"]