Pranav Ramasubramanian | November 20th, 2018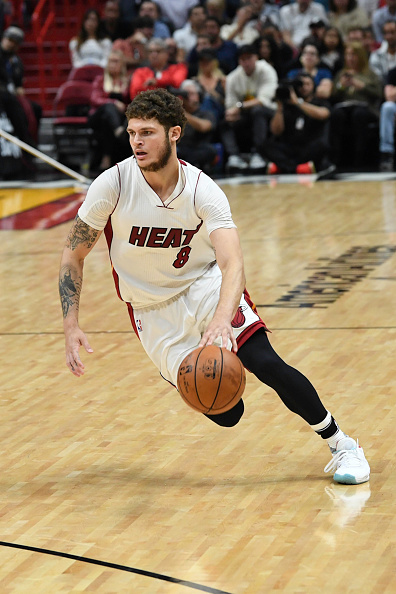 The Los Angeles Lakers and Miami Heat were both coming off losses going into Sunday night's game. The Heat had just lost a close one against the Indiana Pacers, while the Lakers had gotten blown out by the Orlando Magic the night before this match-up. This was LeBron James' first encounter with Miami Heat in a Lakers uniform. However, the game was a heavily one-sided affair.
Quick Observations
The Lakers still can't figure out how to sustain energy once LeBron James hits the bench, as their offense hits dry spells and doesn't flow. This left the door open for Miami to stay in the game and Tyler Johnson's timely baskets in the second quarter helped with this cause and he finished 17 points overall. The Heat quickly got out on runs with their three-pointers, but couldn't keep the pace up for long periods of time because of the absence of Goran Dragic and Dwyane Wade. This was despite getting good scoring outputs from Wayne Ellington, who had scored 19 points, Rodney McGruder, who had 14 and Josh Richardson, who had 17. The Lakers' bench unit failed to establish a rhythm with Rajon Rondo out of the lineup again, although he did find one key way to contribute.
Rajon Rondo joins the coaches huddle during a timeout. Rondo has been like a player-coach this season, holding impromptu players-only film sessions while trying to unlock the potential of the Baby Lakers. Rondo explains here why he can't turn off his brain https://t.co/2rrH82neKG pic.twitter.com/yjhstVGdPr

— Ohm Youngmisuk (@NotoriousOHM) November 19, 2018
Lonzo Ball and Josh Hart failed to do anything on offense, combining for a measly seven points on 3/13 shooting, which just can't happen if the Lakers want to be more consistent offensively on a nightly basis. After a big loss, a team typically comes into the next game with a sense of urgency and motivation to avoid losing two straight games, especially on a road trip, and LA used that fire all game long.
What the Lakers did right
The unselfish play helped the ball move around for the best shot and allowed the offense to reach some high moments when the Lakers built their lead. Kentavious Caldwell-Pope played aggressively by drawing fouls and hitting some crucial three-pointers, helping the Lakers withstand a second-quarter Heat run and keep their lead, also giving LeBron crucial rest. Tyson Chandler and JaVale McGee did a good job defensively to shut down Hassan Whiteside. The Miami center has had a hot start to the season, but he was held to a paltry six points and made no impact down low, as Chandler outhustled him to grab 11 rebounds that helped spark some Laker offense.  In the starting lineup, Kyle Kuzma and Brandon Ingram helped LeBron with 28 combined points and, even though their numbers weren't great, they turned in solid games and made crucial baskets late to put the Heat away.
https://www.youtube.com/watch?v=lSR0EzHXNzw
The Lakers also generated some decent offense from behind the arc as they have shown they are improving from deep. The went 11/27 on triples, reaching the 40% mark because they didn't shy away from taking them. Every time it looked like the Heat were closing the gap the Lakers countered with big run after big run and closed out quarters well to maintain a good lead throughout as they never trailed in this one.
What the Heat did wrong
Erik Spoelstra preaches defense and patience, but Miami was not able to do that in any point of the game, falling prey to a bad start and scrambling just to stay within striking distance, which isn't their style of basketball. The Heat let the Lakers do whatever they wanted offensively rather than challenging them with clever switching tactics. Miami also failed to have any type of bench impact as everyone except for Tyler Johnson seemed unable to make any shots. Mental mistakes can derail a comeback effort and Josh Richardson, frustrated after a non-call on the offensive end, fouled LeBron before headed to the sideline where he threw his shoe into the stands, prompting an ejection.
#Heat guard Josh Richardson was ejected after he threw his shoe into the crowd. He was upset about a non-call on his dunk attempt pic.twitter.com/gY46iGv5F2

— Def Pen Hoops (@DefPenHoops) November 19, 2018
There was just 6:31 to go and Richardson was leading a comeback attempt by carving up the Lakers at the rim in the fourth quarter, meaning his ejection was big as the Heat lost a key offensive piece. Miami must figure out a way to generate offense with all the new firepower in the league or they may be facing the lottery.
Player of the Game
The King returned to the town that he once played for and decided it was time to put on a show to lead his team. LeBron came out with a vengeance and he got the mismatches he required early because of some great Chandler screens. This allowed him to get his game going as he took advantage of Miami's bigs on the perimeter with fadeaways and three-pointers, nearly outscoring the Heat by himself with 19 points in the first quarter. James also attacked the paint with explosive dunks and easy layups sparking runs, especially in the 3rd quarter to maintain his team's big lead. LeBron knew he had to save his best for last and he did just that, nailing the jumper that was the dagger with 43 seconds to go and stood at 48 points. James was initially going to dribble out the shot clock and get a violation to respect the other team, but Lance Stephenson dared LeBron to shoot a deep three. He did just that and drained it for 51, pointing at Stephenson after the shot. LeBron was scorching from three, hitting from everywhere in this game.
LeBron James puts up a season-high 51 PTS (19-31 FGM) in the @Lakers road W in Miami! #LakeShow pic.twitter.com/8GJ5KRdBJ9

— NBA (@NBA) November 19, 2018
LeBron James has earned his 12th 50-point game in his career, which puts him at sixth all-time. This was the first time he had reached this number this season as he played 38 minutes to lead the Lakers to a 113-97 win.
LeBron James  stat line
FG          3PT     FT      RB    AST    STL   BLK   TO   PF   PTS
19-31     6-8     7-10      8       3          2         1       2     3      51
Rondo will be out for four to five weeks recovering from a hand surgery sustained on Thursday in the Lakers big win over the Portland Trail Blazers, so expect to see primary ball-handling duties increase for Stephenson and Ingram.
https://twitter.com/Gabe_Montoya13/status/1062955048764723200?ref_src=twsrc%5Etfw%7Ctwcamp%5Etweetembed%7Ctwterm%5E1062955048764723200&ref_url=https%3A%2F%2Fwww.cbssports.com%2Fnba%2Fnews%2Frajon-rondo-has-successful-surgery-on-broken-hand-lakers-guard-expected-to-be-sidelined-4-to-5-weeks%2F
The Heat also have their own injury issues. Dragic's lingering right knee problem keeps him out until next week as he had it drained today, thus Miami needs someone who can run the offense and keep them calm and settled. Meanwhile, Wade was away on paternity leave. LeBron got his first win in Miami since 2014 (he was previously 0-7 with the Cavaliers), as the Lakers picked up a key road win to improve to 9-7 in the Wild Wild West, while the Heat dropped their second straight to fall to 6-10.
Next game for both teams
Lakers: Wednesday at Cleveland Cavaliers, 5:00 pm CT
Heat: Today vs Brooklyn Nets, 4:30 pm CT
Questions and comments?
thescorecrowsports@gmail.com
Follow Us on Twitter @thescorecrow
Follow Us on Reddit at u/TheScorecrow
Follow Pranav on Twitter @PranavRama1 Main Credit Image: [getty src="666170980″ width="396″ height="594″ tld="co.uk"]
Advertisement