Pranav Ramasubramanian  | May 15th, 2019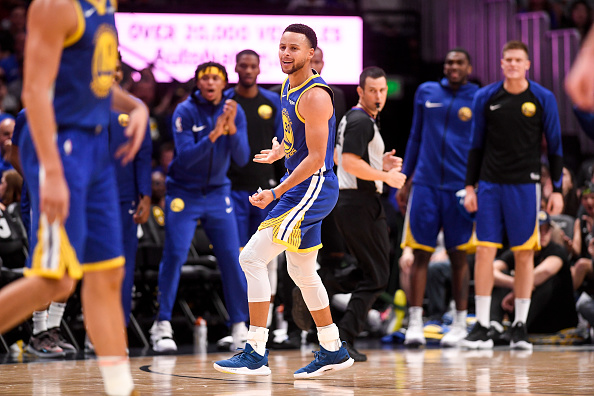 The Golden State Warriors fought off a feisty Houston Rockets team in six games while the Portland Trail Blazers used their shooting to get past the Nuggets in seven games to get to the Western Conference Finals. Injuries have opened up this series and it may be closer than initially thought. Both teams are capable of putting up offensive fireworks giving them both a shot at the NBA Finals, here's a look at how.
Golden State Warriors keys to winning the series
The All-Stars
The Warriors will be without two All-Stars as Kevin Durant has been ruled out for Game 1 and will be re-evaluated on Thursday morning meaning that he will likely be out until the series shifts to Portland while DeMarcus Cousins is making progress he may not be fully healed in time to make an impact in this series.
Full practice updates on Kevin Durant and DeMarcus Cousins. Neither has been cleared for court action. Durant still experiencing pain. Neither sound too close to returning. pic.twitter.com/FzIPLlNTUj

— Anthony Slater (@anthonyVslater) May 13, 2019
The Splash Brothers will have to be unleashed if the Warriors want to advance and they did win 73 games when they were clicking on all cylinders. They don't have the same amount of depth, but Klay Thompson has regained his shooting stroke so he won't hesitate to pull up from anywhere on the floor so if the shots are going down the Warriors won't have to worry about offense in this series. Stephen Curry has been inconsistent and has had games where he was very good or very bad and he needs to take smarter shots to get his consistency back. Curry also has to stay out of foul trouble and not let the physicality get in his head or he could be in for some horrid shooting performances giving the Blazers a shot to steal some games. Draymond Green isn't a great shooter, but he can do everything else on the floor like pass, rebound and steal the ball when the Warriors need it. Green has to set the tone with his intensity in this series without picking up technicals to help the Warriors dominate the Trail Blazers.
Drafted and undrafted gems
The Warriors scouting department has always had a way of finding players and even with them being the lowest draft picks they still contribute to team success. DeMarcus' injury forces other big men to step up off the bench like Kevon Looney and Damian Jones so if Looney can push around Zach Collins down low for offensive rebounds while Jones can guard the post getting some blocks the Warriors could sweep the Blazers without breaking a sweat. Jordan Bell hasn't been quite the force he usually is, but if he gets it together it will force the Blazers to play within the perimeter forcing long shots and one shot possessions, which is a recipe for disaster for the Blazers. Another way the Warriors scouting department finds the talent they need is they look for decent undrafted players, who can contribute and that's how they stumbled upon Quinn Cook and Alfonzo McKinnie. Quinn Cook can provide quality minutes and a decent rest for Curry while running the offense making the right plays while McKinnie can make timely shots so both just need to play their role in their limited minutes to put the Warriors in position to win games. Steve Kerr knows how to extract the best out of his non-All-Star players by plugging them in and out with the natural flow of the game so if Kerr can do that successfully again in this series then Portland may face the same fate Houston did.
Ball movement
Kevin Durant bailed out the lazy Warriors by running isos and just scoring over everyone averaging 30 plus points, but now that he is out the Warriors must revert back to their everyone touches the ball system. Steve Kerr made this system to help the Warriors offense generate the best possible look and it was how the Warriors were really playing with Kevin Durant the last two years in the playoffs because it was an integral part of their success. Ball movement requires player movement so everyone needs to move fast when they are on the floor and get to their spots because the ball could be coming from anyone or any direction. The catalysts for this type of ball movement will be Stephen Curry, who's willing to do anything for the team and Draymond Green, who has great court vision to find teammates in the right spots. Another important piece in Andre Iguodala will likely be inserted in the starting lineup to help with passing as well and if he can hit his open looks from 3 the Warriors will be tough to contain. One major player they are missing to help them out from previous championship runs is David West and Jonas Jerebko must try to fill that role in this series with more minutes.
Shaun Livingston did stick around however and he will get decent minutes, but he will need to move with more speed if he wants to make a contribution in this series. If the Warriors get the ball rolling then the pick and rolls will be easier to set and the Warriors will become virtually unstoppable in this series if they can manipulate the switching action easily advancing to the NBA Finals.
Portland Trail Blazers keys to winning the series
Dynamic guard play
Damian Lillard is an amazing shotmaker that can hit from anywhere on the floor, but he isn't the only person who can shoot on this team. CJ McCollum has mastered the mid-range game as he can counter physical defense with his light push off to give him enough space to shoot while driving to the hoop by slipping through high screens for layups or floaters in the paint due to proper hand-eye coordination. This makes him a great running mate for Damian Lillard, but the Blazers also have some good shooting outside of this 1-2 punch and they will need it to show up to compete with the Warriors.
https://www.youtube.com/watch?v=-wYsg2dvE3E
Rodney Hood got injured in Game 7 vs the Nuggets on Sunday, but it's just a left knee bone bruise so he's been cleared to play in Game 1. If he reinjures it that's a big loss because he can provide shotmaking when Lillard and McCollum are on the bench and he can create his own shot easily helping the Blazers keep up with the Warriors on the scoreboard. The Blazers will also need Seth Curry to get hot because when he is he can be an absolute sniper from 3 and could help the Blazers win a couple of games. The Blazers are going all-in for revenge on the Warriors, but they might also need help from other parts of the roster to do so.        
Jusuf Nurkic's replacements
The New York Knicks were tired of Enes Kanter's constant complaining of his role so they waived him and Kanter decided to sign with the Blazers because he believed it was the best shot at a ring. Kanter will battle Andrew Bogut down low and if Kanter can use his frame to push Bogut around for easy baskets, and control the offensive backboard along with the defensive backboard then the Blazers will have no problems generating offense. Kanter will need a rest from time to time and that's when spark plug Zach Collins will come in. Collins has improved with his energy this year because he's become more disciplined in his approach whether it's establishing his presence down low, circling the court for good looks, or being physical on defense down low without fouling so if Collins continues this discipline in this series he could play a major role in dethroning the Warriors. The Blazers decided against playing Meyers Leonard much against the Nuggets and the same should happen here because Leonard seems off with his game and the Blazers don't want any lapses when they are playing the Warriors. The season seemed to be over with Nurkic's injury, but it seems that the Blazers have just gotten stronger without him and if they can keep it going they could flex their muscles on the KD-less Warriors.
Help defense
The Warriors will be moving very fast on offense so the Blazers must be alert as to where everybody is on the floor at all times especially the two Splash Brothers. Draymond Green will be setting the pick and rolls for Curry so if Green is at the 5 at crucial times in the game then Kanter will get switched onto him, which is a bad matchup for Kanter because Curry will use an array of dribble moves to get some separation to launch shots that are easy for him. Green will likely play the 4 as the Warriors will need to play a big from time to time because of Portland's size so Al-Farouq Aminu will then get the switch and all Aminu needs to do is put his hands up using his size to force Curry into a bad shot to throw Curry off his rhythm. Curry could easily manipulate Maurice Harkless so if Portland's defensive plan is to double team the Splash Brothers then Harkless should be helping on Klay Thompson even though CJ McCollum is a solid defender it would help completely stop Thompson. Rodney Hood just needs his physicality to push around Thompson and try to disrupt their movement so if he aggravates his injury Jake Layman will step into that role, which will be a downgrade for the Blazers because Layman isn't ready for that kind of responsibility. If Terry Stotts decides to play Zach Collins big minutes in this series Collins needs to make sure he can stay home on certain 3 point attempts and not be in the Splash Brothers landing spots or he will be in constant foul trouble so he simply just needs to stick to his man to force them to pass. Evan Turner had a nice game in Game 7, but if he isn't smart on defense in this series he will be riding the bench sooner than later. If the Blazers can find a defensive scheme that works and limits the Warriors production on offense barring a KD return than they could see themselves in the NBA Finals for the first time since 1992.
Marquee matchup
Stephen Curry vs Damian Lillard
Stephen Curry will operate off of a lot of pick and rolls and will be moving without the ball to get the airspace he needs to launch threes since he hasn't been making his layups. Curry will look to pass if he doesn't get a good enough look because if he gets his teammates going then that forces the opposing team to guard those players more closely helping Curry play more one on one. The switching action on defense will mean that Curry will constantly get different defenders like Aminu, Hood, Turner, Harkless, Kanter or Leonard so Lillard won't have to guard Curry too much while Curry will probably guard someone on offense who is a lesser threat and the Warriors will put their top defender Klay Thompson on Damian Lillard to try to shut down Lillard. The task of countering Curry is tough, but Lillard can easily do it as he can use his silky drives and ability to shoot pull up jumpers to keep pace with Curry.
https://www.youtube.com/watch?v=sGNvEawdU-E
Passing is huge and Lillard uses the bounce pass to find teammates for good looks. Lillard is more methodical in his approach and that helps him settle down the offense so if he's having a bad game he won't hesitate to let someone else with the hot hand take over. Both Curry and Lillard love shooting from 30 plus feet and both can make them on a consistent basis so it'll come down to who shoots it more efficiently. Damian Lillard and Stephen Curry have both been equally inconsistent this postseason, but when it comes down to the wire with the lights getting brighter Stephen Curry has always delivered.
Advantage: Stephen Curry
The Curry Brothers Seth and Stephen will be playing against each other in the first brother vs brother matchup in the history of a Conference Final, but Seth is a bench player so their personal one on one won't have a big impact on the series. Both teams struggled to play their game on the road the last series so both teams need to be more mentally sharp throughout to have more opportunities to steal games. The Portland Trail Blazers have a better team than usual, but the Warriors still have a stronger team with more experience despite Kevin Durant's absence so they should take Games 1,4,5 and 6 to advance to their 5th straight NBA Finals in an attempt to three-peat before Klay and KD's impending free agency.
Prediction: Golden State Warriors beat the Portland Trail Blazers in six games.
Questions and comments?
thescorecrowsports@gmail.com
Follow Us on Twitter @thescorecrow
Follow Us on Reddit at u/TheScorecrow
Follow Us on Facebook at The Scorecrow
Follow Us on Instagram at The Scorecrow
Follow Pranav on Twitter @PranavRama1
Main Image Credit: [getty src="1052722940″ width="594″ height="396″ tld="com"]