Levon Satamian | April 19th, 2019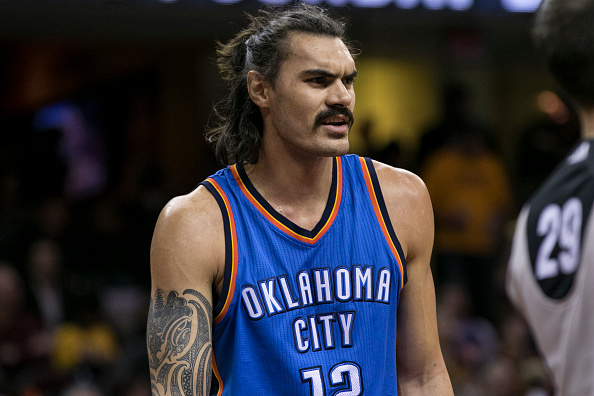 Steven Adams was born in Rotorua, New Zealand. Adams is the youngest of 18 children. Yes, he has 17 siblings. Adams had a rough childhood, due to the way his father treated him. In Adams' family, the average males "clan" stand was about 6'10", Adams grew to be 7'0″, just above the average height of his brothers.
In 2006, Adams' father passed away, Adams said, "When I lost my dad, that was a big hit for me, I didn't have the parental guidance, and I kind of took advantage of it because I was a stupid idiot. I decided not to go to school a couple of times, go when I felt like it. I always lied to my brothers and sisters. They'd ask: 'Are you going to school?' I'd say 'yeah' … They eventually found out." Adams was 13-years old when his father passed away.
In 2012, Adams moved to the United States to play college basketball for the Pittsburgh Panthers. In June 2013, the Oklahoma City Thunder drafted Steven Adams with the 12th overall pick in the NBA draft. The first three seasons in Adams' career, he struggled, a lot. He was averaging 6.3 points, on 55.3% shooting, 6.1 rebounds, and 1 block per game. Gradually, Adams' play time went up as well, and the next three seasons, he improved his game a lot. He became consistent and efficient. 13 points, on 59.8% shooting, 8.7 rebounds, 1.3 assists, 1.3 steals, and 1 block per game. As you can see, Adams does a little bit of everything on the basketball court and stays efficient. This season, Adams averaged 13.9 points, 9.5 rebounds, 1.6 assists, 1.5 steals, and 1 block per game.
In New Zealand, Adams won the NBL championship in 2011, and the NBL Rookie of the Year award. He was named in the Big East All-Rookie Team in 2013, and the NBA All-Rookie Second Team in 2014. Adams is just 25-years old and has a good chance of winning a championship, considering he's been in the playoffs for five years out of his six-year NBA career.
It's no secret that Adams is the strongest player in the league. But, I think a big part of him being mentally tough, and not letting anyone get under his skin or in his head. Adams is in the peak of his prime, and I'm hoping he wins a few championships with OKC, because he goes out there every game, and battles against the likes of Clint Capela, Rudy Gobert, Joel Embiid, on a daily basis and he never gives up.
https://youtu.be/C5jNVHEkuPw
Check out other Playoff Player Spotlights: CJ McCollum | Donovan Mitchell | Montrezl Harrell
Questions and comments?
thescorecrowsports@gmail.com
Follow Us on Twitter @thescorecrow
Follow Us on Reddit at u/TheScorecrow
Follow Us on Facebook at The Scorecrow
Follow Us on Instagram at The Scorecrow
Follow Levon Satamian on Twitter @TheSportsNotes
Main Credit Image: [getty src="579551592″ width="594″ height="396″ tld="com"]