Joel Dorcas | March 23rd, 2019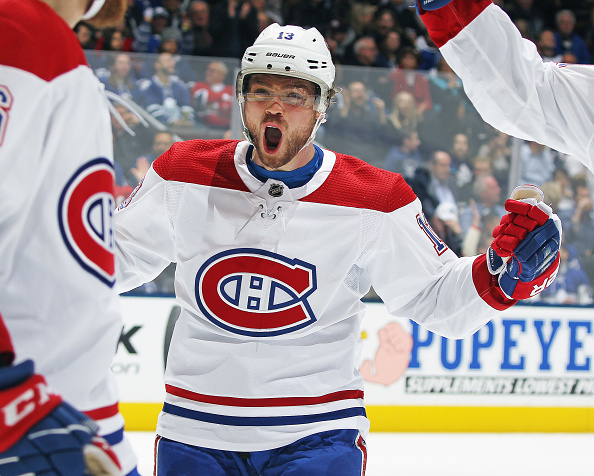 In this edition of Ice Picks, we will target favorites who have a distinct edge over their counterparts. The Toronto Maple Leafs host the slumping New York Rangers, Vegas will look to continue their dominance in a home matchup to the Detroit Red Wings, Montreal, winners of their last two, are home to the struggling Buffalo Sabres, and the Flames look to continue their strong play of late in Vancouver. Let's break it down!
At the Core
Auston Matthews C TOR $7,800
Despite a very underwhelming stretch for the Leafs, who are just 5-4-1 in their last 10, Auston Matthews is one of the lone bright spots. Matthews has been firing pucks on net at a very high rate with 32 in his last five games. He is also filling up the scoresheet with seven points during this time. The Leafs, who had just one victory in the last five games, defeated the Sabres 4-2 last time out, tonight they have another good matchup with the New York Rangers coming into town. The Rangers have fallen on hard times of late going 1-6-1 in their last 10 and have dropped five straight surrendering 20 goals against in the process.
Reilly Smith W VGK $5,300
The Golden Knights are looking more and more like the 2017-18 team that reached the Stanley Cup Finals. They have won four straight and nine out of their last 10 while averaging 4.3 goals per game. Winger Reilly Smith has been a big-time contributor of late with nine points, 18 shots in his last five games. Going further back, in 15 games, he has 19 points. The Knights are showing no signs of letting up and the visiting Detroit Red Wings pose little threat as they have gone 3-6-1 in their last 10, allowing 34 goals against.
Max Domi C MTL $5,800
Every game is a must-win scenario for the Habs going forward. They appear to be on the right track with wins in their last two, however, they have just 25 goals for in their past 10 contests. Expect the Habs to use the last two victories, especially the shutout victory against the Islanders, as momentum against the reeling Sabres who have just one win in their last nine, and two in the previous 10, all while surrendering 37 goals against. Domi has three goals in his last five games and has been a key contributor all season long.
Matthew Tkachuk W CGY $7,300
The Flames go into Vancouver as winners of five of their last six games, averaging five goals per game. As hot as Johnny Gaudreau has been Matthew Tkachuk has been just as good or better and will cost you a couple hundred less. Over his last 12 games, Tkachuk has 10 goals and 17 points. The Vancouver Canucks have won three straight after winning just two in their previous seven. They surprisingly have defeated the Flames in three out of four head-to-head meetings this season but have given up 3.5 goals in the four games.
Val
ue Plays
William Nylander W TOR $4,400
Nylander continues to compile assists(six in his last five games) playing with Andreas Johnsson and Auston Matthews on the second line and on the second power-play unit. Nylander is bound to pop one soon and it's encouraging that he is showing some life after struggling so much while playing fewer minutes on the third line. Nylander is slowly trending in the right direction, a big game could be just around the corner.
Paul Stastny C VGK $4,900
Stastny, when in the lineup this season, has been a steady contributor for the Golden Knights. Now, with Mark Stone joining the club, Stastny's production is getting even better. Statsny, Stone, and Pacioretty(who is out for this one) have formed a reliable source of offense as the second scoring line. Since Stone's arrival, Stastny has 12 points in 11 games.
Jonathan Drouin W MTL $4,600
Drouin finally scored against the Islanders Thursday night breaking a career-worst 17 game scoring slump. He also recorded an assist. Drouin is arguably the Habs most gifted offensive player and is having a decent season with 52 points in 73 games. Perhaps this multi-point performance will springboard him going forward in the Canadiens quest to sneak into the playoffs.
Stacks
Toronto Maple Leafs-Matthews(C), Nylander(W), Johnsson(W), Reilly(D)
Vegas Golden Knights-Marchessault(W), Karlsson(C), Smith(W), Stastny(C)
Calgary Flames-Tkachuk(W), Backlund(C), Frolik(W), Giordano(D)
Questions and comments?
Follow Us on Twitter @thescorecrow
Follow Us on Reddit at u/TheScorecrow
Follow Us on Facebook at The Scorecrow
Follow Us on Instagram at The Scorecrow
Follow Joel Dorcas on Twitter @Joel_Dorcas6
Main Image Credit:
[getty src="1126985003,1049415534″ width="594″ height="476″ tld="ca"]