Pranav Ramasubramanian | February 21st, 2019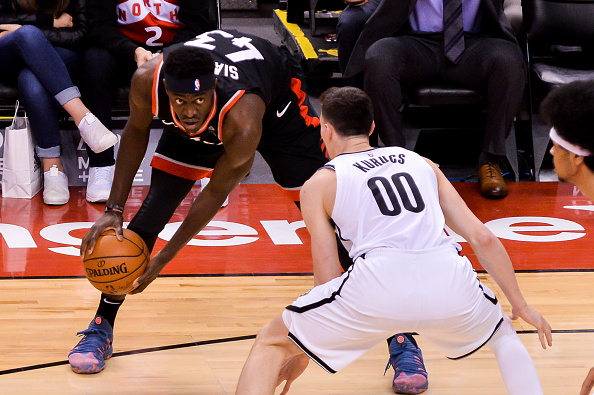 Team Giannis led by as many as 19, but Damian Lillard and Kawhi Leonard brought Team LeBron back before Kevin Durant closed out the game with some crucial threes to give Team LeBron the win for the second straight year. The All-Star break is fun allowed teams to rest before the big stretch runs for the playoffs. Here's where all the teams in the playoff picture rank so far this season.

1. Milwaukee Bucks (43-14)- The best move that the Bucks made in the offseason was getting a good head coach in Mike Budenholzer, who understood the players on the Bucks and changed the system to have more spacing for them creating better shots and more three-point shooting. This has helped guys like Malcolm Brogdon, Brook Lopez, and Tony Snell make good contributions and be able to use their skillset well, while they also added Nikola Mirotic, who can nail it from deep. Giannis Antetokounmpo looks like an MVP candidate with averages of 28 and 12, but he's also had some help from Khris Middleton and Eric Bledsoe on offense to turn the Bucks into an absolute force, so watch out for this team, because it looks like they are finally ready to make some serious noise in the East.
2. Toronto Raptors (43-16)- Kawhi Leonard has sat 16 games and the Raptors haven't fallen off when he's out because of the good coaching by Nick Nurse, who has been able to execute his style of play with his young players. Even though the play hasn't been affected with Kawhi sitting, the Raptors are a different team with him off the court and so they need to find a stable identity before April. Their style of slow play does help them because they can slow the game down and force opponents into their style, which usually gives them a better chance to win more games so expect to see them continue their great play.
3. Denver Nuggets (39-18)- Nikola Jokic has taken that needed next step in his development not just with 20 and 10 this season, but with his leadership of the offense and communicating the plays with teammates very well. Isaiah Thomas has returned and his bench minutes could be a nice addition, but the injuries have started to pile up for the Nuggets. Denver hasn't been healthy all year and they need to make sure they are ahead of the playoffs so they can be a threat in the West.
4. Golden State Warriors (41-16)- They started well with Stephen Curry and Klay Thompson hitting stride but when Curry got injured, they fell a little bit before picking themselves back up in January. The Draymond Green–Kevin Durant drama didn't last long, but the laziness in late-game situations has lingered all season, which just comes from the Warriors being bored of the regular season. DeMarcus Cousins has come back from his injury and the early flashes show that he could be back at full form by the playoffs, so the Warriors are still thriving and don't look like letting up anytime soon.
5. Oklahoma City Thunder (37-20)- The triple-doubles have become a regular for Oklahoma City, as Russell Westbrook has been averaging them the last two years while Paul George has recovered from a disappointing end to last season to completely take the reins of the offense with 28.7 points per game, looking like an MVP candidate. Westbrook has deferred to George in many situations this year and that has helped the team for the better. The Thunder have also built a nice bench based around younger players so they can get some fresh energy in each and every game. OKC has to keep the good balance of offense and defense to be a legitimate threat in the West come playoff time.
6. Indiana Pacers (38-20)- The biggest under the radar team in the East came out ready to build on last year's success and Victor Oladipo started out the season playing well yet again. The role players like Myles Turner, Thaddeus Young, and Domantas Sabonis have helped the Pacers by simply doing their job very well all year long. However, now with Victor Oladipo's season-ending quad tendon injury in his right knee, players like Darren Collison, Tyreke Evans and Bojan Bogdanovic have to step into bigger roles for the rest of the season and thrive in them to get the Pacers good seeding for the playoffs.
7. Philadelphia 76ers (37-21)- Elton Brand decided that he was done trying to "Trust the Process" and decided to go all-in with one trade for Jimmy Butler and then made two other big trades to acquire Tobias Harris and Jonathon Simmons this month to make sure the 76ers had enough to compete in the East. Butler has done a good job as the closer this year and Ben Simmons, as usual, is a great distributor while Joel Embiid has played with a killer intensity and hasn't missed many games this year, though he will be out for the first week after All-Star break because of knee soreness. This means new 76er Boban Marjanovic needs to step up and give solid minutes in Embiid's absence. It may still take a couple more weeks to evaluate the role of Harris on offense so J.J. Redick needs to stay hot while Mike Scott has to take smart shots from beyond to give the offense balance and to keep winning.
8. Boston Celtics (37-21)- Two big leads given up to LA teams in games they should have won are gonna be games they are going to want back, but at least they won two straight to go into the break. Kyrie Irving needs to stay 100% for the Celtics to be at full form. The Celtics still have time to find chemistry and could use the second half for it.
9. Portland Trail Blazers (34-23)- After years of looking for viable big men and wings, it looks like the Blazers finally found them when they got Al-Farouq Aminu, Zach Collins and Jusuf Nurkic, who have all turned in good years. The defense is much improved and even though it's not great it's still better than it used to be because the Blazers decided to go big and lanky and it has worked out so far. Damian Lillard and CJ McCollum are the one-two punch on offense with both averaging over 20 points per game and helping the Blazers be very explosive. They just got even stronger with the additions of Rodney Hood and Skal Labissiere, so the Blazers might finally be ready to be that true threat they make themselves out to be.
10. Houston Rockets (33-24)- Big injuries to Chris Paul and Clint Capela forced James Harden to carry the load offensively and he has responded with 31 straight 30-point games, helping the team regain balance after a rocky start. The Rockets finally seem to be regaining their identity, but their defense needs to pick up if they want to go back to the top of the West. Clint Capela returns on Thursday so the Rockets need to stay healthy until the end of the season to get a good matchup in the first round of the playoffs.
11. Utah Jazz (32-25)- They sleepwalked through the season until towards the end of December, when they suddenly picked up the intensity and started winning a lot of games to position themselves back into the playoff picture. At the center of their turnaround yet again was Donovan Mitchell, who kick starts the offense while Rudy Gobert does the dirty work, but also moves well without the ball to create good shots at the rim averaging a double-double with 15 points per game and 12 rebounds per game. The defense has taken a dip this year, but the role players Ricky Rubio, Jae Crowder, and Joe Ingles have supplemented it with their timely offense every game and need to do this in all of their remaining games that so the Jazz can establish a solid rhythm before the playoffs.
12. San Antonio Spurs (33-26)- They started out slow and when you are adding a star like DeMar DeRozan, it takes time to integrate him in the system. Once everything was set, DeRozan stepped into that Kawhi Leonard role being the leader and set the standard for his team-mates and some of the younger players have grown and improved from that. LaMarcus Aldridge isn't flashy, but his mid-range game is deadly so he helps stretch out the floor while veterans like Marco Belinelli, Rudy Gay, Patty Mills, and Pau Gasol should keep the Spurs focused and locked in for the rest of the season.
13. Los Angeles Clippers (32-27)- They want their draft pick and they want to build towards a better future rather than win now prompting them to gut their roster. They had the second-best come from behind win in Boston against Celtics after going down by 28, and Doc Rivers will definitely do his best to maximize the group around him for the rest of the year. The Clippers will have to get more production from the starting group to get the best result because new additions Landry Shamet and Ivica Zubac just won't cut it.
14. Brooklyn Nets (30-29)- The success of the Nets has really come out of nowhere and D'Angelo Russell's improvement is a major key as he plays fewer minutes, but his impact has helped the Nets win crucial games. The other guards have also supported him well with Spencer Dinwiddie, Joe Harris and Allen Crabbe sustaining the offense when Russell is off the floor. If not for the Caris LeVert injury the Nets would be higher up in the East and this is really not a team you want to see in April because they don't mess around.
15. Charlotte Hornets (27-30)- Kemba Walker has single-handedly kept this team afloat all season long as he is the only player on the team averaging over 20 points per game. Jeremy Lamb does take a little bit of weight off when he's on the floor, but when Walker is there he's always doing everything. Walker has to keep his composure through the next long stretch if the Hornets want a shot at a playoff berth for the first time since 2016.
16. Detriot Pistons (26-30)- The big man chemistry has been clicking all year as Andre Drummond and Blake Griffin have been clicking on all cylinders with the help of Dwane Casey's coaching. The help around them hasn't been great all year other than Reggie Jackson, who's having a solid year. The Pistons made some moves at the deadline to try and get some help and although losing Reggie Bullock wasn't good, they added rookie Sviatoslav Mykhailiuk, who was a three-point sniper at Kansas last year and picked up Wayne Ellington off the waiver wire. They need to be good contributors for the Pistons to stay in the playoff picture.
The competition in the NBA has picked up from years past and there is a ton of parity in the league. These are the teams that have gone through the first half of the season and have managed to make it into the playoff picture. The second half of the season will determine if they can keep the good energy going.
Questions and comments?
thescorecrowsports@gmail.com
Follow Us on Twitter @thescorecrow
Follow Us on Reddit at u/TheScorecrow
Follow Us on Facebook at The Scorecrow
Follow Us on Instagram at The Scorecrow
Follow Pranav on Twitter @PranavRama1
Main Credit Image: [getty src="1124269699″ width="594″ height="395″ tld="co.uk"]