Nick Popio | May 11th, 2019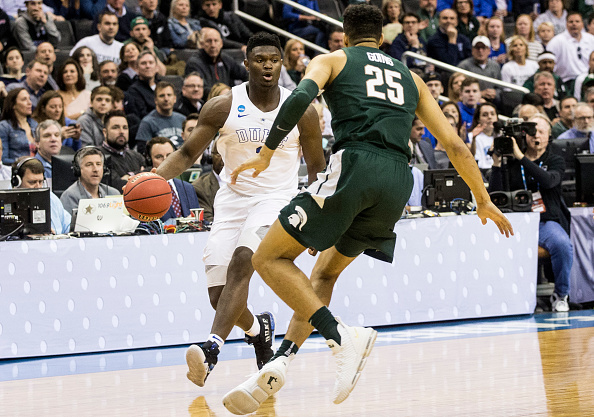 The 2019 NBA Draft is furiously approaching as the playoffs wind down to the cream of the crop in the league. It emulates from the Barclays Center in Brooklyn on Thursday night June 20th. The annual Draft Lottery kicks it all off on Tuesday, May 14 which will fortify the top fourteen picks at the top. The combine also begins on the 14th and the withdrawal deadline for underclassmen is set for June 10th.
Believe it or not, there is actually a lot more than just the Zion Williamson sweepstakes at stake on draft night. His teammates R.J. Barrett and Cam Reddish are expected to join him in the top 10 selections. Others eligible players include:
Ja Morant of Murray State
Coby White, Cam Johnson and Nassir Little of North Carolina
De'Andre Hunter and Ty Jerome of Virginia
Jarrett Culver of Texas Tech
Rui Hachimura of Gonzaga
Romeo Langford of Indiana
Bol Bol of Oregon
PJ Washington, Tyler Herro and Keldon Johnson of Kentucky
Admiral Schofield and Grant Williams of Tennessee
Bruno Fernando of Maryland
Luka Samanic of Croatia
Jalen Lecque of Brewster Academy High School and many more.
The chances of winning the Zion jackpot will undoubtedly be a scene stealer, to say the least. Whether or not Williamson can be the next Charles Barkley or a bust like Anthony Bennett will ultimately be told by the test of time itself. Below is a list of how the top 14 clubs finished and their projected odds to win the lottery with the #1 overall pick.
New York Knicks 14 %
Cleveland Cavaliers 14 %
Phoenix Suns 14 %
Chicago Bulls 12.5 %
Atlanta Hawks 10.5 %
Washington Wizards 9 %
New Orleans Pelicans 6 %
Dallas Mavericks 6 %
Memphis Grizzlies 6 %
Minnesota Timberwolves 3 %
Los Angeles Lakers 2 %
Charlotte Hornets 1 %
Miami Heat 1 %
Sacramento Kings 1 %
In trade news involving the lottery the Cavs owe the Hawks a first-rounder because of the Kyle Korver trade, and it is protected as a 1-10 choice this year. The Grizzlies owe the Celtics a first-round pick via the Jeff Green trade, and it's protected as a 1-8 pick this year. The Mavericks owe the Hawks a first-round pick via the Luka Doncic deal, and it is protected 1-5 this year. Sacramento's first-round pick, which was owed to Philly via the Nik Stauskas swap, is now owed to the Celtics via the Markelle Fultz trade, and is protected at number 1 overall.
All in all, another wild night will be anticipated come the day before summer officially commences in Brooklyn by many frantic NBA followers worldwide. Trades, cash considerations, future draft picks and I'm sure a few surprises are in store, as is the norm for the yearly draft. Hopefully, it doesn't disappoint its audience and we all receive even more suspense and drama than we've ever seen before.
Questions and comments?
thescorecrowsports@gmail.com
Follow Us on Twitter @thescorecrow
Follow Us on Reddit at u/TheScorecrow
Follow Us on Facebook at The Scorecrow
Follow Us on Instagram at The Scorecrow
Follow Nick Popio on Twitter @nick_popio21
Main Image Credit: [getty src="1134283669″ width="594″ height="417″ tld="com"]