Josh Elias | May 18th, 2019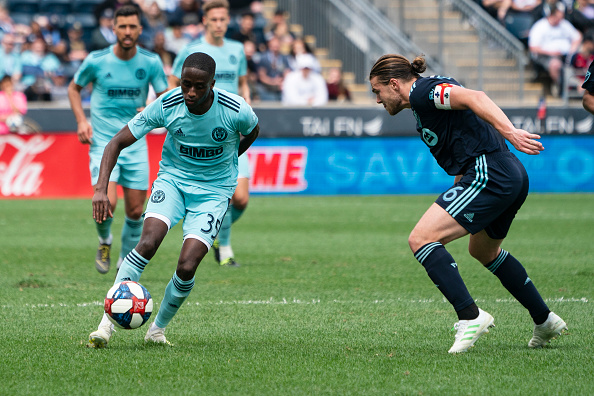 The season is Los Angeles FC's to lose at this point, with the other top teams consistently dropping points as soon as they gain any serious momentum. FC Cincinnati finally won a game after going without a goal for five games. Philadelphia and D.C. United are battling for the top spot in the Eastern Conference, and the league as a whole is seeing lots of excitement this year. What's coming up next?

Philadelphia Union vs. Seattle Sounders
The Philadelphia Union are off to the best start in their MLS history, and it's easy to see why simply by looking at their roster makeup compared to previous years. They have some of the most creative attacking players in the league paired with a sturdy enough defense to allow the fourth-least shots on target and a former Goalkeeper of the Year winner in Andre Blake. Except two small things are wrong with the last part of that sentiment. Andre Blake has the second-lowest save rate in the MLS despite his lower-than-average volume of shots he's had to deal with. Oh, and also he's injured.
But it has to be noted that on-loan third-string goalkeeper Carlos Coronel, who replaced Blake's replacement, Matt Freese, after Freese suffered an injury of his own, has done a great job at keeping things from spiraling for the Union. He's saved 10 of the 12 shots he's faced and helped them secure three straight wins, continuing a streak that has now seen them go over a month without losing. Last weekend's game-winner was courtesy of midfield motor Jamiro Monteiro, and his impact on this team is huge. He's the leading force of a team that can force turnovers like no other, as he, Kai Wagner, and Auston Trusty combine for 10.3 successful tackles per game, easily top of the league for a trio of teammates.
That trio looks to frustrate an already exhausted Seattle team who played twice this past week and is starting a four-game road trip that won't see them play in front of their home crowd until after the mid-season break. Don't be at all surprised to see them use at least a partially rotated side at Philadelphia. The Sounders, like their opponents, haven't lost a game in their past five games though, and thanks to that they now have the second-best record in the MLS.
They've recently had a major influx of injuries that have threatened their momentum though, and their most recent game was no exception. Jordan Morris, who's been off to an exceptional start to the year since recovering from the torn ACL that kept him out for all of last year, was subbed off midway through their win over Orlando City with a strained hamstring. Remarkably, he is one of three Seattle players currently out with a hamstring strain, a trend that has led to some of their fans dubbing them "Hamstring FC" in recent weeks. Morris was already being pushed back into an attacking midfield role due to the similar injuries to key midfield cogs Gustav Svensson and Víctor Rodríguez, and now they have to adopt a next-man-up mentality as they will likely start young Kenyan midfielder Handwalla Bwana in his place.
FC Dallas vs. Los Angeles FC
FC Dallas, at this point, badly needs to avoid skidding any further down the table, as they've now faced three consecutive losses, and, if they lose and other results don't go their way this week, they have a chance at finding themselves outside of the playoffs based on points per game by Wednesday night. Unfortunately, their last loss was against the same team they play today, Los Angeles FC. They were completely outclassed by LAFC in a game that they should consider themselves fortunate to have only lost 2-0.
Dallas is also massively depleted by injuries, without many key players in their midfield and attack including Bryan Acosta and Paxton Pomykal. In fact, while FC Dallas is already one of the least threatening offensive teams in the MLS when healthy, with just 10.2 shots per game, only ahead of woeful FC Cincinnati, they are currently without or listing questionable players involved in a combined nine of the team's 16 goals this year. That being said, they badly need to win. Dallas' normally solid defense needs to regroup, plus Jesse Gonzalez needs to produce some magic in goal and their attackers need to take advantage of the chances they get.
Their opponents will be quite content with their own place in the world after their victory over Dallas gave them their seventh win of the season by two goals or more. No team in the MLS other than them has more than seven wins, period, and they have that many by multiple goals. WIth 30 points already LAFC has become clear favorites this year, thanks in part to the brilliance of Carlos Vela, who has 13 goals in as many games.
Their team has rarely shown any weaknesses, and it's not just the Vela show, as dynamic as he is. They concede the least shot attempts per game in the league. In their seven home games this year, they've had five different players score multiple times and four different players assist multiple times. Eduard Atuesta has completed 51 more passes than any other player in the MLS this year and is converting 87.8% of them. So many aspects of this team make them seemingly unstoppable, and it should definitely be noted as we near the halfway mark of the season that LAFC is currently on track to beat the New York Red Bulls' recently-set MLS points record by an incredible eight points.
Orlando City vs. FC Cincinnati
Orlando City once again finds themselves near the bottom of the MLS, and it's been apparent so far that the signing of Nani to replace the retiring Kaká this winter has failed to inject new life into the team. Serious questions absolutely need to be asked of Head Coach James O'Connor at this point, as his team has had an extremely frustrating start to the season despite playoff-worthy personnel. Three straight losses mean that they're just one point off the bottom of the Eastern Conference, and O'Connor is sitting at just a 16.7% winning percentage and 23.3% of possible points, 30 games into his tenure.
It has to be thought that this game is a crucial one for him and for the team in general, especially with the likely return to action for Nani, who has missed their last two games with calf inflammation. This is a home game against one of the least talented teams in the league, before finishing off this half of the season with games against two teams that nearly double them in points. A loss here could easily mean they come into the break at the bottom of the conference.
FC Cincinnati, on the other hand, is on the other side of the decision their opponents may soon make, having recently sacked Alan Koch as head coach. That move seemed to work, too, at least in the immediate future, as interim coach Yoann Damet led them to their first win since March in their game against the Montreal Impact, his first in charge. Despite his early success, make no mistake about it though, he won't be the eventual replacement no matter how the team does under him. Management has made it very clear that they're conducting an international search, with many believing the new hire will have Premier League experience.
Which is a bit of a shame, if last week was any sign of how this team would play under Damet for the foreseeable future. Against Montreal, not only did they win, but they earned their win, with great defense that got them out of some sticky situations and a much more visibly cohesive team than previously this year. In past games, they struggled to consistently surpass 400 passes, but in this past one, that number was 528. This was just the second time this year they've surpassed 500. Allan Cruz scored the opening goal for them and went on to have a significant impact throughout the game, which was great to see after serious struggles from him during their losing streak. If he gives them the option to exploit the left flank like he did last time out there, which should be quite achievable if Orlando City fields Kyle Smith at right back again as expected, they can continue the rhythm they were in last week. And as this game is all about momentum, that would be great for them. A win could also see them leapfrog Orlando City in the table.
Full Schedule:
Saturday, 5/18
Montreal Impact vs. New England Revolution
Real Salt Lake vs. Toronto FC
San Jose Earthquakes vs. Chicago Fire
Philadelphia Union vs. Seattle Sounders
Minnesota United vs. Columbus Crew
Sporting Kansas City vs. Vancouver Whitecaps
Houston Dynamo vs. D.C. United
Sunday, 5/19
Orlando City vs. FC Cincinnati
New York Red Bulls vs. Atlanta United
FC Dallas vs. Los Angeles FC
LA Galaxy vs. Colorado Rapids
Wednesday, 5/22
New York Red Bulls vs. Vancouver Whitecaps
Questions and comments?
thescorecrowsports@gmail.com
Follow Us on Twitter @thescorecrow
Follow Us on Reddit at u/TheScorecrow
Follow Us on Facebook at The Scorecrow
Follow Us on Instagram at The Scorecrow
Follow Josh Elias on Twitter @thejelias
Main Credit Image:[getty src="1138311579″ width="594″ height="396″ tld="com"]