Josh Elias | May 11th, 2019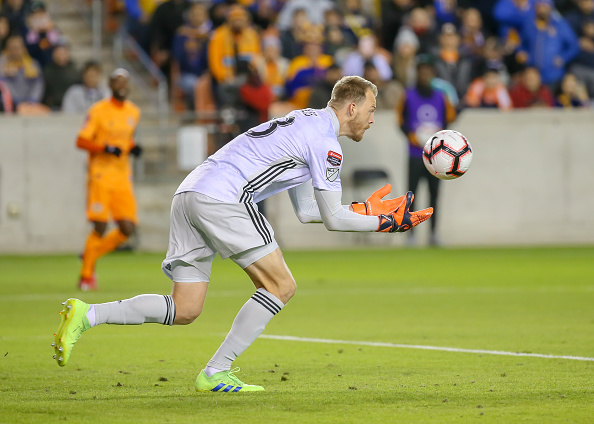 After last week saw the Houston Dynamo catapult themselves to the top of the league on points per game with a big win over their in-state rivals, FC Dallas, and the LA Galaxy lost two straight to put an end to their great start to the season, this is the action you'll want to keep an eye on this weekend.
Seattle Sounders vs. Houston Dynamo
This is a matchup between teams who each played in games I spotlighted last week too, and Seattle has their hands full against one of the top teams to beat in the MLS so far this year. After a 1-1 draw against Minnesota United last week, the Sounders have now gone almost a full month since their last win, a 3-2 win against Toronto FC.
While the credit for the point that they did earn rightfully goes to Cristian Roldan, who they were preparing to be without for the match until his red card from the previous game was overturned, a large part of the game came down to a midfield battle between Nicolás Lodeiro and Ján Greguš. If the Seattle captain can keep up the intensity that he had at the Allianz Field, it would do his team a world of good.
Houston, of course, just put themselves on top of the league in points per game after their most recent win, and now all the pressure is on them to keep it up. The Dynamo have thrived when games have devolved into chippy affairs this year, and the game against Dallas was no different, seeing seven players shown yellow.
Mauro Manotas and Alberth Elis have proven crucial for this team all year long, but it has to be noted that they haven't been particularly lethal finishers lately, with a third or less of their shots being on target in the last three games. It's actually largely been the underappreciated brilliance of Goalkeeper Joe Willis, who has now saved nine of their opponents' last ten shots on target, who has led them to their last two wins.
Toronto FC vs. Philadelphia Union
With the departures of two of Toronto's biggest names this winter in Sebastian Giovinco and Gregory van der Wiel, you'd be easily forgiven for writing them off as contenders for much of anything considering how last season went. However, so far things are looking pretty optimal for the Reds, as they find themselves within reach of the top spot in the Eastern Conference.
Much of their success this season has been tied to the play of veterans Michael Bradley and Jozy Altidore, and Altidore's absence from the pitch in recent weeks has certainly been felt. Against Atlanta United, Toronto had a grand total of zero shots on target. Alejandro Pozuelo has easily been one of the best players in the MLS this year since his arrival, but it's a big enough job trying to fill Giovinco's boots. The best chance for Toronto to get any points out of this match is with Altidore on the field. Luckily, it sounds like it's quite likely he returns today.
That top spot in the East they covet happens to be held by their opponent too. The Philadelphia Union have been quite a surprise really, leading the conference so far and currently on track to beat last season (their best ever points-wise) by upwards of ten points. Last weekend was their most dominant game yet, with a 6-1 thumping of the hapless New England Revolution.
They'll be looking to build off that game certainly, and it certainly provided a good sign for fans of the team that have gotten used to seeing the Union play down to competition over the years during their rare bouts of success. Things seem to genuinely be on the up-and-up for them. Philadelphia is an exciting, flashy team that is led by committee rather than a single star, with already seven players having contributed multiple goals this year.
Columbus Crew vs. Los Angeles FC
Other than the whole 'losing five consecutive games' thing, the Crew's season has gone pretty well I suppose. They're still in a playoff position, which is better than almost half the league can say. Their win over the Galaxy mid-week was huge though, and they'll be hoping some of that magic carries over as they now host the other L.A.-based contender too.
While it's on the defensive side of things that they've been affected by the injuries to Milton Valenzuela and Harrison Afful, the bigger disappointment has been on offense, where aside from a few goals from Gyasi Zardes, they've been lackluster at best. With their most recent game snapping them out of their streak though, things looked a lot more fluid on the attack, with Federico Higuaín pulling the strings and Robinho putting in his best game by far since coming to the MLS.
LAFC is mostly interested in consolidating their claim at the top of the table. While they do still lead the league on points, they've now fallen to second on points per game, and a good result here could help them return to the top on both counts, pending other results. Their offense has been mostly contained in their past two games after looking nearly unstoppable on the attack from the start of the year, and getting that engine running again is their key to success.
Oddly enough, something that's very important for them is to make sure they don't retain possession too much. They almost always win the possession battle, to the point where that's a given for them, and in fact, they've struggled to figure out how to create quality chances in the few games where they've had more than 60% of the possession. Last game, that number was 63.6%, and while they actually had 22 shots in comparison to Chicago's nine, very few of them were actually good chances. More shots were taken by Left Back Jordan Harvey than anyone else, and he's a 35-year-old defender who hasn't scored since July of 2017, so that's not great. The key to the game should probably be getting Carlos Vela, the league-leading goalscorer, more goalscoring opportunities than their middle-aged left back. Which should be almost impossible to not do.
Full Schedule:
Friday, 5/10
Vancouver Whitecaps vs. Portland Timbers
Saturday, 5/11
FC Cincinnati vs. Montreal Impact
FC Dallas vs. New York Red Bulls
Toronto FC vs. Philadelphia Union
LA Galaxy vs. New York City FC
New England Revolution vs. San Jose Earthquakes
Columbus Crew vs. Los Angeles FC
Chicago Fire vs. Minnesota United
Colorado Rapids vs. Real Salt Lake
Seattle Sounders vs. Houston Dynamo
Sunday, 5/12
Atlanta United vs. Orlando City
D.C. United vs. Sporting Kansas City
Wednesday, 5/15
Toronto FC vs. D.C. United
Houston Dynamo vs. Portland Timbers
Vancouver Whitecaps vs. Atlanta United
Seattle Sounders vs. Orlando City
Thursday, 5/16
Los Angeles FC vs. FC Dallas
Questions and comments?
thescorecrowsports@gmail.com
Follow Us on Twitter @thescorecrow
Follow Us on Reddit at u/TheScorecrow
Follow Us on Facebook at The Scorecrow
Follow Us on Instagram at The Scorecrow
Follow Josh Elias on Twitter @thejelias
Main Credit Image: [getty src="1129263212″ width="594″ height="424″ tld="com"]