When Bruins' defenseman Charlie McAvoy underwent surgery last week for an irregular heart rhythm, it looked as if the Bruin's winning ways could be in jeopardy.
McAvoy, who has been a critical part of this Bruins team this season, has been cleared to get back on the ice and was seen yesterday at the Warrior Ice Arena. However, he did not participate in Monday's practice.
McAvoy's heart issues started in a Nov. 26 loss to Edmonton. After the game, it was reported that he had an "abnormal heart rhythm". On Jan. 22, McAvoy was missing from practice due to, according to the Bruins, a "previously scheduled doctors appointment".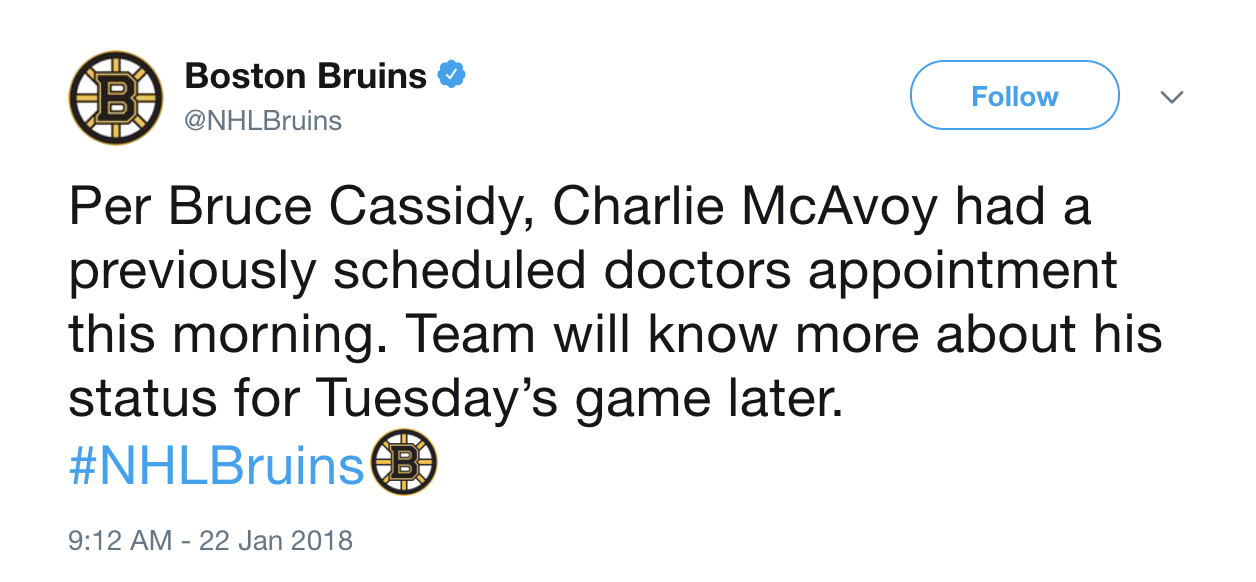 McAvoy later underwent an examination that led to his diagnosis of Supraventricular Tachycardia (SVT), which is characterized by a fast heartbeat. This diagnosis led to the star defenseman's decision to undergo surgery, which would take him out of the lineup for roughly two weeks. Luckily for the Bruins, the timing of the surgery matched up well with the NHL All-Star Game; allowing for McAvoy to have a few extra days to recover.
McAvoy, the 14th pick in the 2016 NHL Draft, leads NHL rookies in time on ice with an average of 22:48 minutes per game. The work-horse rookie was on the Bruins first defensive line with Zdeno Chara and is +18 on the season, raking in 25 points in 45 games so far this season.
With a two-week recovery time for McAvoy, it's important to look ahead at the approaching schedule for the Bruins.
With games against playoff hopefuls such as Toronto and St. Louis, as well as a game against the 37-point Buffalo Sabres, it's safe to say that there is a mixed bag of games coming up for the Bruins in the near future and that McAvoy's presence will be missed.
While McAvoy's clearance and ability to skate around is clearly optimistic, Bruins general manager Don Sweeney said there is no timetable for the return of his star rookie.
"He'll start the skating process, and really, it's about how he feels. Once he is 100% medically cleared, later on, we'll have more information in that regard," Sweeney said.