Sports are as popular as they are because of their star athletes. However, throughout the season, you tend to remember those timely plays that come from unlikely sources.
Baseball is a game predicated on that. Whether it be Howie Kendrick hitting a game-winning home run in Game 7 of the World Series, or Dave Roberts stealing the biggest base in Red Sox history back in 2004, you're always going to remember those unsung moments.
Then enters the 2020 season, one that's been riddled with uncertainty thanks to the global pandemic coupled with a seemingly endless labor negotiation between players and owners. Ultimately, commissioner Rob Manfred has mandated a 60-game schedule, with Opening Day taking place on July 23.
Sample sizes are everything when it comes to evaluating players, which is why one can't simply judge someone's season based on one month where their OPS is north of 1.000. That being said, all logic goes out the window in 2020, as we'll now see a universal designated hitter, a rule against players spitting, and each half of every inning after the ninth beginning with a runner on second base and nobody out.
These rules, mixed with roughly 63 percent of the season lost, open the door for some chaos amongst Major League Baseball. Players who otherwise wouldn't be stars could walk home with MVP or Cy Young honors, and players who'd otherwise struggle to find work could find themselves in the heart of a pennant race, playing a pivotal role.
Without further ado, here is the "cheat code" player for each MLB team, sorted alphabetically.
Note: All players are going to be based on their current organization. There is a trade deadline on Aug. 31, which could mean the relocation of some of these players. However, they'll be judged on where they begin the season, not where they could end up.
Arizona Diamondbacks: Tim Locastro – Outfielder
Locastro is one of the toughest players to figure out. He's not a proficient hitter by any stretch (career wRC+ of just 90), nor is he a game-changer defensively. However, he ranked in the 100th percentile for sprint speed and has mastered the art of "stealing" first base. In just 250 plate appearances, Locastro was plunked 22 times––good for 8.8 percent of plate appearances. At that rate, had he gotten a standard 500 plate appearances, he'd have been hit 44 times, which is 17 more than the actual 2019 leader, Anthony Rizzo.
Locastro will likely see a decrease in playing time with the acquisition of Starling Marte, but he could very well use his MLB-leading 30.8 feet-per-second sprint speed to wreak havoc as a pinch-runner in extra innings.
Atlanta Braves: Touki Toussaint – Right-Handed Pitcher
Toussaint has had a rough go of things trying to establish himself as a big league-caliber arm. In 70.2 innings, the right-hander has been staked to a 4.97 ERA, a 4.49 FIP, and a strikeout-to-walk rate of just 9.3 percent.
That being said, the talent is still there for the recently-turned-28-year-old. As pitchers will likely begin the season on a short leash, Toussaint can get some early innings as an opener, or in some sort of middle relief role. With greater use of his curveball (2.70 FIP in 2019) and splitter (0.42 FIP), he should be able to keep hitters at bay and throwing up zeroes for the Braves.
Baltimore Orioles: Hunter Harvey – Right-Handed Pitcher
The Orioles brought Harvey up for a cup of coffee in 2019, and he displayed an explosive fastball in his limited usage.
Harvey pitched 6.1 innings but allowed just one run, holding hitters to a .118 average on his fastball (.183 expected average) and averaging 98.3 MPH on said pitch. Sample sizes matter, and it's worth noting that the former first-round pick wasn't stellar in the minors last year (5.00 ERA, 5.13 FIP). However, he has the makeup to be a pretty lethal reliever with a sequence of fastballs (1.69 xFIP on 95 uses) and curveballs (-4.34 xFIP on 20 uses).
Boston Red Sox: Darwinzon Hernandez – Left-Handed Pitcher
It's easy to say this when you don't have to face the guy, but watching a pitcher just reach back and let it rip is oddly therapeutic.
Hernandez had his ups and downs in 2019, but the southpaw proved why he's such a valued asset in the organization. His base numbers don't jump off the page (4.45 ERA, 7.7 walks-per-nine), but when you look at his peripherals and rate numbers, they're staggering.
For example, Hernandez struck out 38.8 percent of the batters he faced, had a FIP of 3.09 on his fastball (on a 74 percent usage rate), and had a spin rate of 2,354 rotations-per-minute on it (70th percentile).
The one downside with Hernandez is volume, as he did seem to feel the strain down the stretch in 2019 due to over-usage. However, with a full major league season under his belt, he should be more accustomed to the workload and will continue to impress when used.
Chicago Cubs: Steven Souza Jr. – Outfielder/Designated Hitter
Power plays well, especially during the summer months.
For Steven Souza Jr., he's the definition of a three true outcomes hitter (45.7 percent of his career plate appearances have ended in a strikeout, walk, or home run). However, he's one that's prone to start the season as quite a productive commodity. It's hard to predict if that will continue the occur, especially since he hasn't played since Sept. 2018, but it's worth noting that his last full season saw him post a wRC+ of 133 through Tampa Bay's first 60 games. That stretch saw him also smash 21 extra-base hits in 233 plate appearances.
Giving a slugger the summer months to be productive, especially since he likely won't have to ever worry about seeing the field, could lend him a much-needed boost.
There's no guarantee he's going to be an everyday player, but he certainly has proven to be productive when allowed to succeed.
Chicago White Sox: Luis Robert – Outfielder
All winter, all White Sox fans could talk about was how Luis Robert is like Mike Trout-like.
Well, he's going to get the chance to prove it in 2020.
Gifted with speed and ability to hammer the baseball, Robert was a force in his 60-ish-game samples during the 2019 season. In 56 Double-A games, he slashed .314/.362/.518 with a 155 wRC+, eight home runs, and 21 steals. As for Triple-A? He slashed .297/.341/.634 with a 136 wRC+, 16 home runs, and seven steals in 47 games.
His walk rate leaves a lot to be desired and is something he'll have to work on to progress as a star, but his ability to do damage to the baseball is something special. Look out for him to be a huge help to a postseason-hungry White Sox team.
Cincinnati Reds: Aristides Aquino – Outfielder
If you hit 19 home runs in 56 games the previous year, you're going to have a leg up on the remainder of the competition.
Aquino burst onto the scene, hitting seven home runs in his first nine games, then came down to earth a little bit as opposing pitchers adjusted to him. However, one can't ignore the impact he had on the Reds in his limited participation.
With a nickname like "The Punisher," one can't help but get excited for what 2020 will bring for the slugger.
Cleveland Indians: Franmil Reyes – Outfielder/Designated Hitter
The Indians acquired Reyes from the Padres last year for one reason and one reason only: hit the ball a mile.
He wasn't great in his 194 plate appearances after the trade (95 wRC+), but he did clobber 10 home runs. Anybody who's hot-and-cold on top of being a major home run threat automatically becomes a candidate for their team's "cheat code."
Colorado Rockies: David Dahl – Outfielder
Lefty. Upper-cut swing. Coors Field. Need I say more?
Dahl has a career OPS of .853 in July through September and just hammers fastballs (which Rockies hitters are seeing at a far more inflated rate), which is a recipe for success in a 60-game season.
Detroit Tigers: Matthew Boyd – Left-Handed Pitcher
The Tigers aren't looking to win anything in 2020, but perhaps could be looking at the Aug. 31 trade deadline to add assets to their farm system.
A player that's consistently found himself in trade talks the past few years is southpaw Matthew Boyd. The one drawback with him, despite the extended team control, is the high asking price, especially since he's known to regress in the second half from a results standpoint.
However, with only one month of play before the trade deadline, Boyd should be a hot commodity for teams looking to get over the hump.
Houston Astros: Carlos Correa – Shortstop
The biggest drawback for Correa has been his inability to give a full season of work, having not appeared in more than 110 games since 2016.
A 60-game season could bode well for the shortstop who had a wRC+ of 143 in 75 games last year. Not to mention the fact he can attain tremendous defensive metrics in such limited action (nine outs above average in just 642.1 innings at short last year). Had he kept his pace for defensive runs saved and outs above average for, say, 1,000 innings, he'd have posted 11 DRS and 14 OAA.
Baseball is better when Carlos Correa is around. In fact, he might be a great guy to bet on for AL MVP.
Kansas City Royals: Jorge Soler – Outfielder/Designated Hitter
Home runs are exciting and eye-catching, and are something nobody did better in 2019 than Jorge Soler.
The once-prized possession of the Chicago Cubs organization has started to blossom in Kansas City and is doing so one mammoth swing at a time. The Royals are a weird team in the fact that they have talent, but are definitely rebuilding at the same time.
They very well could shock some people and perform above expectations for the 60 games this season, and Jorge Soler will be right at the forefront of that.
Los Angeles Angels: Mike Trout – Outfielder
It's Mike Trout. Need I say more?
Los Angeles Dodgers: Brusdar Graterol – Right-Handed Pitcher
It is baffling that the Dodgers were able to snag Brusdar Graterol in the chaos that was the Mookie Betts trade.
Graterol was originally going to Boston, but their brass didn't like his medicals. So, in a subsequent trade, the Dodgers sent Kenta Maeda to Minnesota for the promising fireballer.
If you throw a 100-plus MPH sinker (1.62 FIP), you're going to attract a lot of attention. Mix that with a wipeout slider (1.31 FIP) and the Dodgers have perhaps one of the biggest three-inning stars in baseball. He can be used in high-leverage or spot-start situations. Regardless, the Dodgers are going to love what they get out of him if he stays healthy.
Brusdar Graterol's 🔥 stuff. pic.twitter.com/Z1ZZdW9CNU

— Rob Friedman (@PitchingNinja) February 9, 2020
Miami Marlins: Sixto Sanchez – Right-Handed Pitcher
The Marlins won the J.T. Realmuto trade.
Getting Sixto Sanchez was worth the two guaranteed years of Realmuto's services in Philadelphia. He is just electric and showcased that with a 2.69 FIP in 103 Double-A innings last year. He doesn't have a lot of miles on his arm and has the makings of continuing to build a tremendous young pitching staff in Miami alongside Jordan Yamamoto, Sandy Alcantara, and Pablo López.
Look out, MLB. Miami isn't going to be a basement-dweller for much longer.
Milwaukee Brewers: Omar Narváez – Catcher/Designated Hitter
The beauty of the universal designated hitter is that National League teams won't suffer from fielding defensive liabilities.
Narváez totally fits the mold of a catcher that really belongs in the DH spot.
He posted a DRC+ of 123 last year in Seattle, but his -12.3 fielding runs above average kept his BWARP at 2.3. It was a slight improvement from the -17.6 he posted in 2018, but still nowhere near good enough to be an everyday big-league catcher.
He doesn't hit the ball very hard, ranking in the eighth percentile for exit velocity and hard-hit rate. However, Miller Park's right-field power alley is a bit more favorable than that of Safeco's, meaning he will likely see similar success despite not having the corresponding bat-to-ball skills.
Minnesota Twins: Josh Donaldson – Third Baseman
Donaldson got a pretty big pay-day for someone 34 years old, but the fact remains he's still one of the most lethal offensive weapons in baseball.
Last year, he slashed .259/.379/.521 in Atlanta, good for a wRC+ of 132. A tick down from his peak, where he was a notorious 150 wRC+ player, but still among some of the best hitters in baseball.
In a shortened season, a player like Donaldson is in a prime position to flourish, especially in a lineup loaded with firepower like Nelson Cruz, Miguel Sano, Max Kepler, and Mitch Garver.
A lot of legacies will be impacted by the COVID-shortened 2020 campaign, but Donaldson can cement his Hall of Fame case with a big season, especially if he can take home some hardware in the process.
New York Mets: Brandon Nimmo – Outfielder
Power plays well, but so does plate discipline.
Brandon Nimmo has been the pinnacle of "injury-prone" since entering the league, but the one constant has been his knack for getting on base. Through just 69 games in 2019, he reached base at a .375 clip, which would've tied him with D.J. LeMahieu for 23rd in baseball had he qualified.
His only full season saw him post a wRC+ of 148, and he walks at a rate of 15.2 percent for his career. Sure, base hits are more exciting than a walk, but Nimmo is tremendous at finding himself aboard. This is a skill that will do wonders for the likes of Michael Conforto, Wilson Ramos, or perhaps even Yoenis Cespedes and Robinson Cano if they're positioned behind him in the order.
New York Yankees: Gary Sanchez – Catcher
One of the most irrationally ridiculed players in all of baseball, Gary Sanchez will prove to be New York's most vital commodity in a shortened season.
Why?
Well, he's got one of the game's most rewarding traits: the ability to hit the ball hard, and very far.
2019 was a season derailed by one cold stretch, but otherwise, Gary Sanchez was well above league average in expected weighted on-base average (xwOBA).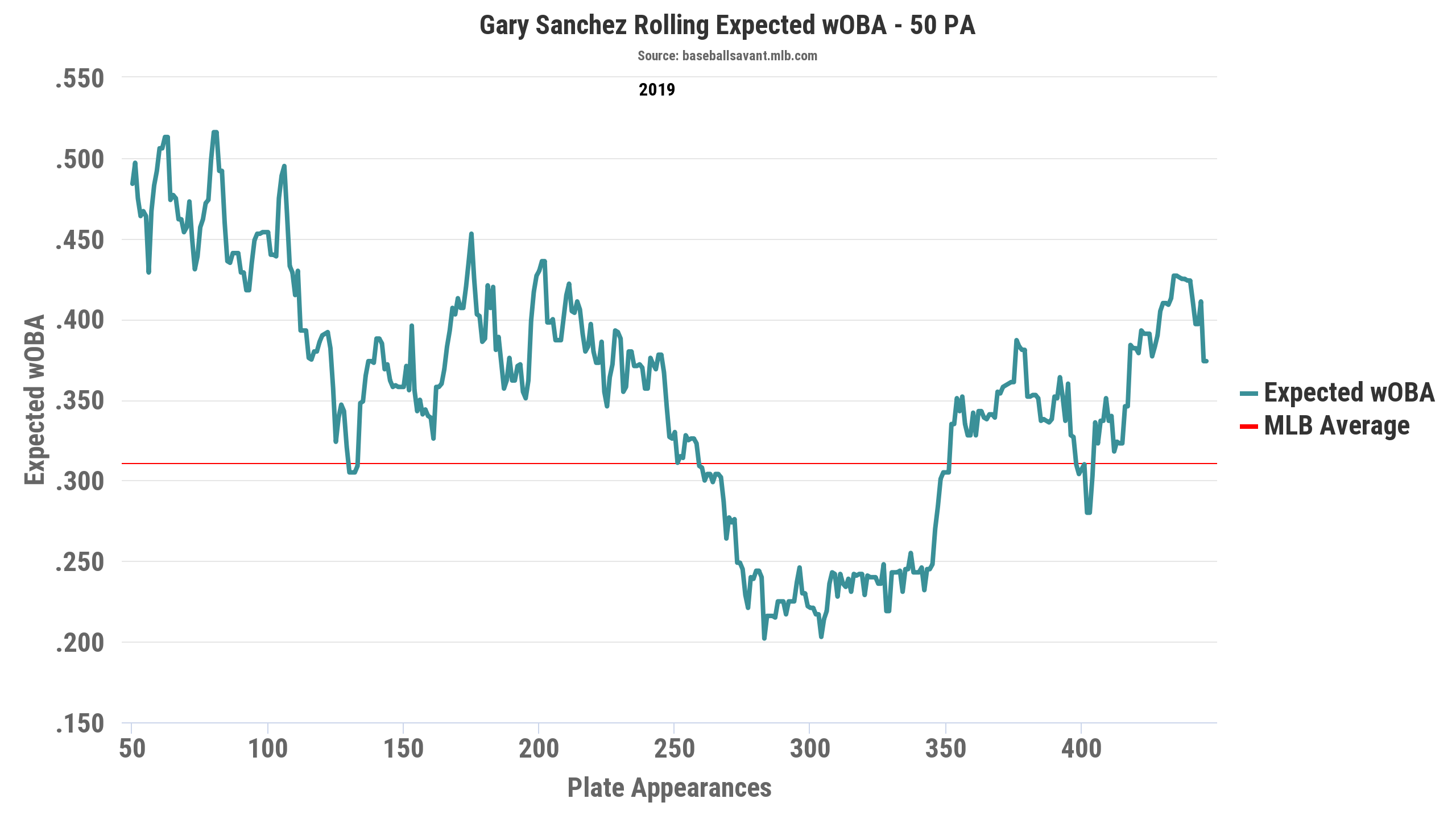 He was in the 92nd percentile for expected slugging percentage (.552), 99th percentile in barrel percentage (19.1), and in the 84th percentile for xwOBA (.363). Yes, his cold stretches can be hard to watch, but for a sample size that will likely be roughly 200 plate appearances, it's hard to ignore how rewarding having his bat in the lineup can be to the Yankees.
Oakland Athletics: Yusmeiro Petit – Right-Handed Pitcher
It's sort of a mystery as to how he does it, but outside of 2016, Yusmeiro Petit has been one of the more dependable arms since becoming a Giant in 2012.
Now with the A's, Petit continues to find himself in situations where he can flourish. Last season, for example, he posted an expected ERA of 3.18 (92nd percentile), a weighted on-base average against of .240 (97th percentile), and a walk rate of just 3.2 percent (99th percentile). Mind you, this is all while being in the bottom 10 percent in fastball velocity and curveball spin rate, as well as ranking below the 50th percentile in fastball spin, whiff rate, and barrel rate.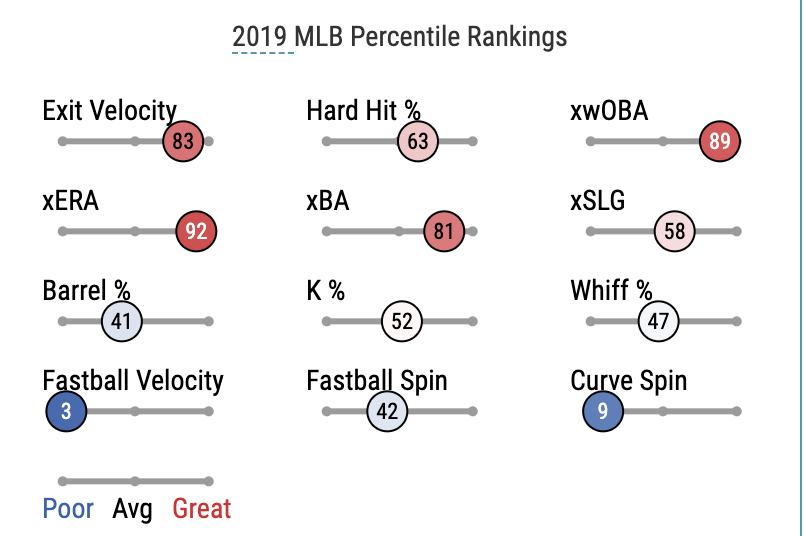 Perhaps he's a product of being in one of the most pitcher-friendly ballparks in Oakland, much like he was with the Giants. But the fact remains that he's durable, dependable, and continues to throw up zeroes at a rate you cannot ignore.
Philadelphia Phillies: Bryce Harper – Outfielder
Say it with me: "Bryce. Harper. Is. Underrated."
See, that's not so hard, right?
But seriously, Harper has become one of the game's most vilified players simply for not replicating the historic 2015 season that brought him his lone MVP award. Yes, he's being paid a lot of money, but he also played to about $21 million above his 2019 adjusted salary.
He sees fewer strikes than most qualifying hitters, but people get mad that he doesn't put up gaudy numbers. It's quite unfair, but expect him to absolutely torment the baseball in the 60-game stretch he'll play in 2020.
He could take home his second MVP, as well.
Pittsburgh Pirates: Jarrod Dyson – Outfielder
Not a great hitter, Dyson can certainly still run and do things with his glove.
The Pirates are going nowhere, are my pick to finish with the worst record in the league, and could very well trade Dyson to a contender to be their extra innings baserunner down the stretch.
San Diego Padres: Drew Pomeranz – Left-Handed Pitcher
Pomeranz found success last year in relief, posting a 1.67 xFIP and a 47.2 percent strikeout rate across 28.2 innings.
Don't expect him to replicate that level of dominance, but he very well should succeed when you add in the ballpark factor. San Diego plays better for pitchers, and Pomeranz can benefit from the breathing room in the outfield if he reverts back to his fly ball ways.
San Francisco Giants: Billy Hamilton – Outfielder
Hamilton has the same rationale as Dyson and Locastro before him. Hamilton doesn't pose much of a threat at the plate, but it would be exciting to see how the 10th inning would go with him starting on second base.
Seattle Mariners: Tom Murphy – Catcher
Murphy erupted in 2019, posting a 126 wRC+ in 281 plate appearances. He also hit 18 home runs, though he struggled with plate discipline.
The Mariners have a ways to go to return to being competitive, but with Narvaez out of the picture, it opens the door for Murphy to continue to develop at the major league level.
St. Louis Cardinals: Paul Goldschmidt – First Baseman
The 2019 season was one to forget for the former Diamondbacks All-Star. As a result, it makes him the prime candidate for a major bounce-back in a shortened regular season in 2020.
His expected stats would indicate that, as well, which is exactly why he's in for a major breakout in 2020 for the Cardinals.
Tampa Bay Rays: Hunter Renfroe – Outfielder
One of baseball's biggest stars through June last year was Hunter Renfroe.
Through his team's first 60 games, he posted a slugging percentage of .625 with a wRC+ of 135. Yes, his OBP was pretty low, but he still was very productive for the Padres during that stretch.
He even blasted a walk-off grand slam against the Dodgers.
Hunter Renfroe. Grand slam. Ballgame!

The Padres win 8-5 on the walk-off 💪 pic.twitter.com/7MBuBHLtwL

— SportsCenter (@SportsCenter) May 6, 2019
One has hopefully learned to stop questioning the Rays front office, who must've seen something in Renfroe or else they wouldn't have dealt Tommy Pham for him. Look for a big season out of the new Rays outfielder.
Texas Rangers: Joey Gallo – Outfielder/Designated Hitter
You like home runs hit at a high rate? How about ones that are still orbiting the earth? If you answered yes to either, let me introduce you to Joey Gallo.
No words for this Joey Gallo home run.

Just watch.

(via @Cut4)pic.twitter.com/IGiDYsZG2q

— B/R Walk-Off (@BRWalkoff) April 20, 2019
Gallo finally put it all together in 2019 despite posting a career-high strikeout rate. He posted a career-high 3.3 fWAR in just 70 games, as well as a 144 wRC+. He is the prime candidate to shine in an abbreviated campaign, and he should pick up right where he left off in 2019.
Toronto Blue Jays: Bo Bichette – Shortstop
Bichette is apparently very good at lighting it up for an abbreviated stretch, as he showcased in 2019. Through 46 games, the young shortstop slashed .311/.358/.571 with a 142 wRC+.
He burst onto the scene and may have even usurped Vlad Guerrero Jr. for the most hyped prospect in Toronto.
He's got the swagger, the bat-to-ball skills, and run-saving ability to be a true superstar for the Blue Jays in 2020.
Washington Nationals: Juan Soto – Outfielder
Soto is arguably approaching the title of "the best hitter in the game" already, and he's just 21 years old.
Soto has the complete package of hitting to all fields for power, average, and has the plate discipline to also warrant being a max-effort swinger.
One of the most exciting players to watch, Soto is officially the new face of the franchise now that Anthony Rendon has departed for Anaheim. Expect a tremendous showing from the young outfielder, who will surely make noise for National League Most Valuable Player.