Canada artist Lauren Taylor, now licensed by Major League Baseball, did not have an artist's hand at first, something she thought was further reinforced by her abysmal art in the classroom.
"I was an exceptional student and the only C I ever got was in a drawing class," Taylor said. "It does make me laugh a little bit and I like to remind people when people say, 'I wish I could draw like you' and I'm like, 'You can, I was terrible when I started.' I look back at a some of the things I made and I'm like, 'God [that's bad].'
Taylor's main focus in college was on athletics. A softball player and student for most of the year, Taylor only drew as a way of gift-giving and often took hiatuses between projects.
Three years ago, Taylor was hit by a baseball on a line drive to the face, fracturing her skull in four places also causing blindness in one eye. By the time she had healed, Taylor struggled to fill the void left after being unable to play competitive softball.
"It was really scary to not play the sport that kept me so happy and socialized because suddenly not being able to play that sport, I lost my identity a bit," Taylor said. "That's when I started turning my art into sports art because I thought, 'I can't play, how else am I going to tell stories and get involved in a way that's healthy' that's when I started making baseball art."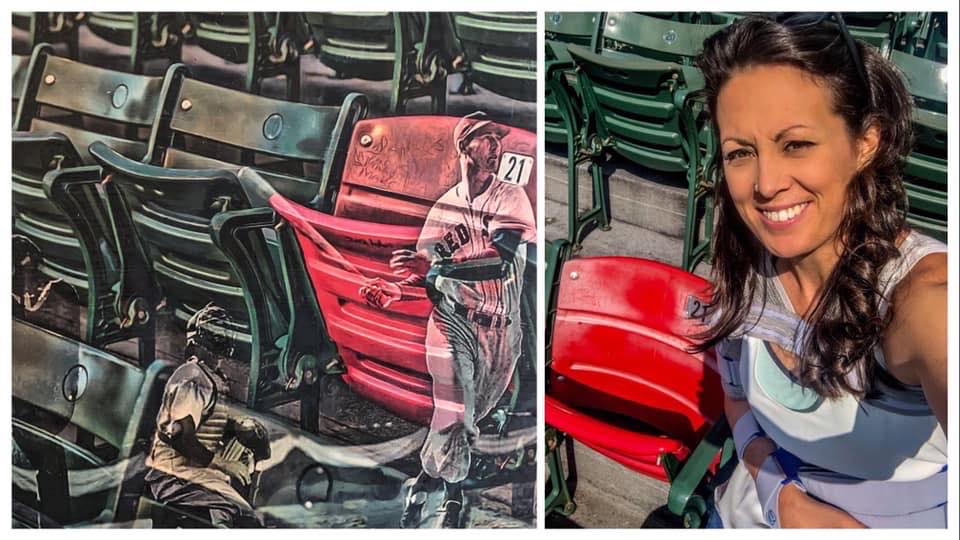 Her hobby changed to a possible career when her work caught the eye of two-time All-Star pitcher Ryan Dempster and when an opportunity arose after James Paxton's no-hitter.
"There was an opportunity to make one for him because they were doing an awards gala [in British Columbia]," Taylor said. "When [Paxton] threw that no-hitter against the Blue Jays, someone said that I should try and get his attention with an art piece. I did it and a bunch of people from Vancouver and B.C. tagged him and he commented offering me a couple batting practice passes."
This opened the floodgates.
The many athletes she has since delivered art to include Madison Bumgarner, Brandon Crawford, Trevor Story, Nolan Arenado, Ichiro Suzuki, Marco Gonzales, Kris Bryant, Javier Bàez, Robinson Cano, C.C. Sabathia, Brock Holt, Jackie Bradley Jr., Rafael Devers, Mike Yastrzemski, and K.J. Wright.
She recently had one of the biggest deliveries in her career, returning home to Seattle to give Super Bowl champion Russell Wilson his own art. The six-time Pro Bowler did not disappoint in terms of his kindness.
"He was as nice as I hoped he would be," Taylor said. "There's so many people that look to be lovely people and he was exactly that. I always wonder if the [athletes I meet] will be nice in person or will I just be annoying to them but he was so kind. Everybody needs him after the game, he's got interviews, postgame, not to mention his team and his coaches but he still made time to come out and speak with me and give me a huge hug commenting on how beautiful the art was. He actually signed one of the prints directed to my friend's husband who's a huge Seahawks fan."
https://www.instagram.com/p/B4djj41Fp7a/?utm_source=ig_web_copy_link
Through every painting, Taylor fights more than just the choice of color or stroke, but demons inside.
Sometimes, Taylor wakes up with depression so debilitating that she physically cannot function or even get out of bed. This is something that she was afraid to be open about at first due to judgment.
"With my struggle with mental health, my biggest fear was that people would say, 'You have everything I want, you get to meet athletes, you work for yourself, you have two beautiful dogs, a beautiful home,'" Taylor said. "The big misconception in the world that's really dangerous right now is that you have nothing to be upset about so you shouldn't share it."
Even with people whispering in her ear that she should not share with her fans, Taylor takes to her social media to tell her followers that even with the great times come the devastating ones before or after.
"I try to do videos from time to time saying, 'Hey, I just had this awesome weekend in Seattle delivering art to Russell Wilson, today I had a hard time getting out of bed,'" Taylor said. "My brain chemicals are making it hard to get out of bed and it's something I still struggle with. It doesn't matter if I win a million bucks tomorrow, I'm still going to need to fight hard against my depression, anxiety and panic attacks."
Taylor works to share the bad times along with the good to show the people crippled by mental illness that they are not alone in the battle.
"I worry if I just showed just the easy stuff like, 'Heck yeah, I met Russell Wilson today' is going to make those people who struggle feel more like an abomination to the human race when really, there's so many people out there that struggle that are succeeding," Taylor said. "I just worry and wish people were more honest to say if they were having a hard time one day or having a panic attack in a grocery store, people wouldn't feel so alienated."
It is something that she has built her social media around, almost as much as the illustrations. Taylor gets messages and responses everyday with gratitude towards her openness to share.
"Growing my platform has also been about having an opportunity to talk more about mental health and that's been almost as important as the art itself to me," Taylor said. "It warms my heart because it takes courage to make that first message to say that you are struggling too.
Taylor hopes with her admissions that it can trigger a butterfly effect for people to be open to talk with anyone they can trust. To not keep it inside.
I think when you have a warm response to that, it can encourage you to be honest with your best friend, co-worker, or your boss," Taylor said. "If I'm the only person they tell, then that's okay, too, but I'm just grateful to open that conversation and make people feel that there's one less person out there is going to judge them when they do feel like they are ready to talk about it."
Taylor has taken steps to help people speaking at mental health conferences and also volunteers on the suicide hotline for eight hours a month.
"I do two shifts a month at four hours a week," Taylor said. "It is some heavy work and being present for the call is always important."
Every single canvas she paints, Taylor aims to reach higher in terms of athlete status. The one she wants to reach, however, is not an athlete at all, but her hero, comedian and one of her inspirations, Ellen Degeneres.
"It's one of the few shows left that you can tune into where there's no opportunity to debate, no political agenda, it's just stuff meant to help others," Taylor said about the show, Ellen. "It's meant to make people smile which is needed so much in the world right now."
Taylor labeled Degeneres' ability to come out on top after a lifetime of people unaccepting of her as a person is something that she thinks the world of.
"When you look back at what she's gone through, the world should have hardened her but she has used [her experiences] and has the ability to have extreme empathy for other people which is one of the strengths of her personality," Taylor said. "She took a world that was pretty cruel to her for a while and instead of feeling cheated and angry, she became someone who wants to shine a light of opportunity and kindness."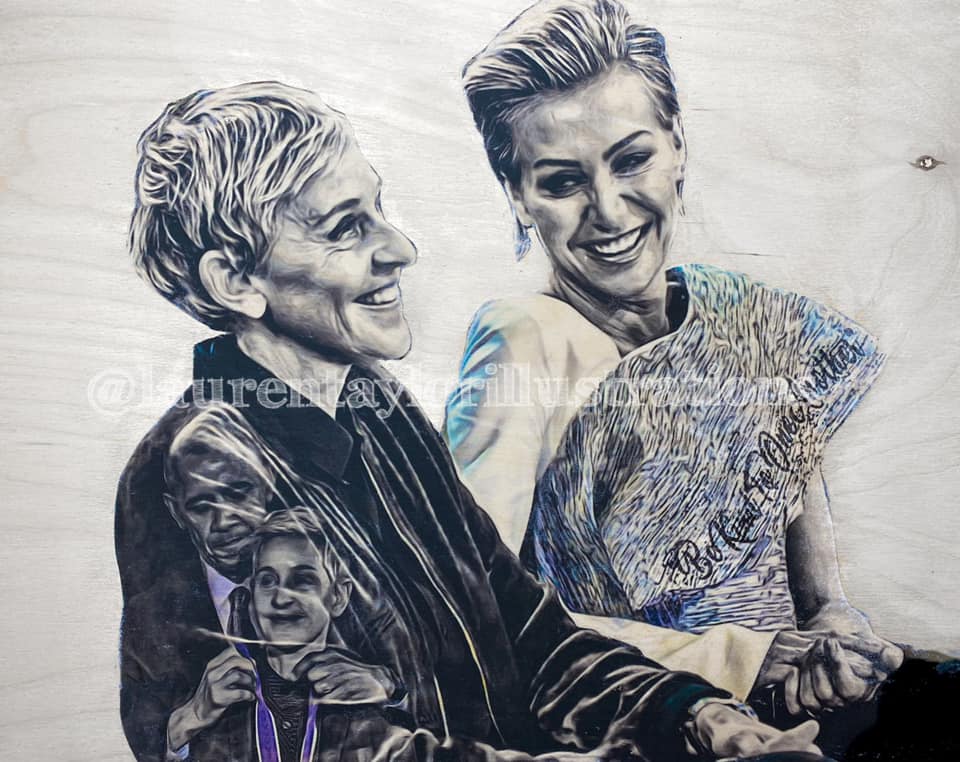 If given the opportunity to be on Ellen's show, she has a message she would love to send every single person who just might be in pain.
"I just want to tell people to just fight another day," Taylor said. "That sometimes the part of your story that feels like will end you, is actually potentially the moment that everything changes for the better. I never thought getting struck with a ball in the face and refacing the beast of anxiety and depression would actually be a moment I can admit was the best thing that happened to me in a sense. Also, that while I feel some days that the fight for my own happiness and sanity is one I am losing, I have moments of clarity when I realize it helped defined parts of me I'm incredibly proud of. Mental health can be a superpower once we find ways to harness it."
Taylor wrote a letter to her younger self. A letter that is a voice of what she needed to hear as little girl.
Lauren,
You have a mullet and think baseball, the Mariners, and Ken Griffey Jr. is life. At this moment you have no idea what a mullet really is, and kids can be kind of cruel, but stay weird… stay you.
You won't be the person people call on weekends to come to sleepovers, and it's possible you will never be asked to a dance by some guy you have a crush on, but even though that feels like the biggest let down and you feel super alone, it's not what your life will be about one day. You are learning to thrive in your own company, you are finding your comfort in solitude. Stay creative in your loneliness.
You will learn to battle your anxiety in ways that are unconventional at times, and messy, but you will keep trying and I promise you that one day you won't be so ashamed to talk about it. Some day you might even be an advocate to others. Use art to speak when you have no words. Stay honest.
One day life is going to start to make more sense. All of the trials and bumps in the road will now have perspective and they will start to look a lot more like a road map. Moments when you felt let down and discouraged, or even riddled with crippling depression you are actually becoming stronger and more resilient… those moments when you feel low are teaching you humility. Those moments and days will happen, and they might even feel unbearable, but they also make the success and good days so much sweeter. Stay humble.
It's okay that you don't make your bed, can't always focus in class and feel unattractive as you move into adulthood… those things become so minor and irrelevant in the life that is waiting for you… you will find your own way and you will do it on your terms.
Stay weird.
Stay driven.
Stay humble
Stay hungry.
Stay creative.
Stay honest.
Who knows, someday you may be in the same room with Willie Mays, collaborating on a project, or presenting art to Rickey Henderson. I know you don't believe me, but keep going… you just never know.
Since I know the 10 year old version of me blacked out as soon as you read the line about Willie Mays, I will say it again…. One day you will be in the same room as Willie Mays and all your "imperfections" and your creative mind that can be a bit of a tyrant at times, will know exactly what to do. You will be in your element, and it will happen because you stay true to yourself… even when it's hard, even when you wanted to quit.
Be you. All you have to do is be you… and then you will be me sitting in a room today with our idol and wondering how the hell we got so lucky to find our way to this place.
Lauren