Kit Shepard | May 24th, 2019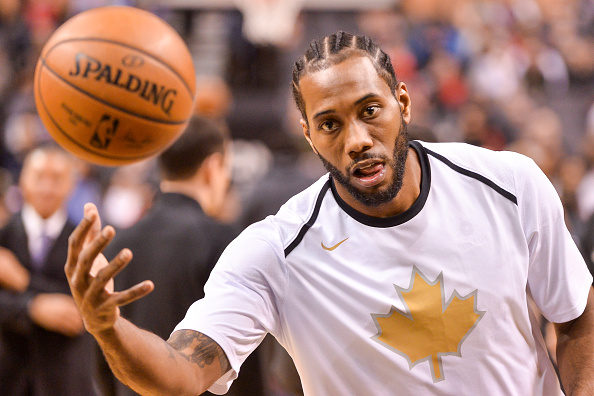 The Milwaukee Bucks needed a basket badly.
After racing out of the blocks in game five of the Eastern Conference Finals, the Bucks suddenly found themselves on the wrong end of a 16-2 Toronto Raptors run, giving the Canadian outfit their first lead of the night midway through the second quarter.
Down two with possession, five minutes away from halftime, Milwaukee turned to their superstar to stop the bleeding. Initially, it appeared that Giannis Antetokounmpo had promptly obliged, as he picked up the ball at the top of the arc, dribbled right, before sidestepping left with a couple of huge strides to give him a clean look at a dunk.
This type of shot has been the most reliable in the NBA all year. Antetokounmpo converted 73.7% of his field goal attempts in the restricted area this season and scored in this manner on just under eight occasions per game, leading the league by a distance.
Yet remarkably, the seemingly inevitable two points did not come. Giannis got to the rim with little trouble but, despite only a weak contest from the closest Toronto defender, thundered his dunk attempt off the back of the rim, blowing the chance to draw his side level and get himself going after a poor start (this miss took him to 3-for-8 from the field).
The MVP finalist had missed dunks before, anyone fortunate enough to be able to get up that high has. This one, however, felt like more than a rare, freak occurrence, since the Raptors defender who contested the shot was not just any player. It was Kawhi Leonard.
Again, this type of mistake does happen, and can often be attributed to a momentary lapse in concentration. That being said, when other preceding events are considered, the play was not totally surprising. Kawhi's mere defensive presence has turned Antetokounmpo into a shadow of himself.
Little over five minutes of game time before the botched dunk, Milwaukee was looking far more comfortable. Leading by eight, they had the chance to restore their double-digit advantage as Eric Bledsoe brought the ball up. The point guard meandered towards the right side of the floor, where Giannis slipped his screen on Fred VanVleet, giving himself a small opening to the rim. Bledsoe recognized this, sending a routine pass to Antetokounmpo's left hand, providing the 24-year-old with an opportunity to attack in the paint.
Except Antetokounmpo was not thinking about scoring. He was thinking about the player guarding him, Kawhi Leonard. As Giannis went to gather the ball, Leonard motioned ever so slightly in his direction, causing a brief moment of panic that led to him fumbling a perfectly-adequate pass. Kawhi immediately took advantage, snatching the ball away from his startled opponent and finding Pascal Siakam for an open three on the ensuing fast break. The Cameroonian converted, cutting the deficit to five when it could have been 10.
Whether it is dunking or just catching a pass, Giannis is struggling to perform actions which are typically second nature due to Leonard's intimidating defensive aura. This is affecting other parts of his offense such as his turnovers (he has more in the Conference Finals than any other player) and his field goal percentage (a meager 46% after making over 57% of his shots in the regular season).
Nevertheless, the most glaring weakness remains his free-throw shooting, the facet of basketball were self-belief is everything. He shot 72.9% from the line in the regular season, but has plummetted to 60% in this series, including two horrendous airballs in Toronto. Things did not improve back at home in game five, as he made only four of his nine foul shots. Worse still, with seven minutes remaining in the opening quarter, Antetokounmpo drove to the basket as if he was going for a layup, but when the referees whistled Kyle Lowry for fouling Giannis as he completed his dribble, he elected not to put up a shot, ensuring the infringement did not result in free throws. He had bricked all three of his attempts from the stripe at this stage, and this curious decision indicates that Antetokounmpo no longer trusts himself to convert them.
This hesitancy, it seems, is a product of Kawhi and his reputation. The Bucks and their best player looked comfortable in the first two games of this series, but have faltered substantially since Leonard, a two-time Defensive Player of the Year, began to match-up against Antetokounmpo with increased frequency in game three.
With the benefit of hindsight, it is possibly not surprising that Kawhi has got the better of this match-up. The entire history of the NBA teaches us that experience is almost always necessary at this stage of the postseason. Leonard became accustomed to playing in the biggest games of the year during his time with the San Antonio Spurs, as shown by his 2014 Finals MVP and this ridiculous graphic. Meanwhile, Giannis had not won a playoff series until last month and is yet to prove himself under this level of scrutiny. He has understandably been a little less certain in himself during the Raptors series and there is nobody more capable of capitalizing on this than Leonard, who impressed again in game five with 35 points (including 15 in the fourth quarter), seven rebounds and nine assists.
Kawhi is not the type of player or personality that would overtly challenge an opponent, but his reputation is making Antetokounmpo's life on the court very uncomfortable. He has earned the title of the league's leading two-way player over his eight-year career, something which Giannis is aware of enough to make basic mistakes.
Now, heading into game six tomorrow night, the Bucks are facing elimination. The 2-0 lead they once held feels like a lifetime ago, and the odds suggest that a recovery is unlikely; over 80% of teams who came out on top in game five of a series previously tied 2-2 went on to win it. Beyond history, Milwaukee will have to overcome a raucous Toronto crowd, Drake included. Before they can do any of that though, they need Giannis Antetokounmpo to exorcise those Kawhi Leonard-resembling demons that are crippling his self-confidence, or the Finals will be coming to Canada. 
Questions and comments?
thescorecrowsports@gmail.com
Follow Us on Twitter @thescorecrow
Follow Us on Reddit at u/TheScorecrow
Follow Us on Facebook at The Scorecrow
Follow Us on Instagram at The Scorecrow
Follow Kit Shepard on Twitter @KitShepard
Main Credit Image:
[getty src="1081231960″ width="594″ height="396″ tld="co.uk"]