When you go to the official website of Gronk Fitness, plastered right in front of you on the screen is the family's life motto. 'It's a Mindset.'
Three words that have carried Chris Gronkowski and his brothers Rob, Dan, Glenn to the NFL, as well as the oldest Gordie to professional baseball.
"That was my brother Dan, the marketing genius over there [that came up with it]," Gronkowski said. "It really is when you think about what gets you to that next level, it is your mindset (that is the most important) when you're trying to get to the top and do the best you can. You gotta be ready to grind, be in a whole different place."
The Gronkowski brothers growing up always competed with each other.
"Absolutely that [competitiveness] never leaves you man," Gronkowski said. "You grew up trying to be better than the older brother and better than the younger brother and that's always how it is. It's a pride thing."
The mission was always to one-up the other.
"We were so close in age and growing up it was like, 'Hey my older brother went to college and played football so I wanna do the same thing, I wanna go to college with him, I wanna play next to him,'" Gronkowski said. "It was really just the mentality you get from being so close and such good friends."
Their missions to get to the NFL came with healthy lifestyles. When growing up, their father Gordie Sr. who had 25 prior years of experience in the fitness field, put them on the right track. Their mother Diane also made sure they had healthy lunches everyday when they went to school.
"We never ate out. My mom fed us every single meal. I mean my parents couldn't afford to bring us to dinner and my mother couldn't handle us with the dining experience," Gronkowski said with a laugh. "Really out of necessity we ate every single meal at home, packed every single lunch for us every single day. Even today, we all research it, I'm always looking up ways to eat healthier, different workouts, routines, something like that and it's all about sharing that knowledge and encouraging people to do the same thing.
As the brothers grew, they were more of a team than opponents in the NFL and in business.
"As we got older and got into the league, instead of going against each other, we tried to help each other out as much as possible," Gronkowski said. "We really became a team and became a lot closer and went through that in the NFL supporting each other. Now in business, it's all about competing to be the best but also to help each other out to be the best you possibly can as a team. It went from beating each other up every day to supporting each other."
While on the football field, Gronkowski had a different headspace. Almost like a Jekyll and Hyde shift.
"I tell people that all the time when I was playing that I was a different person," Gronkowski said. "Everyday I was almost crazy. When I look back and think about it, my mindset was only on one thing. That I was going to make the team and be the best player I possibly could."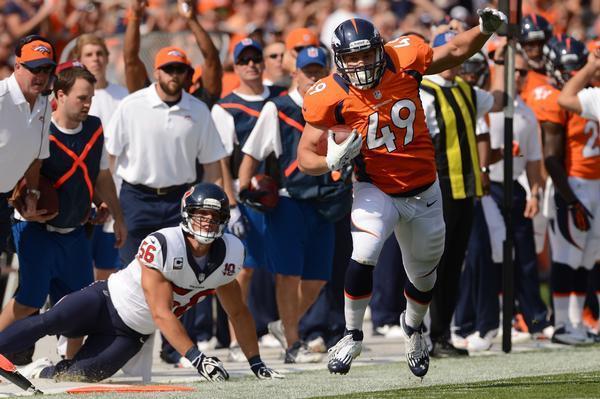 Even without the the helmet and pads, that fire is still there in his endeavors off of the gridiron.
"That mindset has got me through business as well." Gronkowski said. "It's that competitive mindset that you're gonna be the best at every single thing that you do."
Chris' business revolves around a workout bottle the Ice Shaker. An idea he got when he got stumped trying to find a working insulator bottle to keep his drinks cold.
"I was going to the gym and was out living in Texas and by the time I got to the gym, my shaker bottle was warm, there were sweat marks everywhere and it smelled terrible," Gronkowski said. "With that, I went home and I said, 'Hey I need a different bottle, I need something that's easy to fill, easy to shake, won't leak to the gym, also to work with me, everywhere I go and with that I looked everywhere and there was really nothing on the market at the time that can do this so I set out to make the best bottle I possibly could."
Gronkowski researched up and down the internet for a bottle conduit that would keep his drink cold and insulated. He then ran into stainless steel.
"I researched and found stainless steel and [realized] that it's gonna be the same thing that your forks and spoons are made of, it's gonna be kitchen grade, it's not going to absorb the odors like the plastic bottles," Gronkowski said. "Then I found out that metal is a good conductor and that what was only available at the time was these, 'single wall' bottles so when you put ice in them, the metal was going to conduct it and it was going to get super, super cold."
Thinking his problem was solved, he bought one of those bottles. But it did not work.
"I bought those bottles trying to get a use out of those and realized it actually was worse," Gronkowski said. "So I wanted to find a way to insulate these bottles and, 'Double wall' them so the cold could not transfer through them and the only way to get all of these benefits was to use stainless steel."
Gronkowski went to work. In his journey to find the right one, he shook many bottles over months to perfect it.
"I was (my own) test subject and got big forearms because of it," Gronkowski said with a laugh. "One of the main things with the bottle was I wanted to make sure it wasn't going leak. I tried out 20-30 different seals on the bottles to see if they would leak or not. I wanted to find out which seal was the best, how thick they should be, or if it should be an inside seal. I shook hundreds if not thousands of bottles throughout a period of a couple months and really got a good forearm workout out of it."
Gronkowski and his brothers presented the idea on the hit show Shark Tank as a team. He was able to make a deal with Alex Rodriguez and Mark Cuban for $150,000 in exchange for 15 percent equity in his company.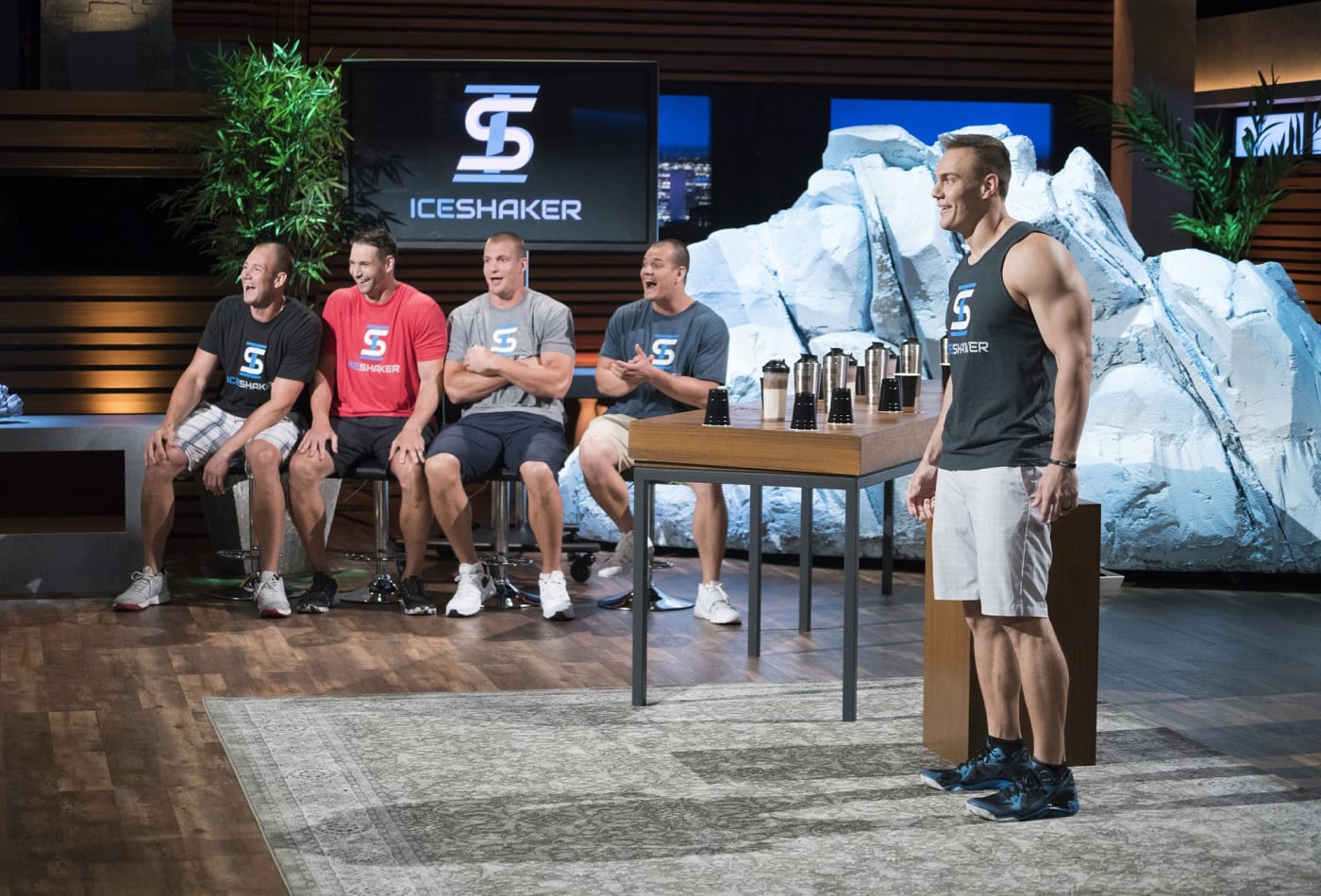 Since then, the Ice Shaker product has grown from just one, to any type of bottle to suit an athlete's needs. Customers can design their own bottles and New England Patriots fans can get ones with the six Vince Lombardi trophies.
In addition to Ice Shaker, Gronkowski, his brothers, and his father founded Gronk Fitness. A company that sells Gronk branded gym/crossfit equipment. The website also has a blog that has fitness tips from all the brothers ranging from the best hamstring workouts, to perfecting the muscle up.
"Gronk Fitness was really born from seeing these crossfit gyms where you had to go online and buy a product and these accessories and paying a ton for them," Gronkowski said. "We were able to come out with a line of products that were better than what was online and cut the costs significantly."
Gronkowski says what separates this website from all of the other fitness equipment suppliers out there is access.
"What we try to give people is the accessories no one really has," Gronkowski said. "A lot of the plyo boxes and all of the other things that really help you become a better athlete. Some of the bars (on the website) you're not going to get elsewhere and we're going to give you a quality product at a really super affordable price and is also for anyone who just wanted to throw some stuff in their home gym and didn't really have a ton of room for it or are beginners. It's not gonna be something you buy and breaks in a week, it's gonna be well built."
As Chris' younger brother former All-Pro Patriots tight end Rob Gronkowski begins a new venture in partnering with a Cannabidoil company, Chris says the family is always going to back the natural option.
"We're all about living the healthy lifestyle to the max," Gronkowski said. "We're going to be as active as possible and with that [Rob] saw a good opportunity in that because it was all-natural, FDA approved and it was a great opportunity for him."
Chris and his brothers wanted to take the knowledge they have learned throughout their life and pass it on to youth. Along with his charity work with Ice Shaker, Chris, Rob and crew are spreading their message with the Gronk Nation Youth Foundation. A charity that is focused on helping children reach their highest potential in academics, sports and fitness.
"For us, it's all about having fun and that's what it comes down to," Gronkowski said. "That's what separates us, we are going to support the kids and it's all about if we can teach one kid or set a course for one kid that can change the world. But when we do that, it's not about just handing a big check, it's about walking in and having fun with the kids, being on the intercom, singing songs with them and just doing things that you don't see other people do and put a big smile on these kid's faces."
But does Gronkowski still have that nice juicy burger every now and then?
"Absolutely," Gronkowski said with a laugh. "A lot of people try and tell me to eat a carb and that drives me crazy because I eat a ton of carbs. One of the worst things I did was trying to reduce my carb intake because it was just slowing me down. So I eat burgers but I try not eat them everyday."