As part of Major League Baseball's plan to return to action this summer, the idea of a universal designated hitter has resurfaced.
It has been proposed and approved for the 2021 season, but with the COVID-19 pandemic shortening the season, the idea become a hot topic once again. With July as a set goal for a return and only a few months of regular-season play to be had, the MLB is going to do all they can to protect its stars and recoup some revenue lost.
Though a rule that would be adopted prematurely, it does create advantages for teams that would otherwise suffer in 2020. Teams that would either have to play a defensive liability in the field or otherwise suffer from a pitcher mandatorily batting no longer have to worry about how to fill that void.
This begs the question: who benefits the most from a universal DH?
Cincinnati Reds
The Reds are an obvious candidate for a beneficiary for one reason alone: Nick Castellanos.
Making the decision to put him in the lineup is rather easy, but you're at a significant loss defensively whenever he's out there. Since the start of 2018, Castellanos has racked up -26 defensive runs saved, which is the third-worst mark among qualifying outfielders. He's also posted -30 outs above average as a right fielder in that same stretch, which also ranks amongst the worst in baseball.
The implementation of a designated hitter into the National League bodes incredibly well for the Reds, as they get to keep the 126 wRC+ over the past two seasons in the lineup while not suffering a major loss defensively.
Yoenis Cespedes
One of the major "what the?" stories in baseball is Mets slugger Yoenis Cespedes.
Once a perennial MVP candidate, the Cuban slugger has played in just 119 games since 2017, including none last year. Injuries have derailed his ability to stay on the field, but his performance has been consistent when playing.
In the last four seasons, Cespedes has never held a wRC+ below 121 or a wOBA below .345 (both 2018), but there are many skeptics who say that he can no longer be a productive MLB player on a full-time basis. However, with the injury concerns surrounding his ankles and feet, keeping him out of the outfield is probably in the best interest of Cespedes and New York.
Getting Cespedes's bat in the lineup, especially where there is less of an injury risk, could do wonders for a Mets team looking to recapture the magic they had late in 2019, as well as 2015 when they acquired Cespedes in time for an NL pennant.
Los Angeles Dodgers
With the acquisition of Mookie Betts, the Dodgers' outfield seems pretty set in stone with Joc Pederson, Cody Bellinger, Chris Taylor, and Betts.
Now, with the universal DH, they don't have to make the difficult decision to keep one out of the lineup or get interesting with either Taylor or Betts playing on the infield. Taylor doesn't provide as much thump as someone like Pederson, but his glove and bat are both worthy of playing more than a utility role.
As for Pederson, he suffered from a whirlwind offseason following a career year. While he is a solid outfielder (12 defensive runs saved in 2019), it's no mystery that he's an everyday player because of his bat.
Even if Walker Buehler or Clayton Kershaw were slated ninth in the lineup, the Dodgers still had a potent offense. Adding another legitimate MLB-level hitter to the mix makes it nearly impossible to gameplan against.
Major League Baseball
Regardless of what revenue and streaming statistics might suggest, there is still a notion that baseball is a "boring" sport that doesn't have enough action. While your opinion might differ, it is no mystery that pitchers provide no resistance with a bat in their hands.
For the 2019 season, pitchers slashed .128/.160/.162 with a .144 wOBA and a -18 wRC+ (118 points below league average). So while it's fun to watch Madison Bumgarner (29 wRC+) hit home runs, only two pitchers with a minimum of 50 plate appearances were above average hitters in 2019: Zack Greinke and Steven Brault.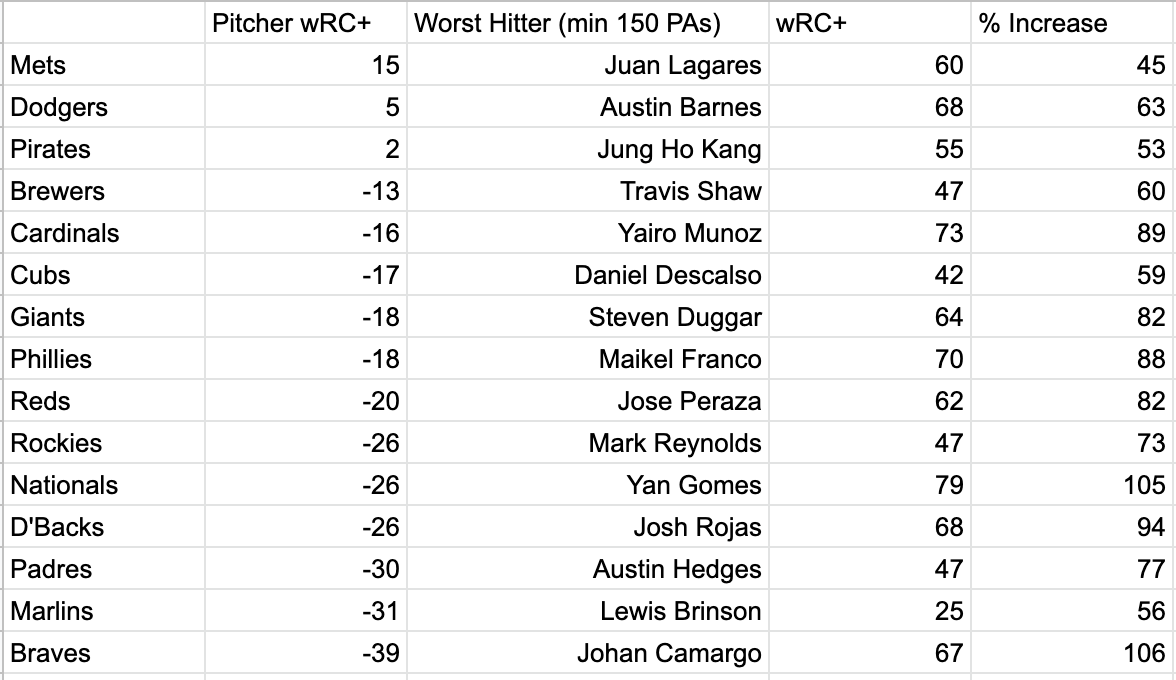 Pitchers, overall, are not good hitters. Even if the team replaced their pitcher's spot with the worst hitter to see 150 plate appearances in 2019, the increase in offensive production is extensive.
Uniformity can be boring. Implementing a universal DH all but gets rid of the need for there to be two different leagues. However, the idea is great for the sport, especially in a year where they need as many eyes watching as possible.