Daniel Corrigan | March 23rd, 2019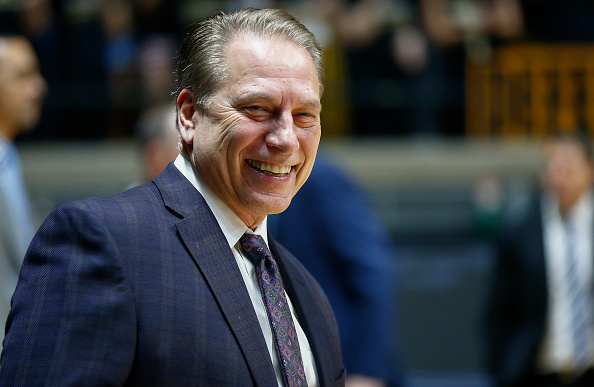 The internet was set ablaze when Michigan State's head coach Tom Izzo, laid into freshman forward Aaron Henry for a lack-luster defensive play. Coach Izzo was caught on camera verbally berating Henry.
Michigan State ended up beating Bradley 76-65. Coach Izzo was asked about the situation in the post-game presser.
Tom Izzo explains why he was so mad at Aaron Henry (kind of) pic.twitter.com/zpJbx5viRz

— Jordan Heck (@JordanHeckFF) March 21, 2019
I just so happened to turn on this game a few minutes before this happened. When it happened my first thought was "Well, that's just coach Izzo." I had a problem when he lunged at Henry on the bench.
I played football, baseball, and wrestled in high-school. I have taken my fair share of loud lectures by coaches. It didn't really do anything to me. Being a moody teen, I would just roll my eyes when the coach wasn't looking.
Every once in a while, a 20-year-old needs stern talking to. But in my opinion, Coach Izzo took it a step too far.
I love coach Izzo. If I had a son, I would love if he played for him. But there was a right and wrong way to handle the situation. Coach had the right intentions, with the wrong execution.
Yes, I am a 20-year-old. No kids today aren't soft. 30+-year-old twitter had a field day with this. "Kids are soft, this kind of coaching builds character, blah blah blah." Listen, you can keep telling yourself that kids are not as tough as you because you grew up different, but you are wrong.
I can guarantee that your fathers called your generation soft, and their father called them soft. Growing up in a whole different generation doesn't make you better than the current generation.
If you can not come to the realization that different eras of kids don't respond to the type of coaching that you received, then you are just ignorant. If you have no intentions of learning why your kids don't respond to the same treatment you got, you are ignorant.
Coaches are supposed to be role models. So are teachers, doctors, firemen, and policemen. If any of those people reacted to a situation like Coach did, they would receive punishment. But coaches get a pass. I'll never understand it. Should Izzo be fired? no, should he be suspended? no, but you can't let this behavior be the norm. But coaches need to find the line of a verbal lesson and embarrassment.
Former Spartan, Draymond Green, had a great tweet about this situation.
Just an FYI. Being in those huddles for years. Cassius and Matt grabbed Iz so he could shut up and move on… after a while you're just ready for him to draw up the play. Just giving perspective from someone who's been apart of those huddles.

— Draymond Green (@Money23Green) March 22, 2019
I really enjoyed all my coaches, that doesn't mean that I agreed with all their methods of coaching. You can have your own opinions, that fine. But let the kids have their voice as well.
Questions and comments?
thescorecrowsports@gmail.com
Follow Us on Twitter @thescorecrow
Follow Us on Reddit at u/TheScorecrow
Follow Us on Facebook at The Scorecrow
Follow Us on Instagram at The Scorecrow
Follow Daniel Corrigan on Twitter @Corrigan_Tweets
Main Credit Image: [getty src="643532576″ width="594″ height="387″ tld="com"]