Pranav Ramasubramanian | January 5th, 2019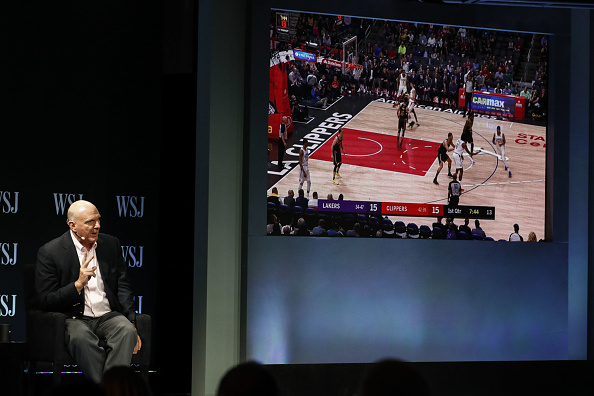 The Los Angeles Clippers seem to have cooled off after a hot start to the season but are still exceeding expectations because of people, including myself, completely writing them off. It's still a young season and these Clippers haven't handled adversity well, especially when Lou Williams went down with an injury so it still remains to be seen if they can really compete for a playoff spot in the Wild, Wild West.
The Clippers have suddenly looked very vulnerable even at home where they were playing some great basketball before December. Many people are intrigued by them so it's good that this season introduces a new way to watch Clipper basketball as Clippers CourtVision was launched by owner Steve Ballmer at the beginning of the season after four years of development with Second Spectrum. It is free for this entire season on the Fox Sports Go app and Clippers CourtVision app along with being available on PC and Apple TV.
ICYMI: @LAClippers owner Steve Ballmer talks Clippers CourtVision:

'What we've done is to work to build an experience that's an enhancement to what you would call a normal broadcast feed.'

More info ➡ https://t.co/xDRx7bAED3@Steven_Ballmer | #PrimeTicket | FOX Sports App pic.twitter.com/59DCMQVkDt

— Bally Sports West (@BallySportWest) October 18, 2018
Clippers CourtVision introduces a different type of game-watching experience using augmented reality and artificial intelligence for real-time stats and plays happening with a slight 90-second live delay. It prominently features three modes that anchor the broadcast and truly make it unique:
Player
This mode has actually been explored in video games when you play MyCareer in NBA 2k, but this time instead of focusing on just one player it focuses on all the players with the ball in their hand and their constant movement on the basketball court. If you are wondering about player efficiency then the live shot probability is there for each of the players, which is put above the player and also has a color underneath it showing field goal percentage for that player from that spot on the floor, through the use of data from previous games in the season. It's good if it's green, and if not it's red. Player statistics will also show up after a player has scored, rebounded, assisted or committed a turnover, adding up and showing the total numbers in the game. A white pin is used to show where a shot is taken regardless of miss or make. A good finishing touch is a stat about the team or player on all plays that result in baskets, which will show up on the bottom while always being different to feed the audience with new pieces of information on both teams throughout the season. The ability to be an NBA player is tough and this gives you a deep dive into that.
Mascot
It's not the glossiest mode and certainly didn't look like it took too much of an effort because it just looks likes some really expensive photoshop or Snapchat filter that just happens to be interactive. You can see the player's names on the bottom in a big white print with the number and name being separated by a bar, which is just pointless and even serves as a distraction. Also, an unneeded feature is that underneath the player there is a blue arrow signifying the ball handler and the arrow moves as the ball does. It just doesn't seem consistent enough on offense or defense and it has glaring limitations that probably should not be shown so outwardly. However, it might be a good marketing tactic to engage the younger audience because basketball games can be very fun, but too long for kids due to short attention spans so an occasional animation might keep them at bay.
Another feature for the younger audience is when a player is open then it's shown in a big red font with dark blue surrounding it to signify Clippers colors, which is cool only for the younger audience and not so much for adults. It's better when watching the game when it's happening rather than replay as it's more interactive, while this mode also has a stat about the team or player on all plays that result in baskets, which will show up on the bottom with each one being different to provide new pieces of information on both teams throughout the season. Additionally, just like in the player mode, the player statistics show up after a player has scored, rebounded, assisted, or committed a turnover to show real-time stats of current player totals in that point of the game. It's an idea that has been conceived well, but the execution is just a little off.
Coach
Unlike the other two modes where it's more fan and player driven, this is more for basketball fanatics, coaches, and people who simply love to study the game of basketball because of it literally showing each and every play in great depth. The biggest plus to this is that you can see each play being run by the coach and the sets as to where the player will go and shoot or pass every time with a white marker showing you almost everything that the coach drew up in his clipboard, making it an ultimate immersive experience. The sets even have numbers as a coach would in his playbook showing what play is being run for those who are into film study. This is something seen in 2k before, but the execution is very sharp so it looks very effortless and fun in-game. On top of the player's head, their name and number will be floating around to show who currently has the ball with it being in small white print so while the number is in white there is gray surrounding it, helping people identify who it is in an instant. Just like in the two other modes, live stats are shown after a player has assisted, scored, rebounded, or committed a turnover adding up and showing all of the statistics of the player.
The live stats are shown differently here and there is a tiny coaching clipboard graphic above the player's head. The stat is shown in gray to show that the coach is thinking of that player and his significance to that stat. Another feature that is different from the other two modes is the stat that runs on the bottom is put there after big plays or baskets, showing different information from both teams to reveal to the audience something that they probably already didn't know. There are fun aspects thrown into this mode as when a player is open, it's green above them in white text informing the viewer, while if there is a mismatch, it's red with white text showing that the player should attack it. If you look closely you can notice coaching adjustments being made by both coaches on certain plays after things are shown to be working or not working. If it's a Gregg Popovich or Brad Stevens the Clippers are facing that will be a very engaging chess match to watch as they coach and draw up against Doc Rivers. This is a great mode that hits the bullseye while still making it fun so this is the one that is recommended to use during the game.
All three modes have many things that are the same, which serves as a minus, but their cores are different making each mode enjoyable in its own way.
Clippers Courtvision is amazing. And this is being done in real-time. Watch the game the way you want to watch it. pic.twitter.com/MsgSx2t0kG

— Cork Gaines, Ph.D. (@CorkGaines) November 9, 2018
You can change camera angles, but it'll turn more into a TNT Overtime if you do; you can only stick to the camera angle the three modes provide to get the experience. The audio is interchangeable, which adds a different dimension to the game as you can switch to Clippers radio and watch the game with that commentary or "Sneaker Squeaks", which is an arena type of experience where you can hear player communication, players moving throughout the court with their sneakers making squeaking noises, arena music, refs making foul calls, coaches instructions and arena in-game events during timeouts. This contrasts to the traditional broadcast of cutting to commercial, thus it will basically give you an experience as if you are attending the game by allowing you to hear everything on the floor. The two special audio features are there all game long and Sneaker Squeaks is really the first type of audio experience to carry throughout the whole game with no commercials.
The bottom of the screen has another purpose in itself as not only can you change modes, audio and angles, you can view highlights of things you may have missed earlier or view stats to see points, rebounds and assists of players currently on the floor along with all the team stats for both teams throughout the course of the whole game. This means there is no longer any need to go to other websites for the stat line. It's all attached together at the bottom along with the live score, game clock and shot clock to keep you updated on everything. Steve Ballmer has helped make Clippers CourtVision a completely out of the box attempt and it looks very slick barring a few flaws. This is just a beta version with more modes and features on the way in the upcoming seasons. It is available for free via signup on clipperscourtvision.com for the entire season and it's definitely something that enhances the watching experience. Overall it's a great next step in sports technology that won't be replicated anywhere else so check it out while it's still free!
Rating 3.5 out of 5 stars. Few flaws, but a great experience nonetheless.
Questions and comments?
thescorecrowsports@gmail.com
Follow Us on Twitter @thescorecrow
Follow Us on Reddit at u/TheScorecrow
Follow Pranav on Twitter @PranavRama1
Main Credit Image: [getty src="1060780284″ width="594″ height="396″ tld="co.uk"]