The Boston College Eagles experienced their first in-conference loss this season against the Virginia Cavaliers. The final score was 58-59.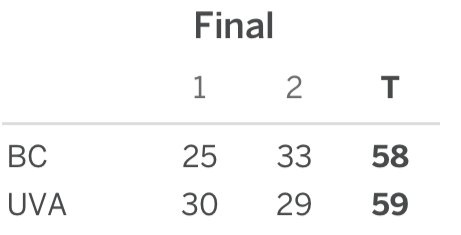 Ty Jerome led Virginia to victory, scoring 31 points and hitting 6 of his 9 three point attempts. When talking about his game, Jerome said "That's huge. You can't do it without good teammates." He said "There's no jealousy here. Everyone wants everyone to be their best."
The Eagles had two opportunities to win. Each of those opportunities came while inbounding the ball under their basket with 3.1 seconds left. Virginia Senior Isaiah Wilkins knocked the ball away on the first try, but the officials said the clock hadn't started on time, giving the Eagles another chance. On the second try, they inbounded it to Nik Popovic, who received a penalty for pushing off before attempting an 8-footer that missed.
The Eagles look to bounce back against Clemson at home on Wednesday night.