Josh Elias | July 11th, 2019
Early yesterday evening, the BIG3 sent out a press release. There was always expected to be one in the wake of the incident Glen Davis was involved in last weekend, announcing his punishment, or at the very least a warning.
But while the press release did announce a serious fine, misspelling his name and humorously referring to him by his derogatory nickname of "Big Baby" whilst doing so, that wasn't the headline. The main story is that they were releasing, or in their terms, "deactivating", four former NBA players, two of whom were all-stars.
Here is the full official statement: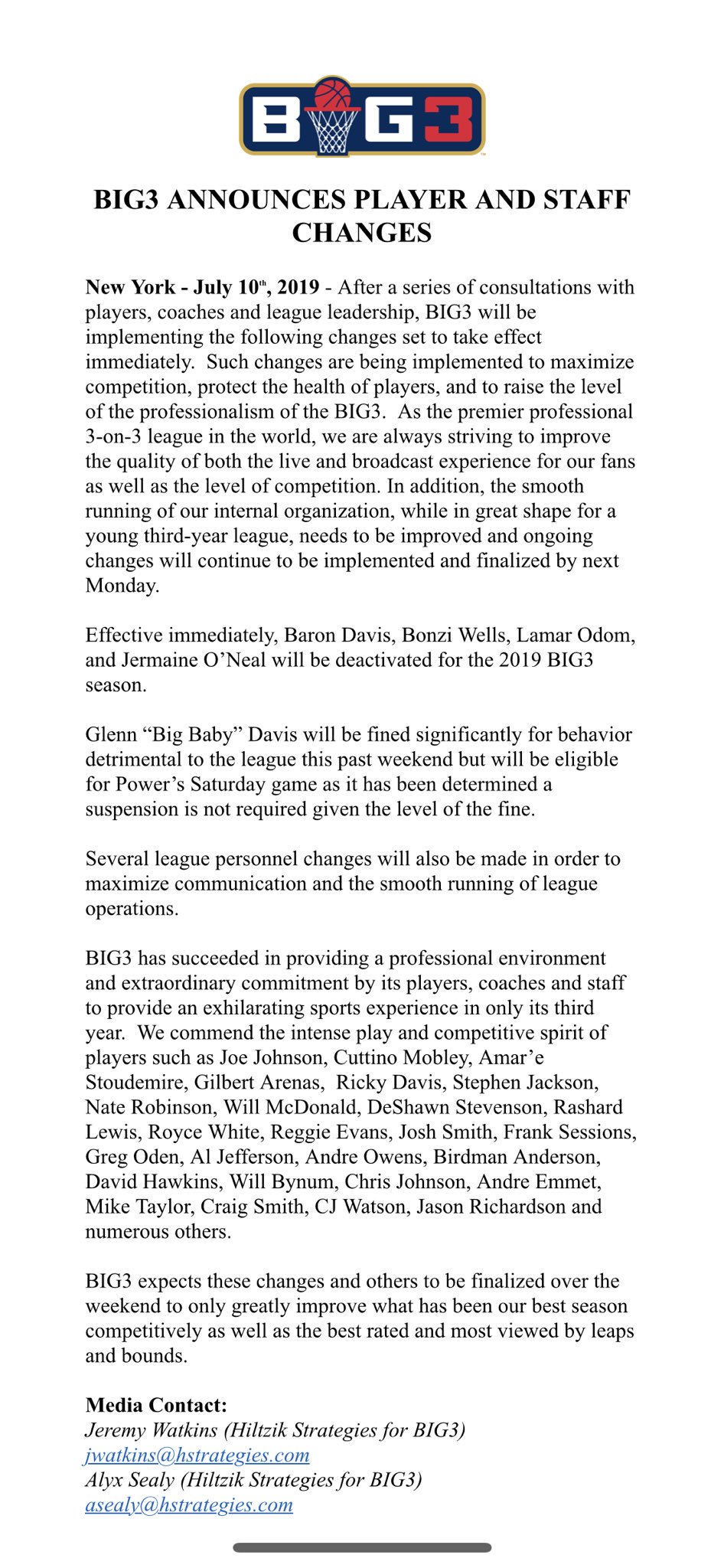 For the BIG3, which has become quite the summer basketball phenomenon without NBA action during this time of year, letting go of Jermaine O'Neal, Baron Davis, Lamar Odom, and Bonzi Wells might seem like an odd move at face value. After all, much of the intrigue surrounding this year was how Lamar Odom would do in his return to professional basketball.
There's a couple points to be made here, mainly that this isn't exactly new for the league, just new in scope and profile. Last season saw five players deactivated from the league mid-season, most notably Rashard Lewis and Kenyon Martin.
That's a far cry from four in one day, but it proves that it's not a brand new idea for the league, and likely not as shocking of a move as people are making it out to be.
It also signals that the league is growing up from somewhat of a novelty show into an actual professional league that takes itself seriously. The ability to choose functionality over sideshows is something that many people suggested would be a question mark for the BIG3 when it was first founded.
And to take a quick delve into why they would release these players, I would suggest the answer is largely health concerns.
Lamar Odom's personal troubles have been well-documented, and the fact that he was able to return to sports at any level, let alone survive after an overdose left him in a coma and on life support. After six heart attacks and 12 strokes, it was a miracle that he even survived.
Jermaine O'Neal, meanwhile, has a history of recurring arrhythmia issues with his heart and Bonzi Wells suffered a heart attack in his own right in 2017.
Baron Davis formally announced his retirement from the league due to a quad injury that had kept him out for the start of the season hours before the league's announcement.
It should be considered extremely likely that the release of the four is related to their physical health and has been formally enacted in order for their teams to sign replacements for the season.
They will eligible to rejoin the league next season via the draft, but that should be seen as unlikely for all except for potentially O'Neal.
In two games in the BIG3 this year, Odom scored just two points and grabbed four rebounds. None of the other released players have set foot on the floor this year.
Players who could be considered as signings by their respective former GMs include Steve Blake, formerly of the Trail Blazers and Lakers, Mychel Thompson, a former D-League star and brother of three-time NBA Champion Klay Thompson, and Carlos Arroyo, who carved out a nine-year NBA career and represented his home country of Puerto Rico's national team 73 times.
Questions and comments?
Follow Us on Twitter @thescorecrow
Follow Us on Reddit at u/TheScorecrow
Follow Us on Facebook at The Scorecrow
Follow Us on Instagram at The Scorecrow
Follow Josh Elias on Twitter @thejelias
Main Credit Image:
[getty src="815803130″ width="594″ height="396″ tld="com"]