Justin Bonhard | October 7th, 2018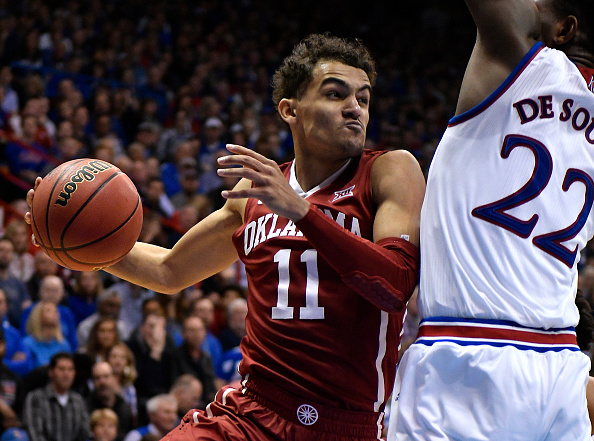 The Atlanta Hawks were dulled last season. From a playoff team in 2016-17 to the worst overall record in the Eastern Conference, Atlanta is truly free-falling. Can they get back to the form they showed?
Recap of Last Season
Managing to go 24-58 last season, the Hawks were showcased as being one of the worst teams in the NBA. To make matters worse, their leading scorer and all-around best player, Dennis Schroder, was sent over to Oklahoma City in the Carmelo Anthony trade and buyout.
Now with that being said about Schroder, there is a new kid on the block looking to revitalize this franchise. That new kid is fifth overall pick Trae Young from Oklahoma. Everyone saw him burst onto the scene with his spectacular plays at the college level, but how will it translate to a much bigger game.
Its rebuild mode down in Georgia, which isn't exactly the way to show off a new and fully-renovated venue, the State Farm Arena. This is the same arena that held the lowest amount of fans throughout the NBA. Sure, there is a new sense of excitement with the young raw talent, but if that doesn't equate to wins, is it worth it?
https://twitter.com/ATLHawks/status/1047284345906421760
Offense
As mentioned earlier, Dennis Schroder is gone. It is now time to see some new fresh faces come up and take the reigns of this Hawk offense.
Trae Young, John Collins, and Taurean Prince will be the building blocks of this squad. Each, with under two years of experience in the league, has so much potential to uproot this franchise from its losing ways of last season. There is still much to be seen, especially with Young. He is as explosive as he is sporadic.
There are still a fair amount of veterans on this team to help lead the younger core. Coincidentally, the two biggest and most knowledgeable players are the "Vinsanity", Vince Carter and "Linsanity", Jeremy Lin.  Both of these guys have traveled and seen the NBA transition through multiple stages. These two will also play a pivotal role later in this article, off the bench.
Carter has spoken on Young and his confidence, which further exemplifies him as a leader to the 20-year-old, as reported by NBC Sports.
"He hesitated on a shot that just six months ago he would've let that fly whether he was 1 for 11 or 11 for 11, and I was just trying to tell him," Carter said. "The mentality doesn't change. He's a point guard that can score and he can make plays for other people. Be the Trae Young that they drafted."
Defense
Defensively, this team still has a lot to learn. Last season they were ranked 23rd out of 30 for the NBA at allowing 108.8 points per game.
In addition to allowing more points than what they scored on offense, they were also outrebounded on both ends of the floor. The impact of their big men, especially on the defensive end will be imperative for this season to show a little bit of hope.
Kent Bazemore will be a key part of this defense with his ball awareness. He averaged the highest stealing percentage on this team, per 100 possessions, with 2.7 steals. His pressure will be one of the most important parts of this shaky defense.
Clutch steal and jam by Kent Bazemore. pic.twitter.com/VMbA8gBASG

— 𝗥𝗲𝘆-𝗥𝗲𝘆🤞🏾✌🏾 (@TheNoLookPass) December 10, 2017
Bench
Vince Carter and Jeremy Lin highlight the bench, but there are still some members that can truly shine through this season.
Jeremy Lin backing up Trae Young at point guard will be very interesting to see. How much can Linsanity contribute in limited minutes? And if he succeeds and Young falters, does he split the time? A ton of questions surround Lin and his involvement with this team.
Miles Plumlee is approaching age 30 and hasn't shown much since his career season of 2013-14 in Phoenix. He has to be able to show up this season and stay relevant, or else he could be moved to the fifth team of his short career. His spotlight will be quite large coming off the bench this season.
Prediction
The Atlanta Hawks will be hovering around the same position as 2017-18 which will be bottom three in overall record, but there will be a few plus sides.
Trae Young will wow us on occasion, but won't be enough. With his erratic style of play, all in all, in his rookie season, the pressure will still be on. Whether or not he can live up to the pressure and wildly high expectations is completely up to him. The future in Atlanta is in Young's hands.
Another lottery pick is coming for Atlanta, which is a good thing. This franchise is invested in the rebuild, and without eating Carmelo Anthony's $25+ million contract next season, free agency will be interesting. Some older bench players like Plumlee and Cole Aldrich can be shipped off for youth and potential.
Overall Record – 26-56
Questions and comments?
thescorecrowsports@gmail.com
Follow Us on Twitter @thescorecrow
Follow Us on Reddit at u/TheScorecrow
Follow Justin Bonhard on Twitter @justinbonhard
Main Credit Image: [getty src="921061164″ width="594″ height="441″ tld="com"]