Caleb Mynatt | August 3rd, 2018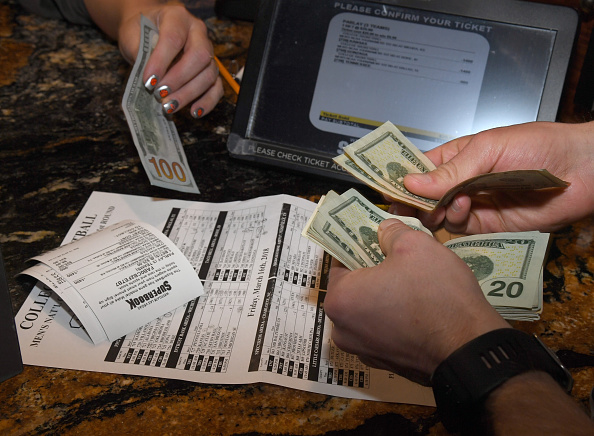 The 2018 offseason has been one filled with a promising draft class, a loaded free agency class and even a star-for-star trade. But like all good things, the offseason must eventually end.  With Summer League finished and (most of) the free agents signed, the rosters now are the ones that NBA teams will likely be rolling with for at least the beginning of the season. That means preseason gambling is in full swing and with sports gambling officially legal nationwide, there are bound to be more bets placed than ever before. There is still a ways to go before the NBA season tips off, but it's not too early to look at predicting (and profiting on) how it will end.
Odds to win the 2019 NBA Championship: Golden State Warriors (-165), Boston Celtics (+435), Houston Rockets (+875), Los Angeles Lakers (+925), Toronto Raptors (+1200), Philadelphia 76ers (+1900), Oklahoma City Thunder (+6500), Utah Jazz (+10000), Milwaukee Bucks (+12500)
Summary: To no one's surprise, the Warriors are the definitive favorite to win the championship. The teams behind them, however, are rather close together. One of the more surprising trends here is that despite the belief that the West is astronomically better than the East, three of the top six favorites are in the East. Oddsmakers seem to think there is a certain advantage to having an easier path to the NBA Finals, something that's increasing the value of the Western Conference teams that aren't Golden State.
The safe bet (GSW): If you want in on the action, but you don't want it to be that exciting, pick Golden State. They're a horrible pick for value, but that essentially means that they're expected to win the championship with ease. The belief in Vegas seems to be what everyone already believes: as long as Golden State stays healthy, they will be really hard to beat.
Overrated Odds (LAL): After watching LeBron James carry his team to the NBA Finals, it can be easy to talk yourself into him being extremely successful around a budding Lakers team with massive potential. Last year, however, LeBron played with a familiar team in the very weak East. In a historically stacked conference with a new, inexperienced squad that did not get the talent they were hoping for in free agency, near 9-1 odds isn't good enough. Unless you think the Lakers have more moves to make, don't let adding LeBron trick you into thinking the Lakers can compete this year.
The Question Mark (TOR): The trade of DeMar Derozan for Kawhi Leonard was a surprising, cold-blooded move, but it's left a big takeaway among most analysts: assuming Leonard is healthy and cooperative, the Raptors got better this offseason. Returning the best bench in the league by net rating, the same starters and a new superstar, Toronto could very well win it all. But in a new season, with a new coach and a new star that may not be totally invested, there are a lot of factors that could make the Raptors not live up to expectations. Nonetheless, they have the talent to make the Finals. If you feel confident in Toronto to figure out everything, you could end up with a nice payday.
The Not-So-Long Shot (OKC): Admittedly, it's understandable to be out on the Thunder: Russell Westbrook shoots a lot of bad shots, the team didn't work out last year and their gameplan seems to always leave a lot to be desired. But at +6500 for a team that could be as good as this one is an absolute steal. Losing Carmelo Anthony should help the Thunder improve, and they had a great offseason that should fix a lot of the problems they had. This team could very well end up being the second or third best team in the West. Would I predict them to win it all? No. But as far as value is concerned, this is by far the best pick pick on the board.
The Full-Court Heave (MIL): For you to think Milwaukee has even a chance to win, you have to be completely in on Giannis Antetokounmpo. This would be similar to what you saw LeBron do with the Cavs last year. Giannis has all the tangibles to make his leap into the top three players in the league this year, but it will take more than that to carry the Bucks to the championship. Is Giannis about to become LeBron?  If you say yes, then you could get some serious cash. Don't hold your breath, though.
Odds to win 2019 NBA Most Valuable Player: LeBron James (+335), Anthony Davis (+400), Giannis Antetokounmpo (+475), James Harden (+550), Kevin Durant (+900), Kawhi Leonard (+1100), Russell Westbrook (+1400), Stephen Curry (+1500), Joel Embiid (+1600), Kyrie Irving (+1700), Ben Simmons (+3600)
Summary: All things considered, Vegas is projecting a very tight MVP race. LeBron is the favorite, but the next two in line are young stars who have never won the MVP before. Harden is in fourth despite being the most recent winner of the award. and is the only guard in the top six players. By all indications, it seems that the belief is that the MVP race is wide open, making betting on it that much more fun.
The safe bet (LeBron James): Did you see what a 33-year old LeBron James did last year? He's still the best player in the league, and it's hard to make an argument otherwise. He also has a better team this year, something that could translate to more wins to bolster his MVP claim. Along with a tougher road than in the East last year, he has the narrative/storyline too. If he can keep the same level of production as last year, LeBron will probably win the MVP. Harden had an amazing season to beat out LeBron, but it'll be hard to reproduce those numbers with a worse team that likely won't win 65 games.
Overrated Odds (Kevin Durant): While the Warriors are poised to win titles until their team breaks up, they aren't poised to bring home a lot of MVPs. Playing with other elite players will help you win titles, but there just isn't enough touches for one of the players to realistically rise far above the rest. And if the Warriors don't fully live up to very high preseason expectations as a team, it will hurt Durant's (or Curry's) MVP bid.
The Question Mark (Anthony Davis): There isn't a doubt that Anthony Davis will be a top-tier player next year after finishing third in MVP voting in 2018; he is way too talented to not be a top 5 player. The thing that is holding back Davis, however, is his team in comparison to their competition. With the exception of Russell Westbrook's seventh-seeded Thunder in 2017, no team has ever had an MVP winner that wasn't a top-three seed. There is a chance Davis could get do what Westbrook did, but there is no certainty that the Pelicans will even make the playoffs in the absolutely loaded West. If Davis can carry his team to a decent seed, then he could run away with the MVP. But if the Pelicans fail to make the playoffs, there is no chance that Davis will win.
The Not-So-Long Shot (Kawhi Leonard): While Giannis is a trendy pick to win the MVP given the nature of his team and the competition they face, Kawhi yields much better value. With a new team and coming off an injury, Leonard could win a lot of hearts if he puts up numbers like he did in 2016 and appears to actually enjoy playing in Toronto. He has an amazing team around him that could help him have an amazing amount of team success to go along with his individual performance. If Leonard can get back to his old self, people will pay a lot more attention now that he's created a controversial spotlight for himself.
The Full-Court Heave (Joel Embiid): Joel Embiid is an unbelievable athletic talent who improves every single year and, after a successful season last year, is poised to help his team improve even more. Since being drafted in 2014, however, Embiid has played a total of only 94 regular season games, something that doesn't bode well for him as a MVP candidate. Embiid's ability improve despite struggling with injuries with is a good sign, but if he can't stay healthy, he has no chance at winning his first MVP.
*All odds are from 5Dimes and valid as of August 1. Odds may vary based on online bookie.
Questions and comments?
thescorecrowsports@gmail.com
Follow Us on Twitter @thescorecrow
Follow Us on Reddit at u/TheScorecrow
Follow Caleb Mynatt on Twitter @CalebMynatt
Main Credit Image: [getty src="932520038″ width="594″ height="436″ tld="com"]