Pitchers and catchers report in less than two weeks, so it seems like there's no time like the present to take a look at some of the likely candidates for breakout seasons in 2020.
Every season, there's always a handful of players (some veterans, some younger players) who blossom into stars, or even sometimes superstar-caliber players. Look no further than the 2019 season of Ketel Marte (150 wRC+, 7.1 fWAR) or the 2018 season of Trevor Bauer (2.44 FIP, 30.8 percent strikeout rate) as two of the most recent examples of big breakout seasons.
Breaking out doesn't mean that player will remain elite either, as the aforementioned Bauer regressed to a 4.34 FIP in 2019. But what it does is introduce us to a level of talent that we either weren't expecting or had been criminally underrating for some time.
Without further ado, here is my list of breakout seasons for 2020.
Dinelson Lamet – RHP – San Diego Padres
Lamet has had multiple seasons derailed by injuries, but hear me out on this one.
In just 73 innings a season ago, Lamet posted a 3.91 FIP, had a strikeout rate of 33.6 percent, and posted jaw-dropping rankings in spin rate, velocity, and expected stats.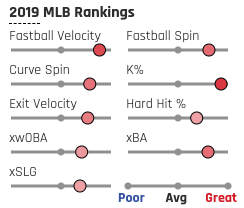 The Padres have a young star in their rotation to complement another budding ace in Chris Paddack and, contrary to popular belief, it isn't Joey Lucchesi. It's Dinelson Lamet, barring injury, of course.
Derek Dietrich – UTIL – Cincinnati Reds
Derek Dietrich might be the perfect example of a "batting average doesn't matter" supporter. Looking at Dietrich's 2018 season, he slashed .265/.330/.421 with a .326 wOBA (23 points higher than his xwOBA) and 108 wRC+ with the Miami Marlins.
Fast forward to 2019, and Dietrich's average plummeted to .187, but his .328 on-base and .462 slugging combined to beat his 2018 OPS by 39 points. He also saw his ISO go up from .156 in 2018 to .275 (22nd in baseball, min. 300 plate appearances) in 2019 and his xwOBA skyrocketed from .303 to .352.
He also saw his fWAR increase to 1.1 from 0.7 while playing 36 fewer games.
Dietrich has already had a season of two wins above replacement, but I think it's a safe bet that he is ready to explode in his age-30 season and put up an fWAR/150 above 3.5 and a wRC+ over 130 … although I do question if he will be given the chance to do so in Cincinnati.
Matthew Boyd – LHP – Detroit Tigers
Matthew Boyd had a tale of two seasons for the Detroit Tigers in 2019. In the first half, he had a 3.23 SIERA, a strikeout rate of 32 percent, along with a minimal walk rate of 4.5 percent.
However, in the second half, Boyd saw the strikeout rate dip to 27.9 percent, his walk rate almost double (8.7 percent), and his SIERA was 4.15. Overall, he rounded out the season posting career-highs in innings (185.1), FIP (4.32), strikeout rate (30.2 percent), and SIERA (3.61).
Some might call that his breakout season, and you'd be correct. However, he could improve even more than that.
Why? Because he underperformed his expected stats by a decent amount. His .297 xwOBA against was 23 points better than his actual. On top of that, he regressed mightily on his xwOBACON in 2019 (.395 from .332). Find a medium between 2018 and 2019, and you have a very good starter at the top of that Tigers rotation.
Josh Rojas – OF – Arizona Diamondbacks
Unlike the three guys before him, 2019 for Rojas was his only taste of the majors. In 157 plate appearances, the former 26th-round pick by the Astros in 2017 slashed just .217/.312/.312 with a .279 wOBA and 68 wRC+.
However, there's a lot about Rojas' ability despite the lack of success in limited major league time last season.
For starters, he had a hard-hit rate of 42.3 percent, even with a barrel percentage of just above six percent. On top of that, he posted a walk rate of 11.5 percent (tied for 67th among 411 hitters with a minimum of 150 plate appearances). If there's one thing that always ages well in the MLB, it's plate discipline, and Rojas has that.
He also posted a .326 xwOBA and a .393 xwOBACON across his 157 plate appearance sample size, as well as raking his way from Single-A to the MLB in a span of two-and-a-half seasons.
Darwinzon Hernandez – LHP – Boston Red Sox
Rounding out this list is a guy who has one of the most explosive fastballs in the league. The 23-year-old southpaw came up a season ago and experienced some serious growing pains at the major league level.
In 30.1 innings pitched, Hernandez posted a 2.75 FIP and a strikeout rate of 38.8 percent.
However, his walk rate was 17.7 percent, and his SIERA isn't particularly stellar either (3.94). But the fact of the matter is his fastball is explosive and he is more than capable of mowing down elite hitters at an all-time rate. I firmly believe he has the potential of not just being the Red Sox closer of the future but also blossoming into a top-10 reliever in all of baseball.

His spin rates and velocity all rank in the top half of baseball, and for an unpolished product, that should invoke fear in the hearts of teams around the league.