Christopher Dinkins | March 20th, 2019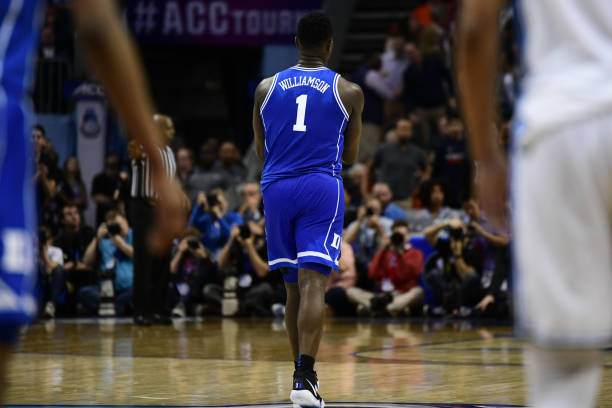 It's that time of the year… again. The NCAA Tournament and the East Region will again be looked at as one of the easiest or we will be talking twenty years from now about the "upset" that could take place.
Duke University has taken its rightful place again as a top seed in the tournament – this year as the number one overall seed, but do they deserve it? Well, that may depend on who you ask. I think that they have earned the top seed by defeating a couple of the other top seeds in this year's big dance. They have wins over Virginia, North Carolina, a big 34 point victory over a number two seed (Kentucky), a win over a number three seed (Texas Tech), two wins over a number 4 seed (Florida State) and a win over the team that won the SEC tournament (Auburn). That's nothing to sneeze at considering their loss to Gonzaga (a number one seed) came on a neutral floor with their superstar Zion Williamson on the floor. People will still be betting the farm and condo on Duke to win it all, it does not mean that Duke will get a clear path to the Final Four. Michigan State is in the building as the two seed in this region and Virginia Tech, which is the four seed is getting one of its top players, Justin Robinson, back and ready to play. And let's not forget about Louisiana State. Considering they will be coached by Tony Benford because of the FBI scandal that has put Will Wade on the sideline due to suspension, it may be a walk in the park for Duke, as they will not get tested until Sweet 16. They have a first-round game against the winner of First Four game between North Carolina Central and North Dakota State. NCC is playing in the First Four in Dayton, Ohio, for the third year in a row against a North Dakota State team that is used to playing in the tournament as well. North Carolina Central won the Mid-Eastern Athletic Conference by defeating the top seed Norfolk State, so they are ready to get it in. North Dakota State won the Summit League tournament by knocking off Omaha in the final. NDSU is making its third tournament appearance in six years. There will be some games to watch in the first round in this region, and one that is certainly a no brainer will be number 7 seed Louisville matching up with 10 seed Minnesota, for the simple fact that Richard Pitino will be coaching against the school that fired his father (remember the glory days of Rick Pitino at Louisville?), this game will be the first game on Thursday… no significance there.
A team that may surprise in this region is number 12 Liberty, this team finished 28-6 and will be going up against Mississippi State. Scottie James is the leader of this team that should give the Bulldogs a run, and it's a 5 versus 12 matchup. A perfect recipe for upset status, I'm not really concerned about LSU not having their coach around, I think it will motivate this squad to make a surprising run. A few players to watch in this region will be Zion Williamson (Duke) of course – he has been the best player this season, flimsy PG13's notwithstanding. He brings 22.1 points, 8.9 rebounds, 2.2 steals and 1.8 blocks in 29.1 minutes per game to the tournament. R.J. Barrett (Duke), who may be the second best player in the country. He is averaging 22.9 points, 7.5 rebounds, and 4.1 assists in 34.9 minutes per game this season. Cassius Winston (Michigan State), the Big Ten Player of the Year and also MVP of the Big Ten Tournament. He is going to bring 18.9 points and 7.6 rebounds in 32.9 minutes per game this year. Bruno Fernando (Maryland), he has 20 double-doubles this season, including a big game versus Nebraska (18pts/17 boards). He has averaged a double-double this year of 13.7 points and 10.4 rebounds in 29.6 minutes this season. Shizz Alston Jr. (Temple) is bringing 19.7 points and 5 assists in 37.1 minutes this season for the Owls. Duke seemingly has a clear path to the Final Four, outside of a poor three-point shooting game. They shot 30.2 percent from three this season, which is ranked 338th in the country. I said THREE HUNDREDTH AND THIRTY-EIGHTH in the country. That cannot happen if Duke wants to cut down the nets in a couple of weeks. I have Duke getting out of the East Regional, anything after that is a shot in the dark.
Check out our other bracket breakdowns: West | Midwest | South
Questions and comments?
thescorecrowsports@gmail.com
Follow Us on Twitter @thescorecrow
Follow Us on Reddit at u/TheScorecrow
Follow Us on Facebook at The Scorecrow
Follow Us on Instagram at The Scorecrow
Follow Chris Dinkins on Twitter @rmdest
Main Credit Image:[getty src="1130864687″ width="594″ height="396″ tld="com"]