Josh Elias | March 21st, 2019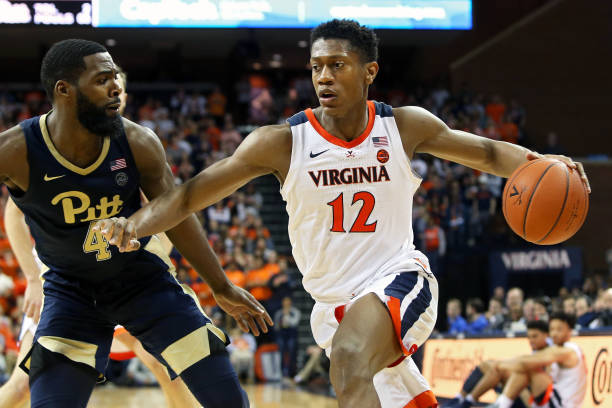 It's the middle of March, which means it's time for some Madness! Today I'm going over the South Region of the tournament, and this region is simultaneously the least and most interesting region of the four.
The elephant in the room is Virginia, who return to the top seed in the South Region after their shocking and humiliating loss in the Round of 64 last year to UMBC. It was the first time ever that a 1 seed has fallen to a 16 seed, and they have to be praying they don't let it happen again. Their first-round opponent, Gardner-Webb, is one of the best teams in the nation at shooting the ball from deep and great at defensive rebounds, which happened to be two main contributors to Virginia's loss last year. Nonetheless, last year was a huge fluke and I'd strongly advise against betting on a Gardner-Webb victory.
Wisconsin, despite being seeded fifth, could be an early out for one major reason this year. Rebounding, rebounding, rebounding. As one of the only teams in the tournament with fewer rebounds than they allow, that's a huge problem, even when they outperform opponents in almost every other category. They have no room for error to an extent that no other high seed faces, and with Oregon and Kansas State, their most likely first two opponents, able to force errors in strikingly different ways (Oregon through chaos and Kansas State through methodicality), I would be shocked to see the Badgers last past the first weekend.
In case Virginia falls apart, Tennessee's waiting in the wings to take over this part of the bracket. One of the most efficient teams offensively in the entire country, Tennessee plays a fast-paced, unselfish game on offense that has seen them out-assist opponents by 47% throughout the year while also turning over the ball least in the SEC. They also nearly double the average team in blocked shots without creating too many foul issues for themselves. They have remarkably few weaknesses, but one that could be their downfall is they allow a lot of offensive rebounds. Part of that is just exacerbated by their pace, but it has to be recognized that both of their two blowout losses saw that as the main factor.
Cincinnati is my choice to be someone who has the best odds of outperforming expectations. They're one of the top teams in the nation at giving themselves every advantage they possibly can. They avoid fouling too often, you'll be hard-pressed to turn the ball over too often, and they're an elite team at getting to the line. On top of that, they're the 11th-highest ranked offensive rebounding team in the nation despite operating at a lower-than-average pace and are great at forcing their opponents into bad positions in their own right. You need every extra opportunity in a tournament like this. Unfortunately for them,n you also need to take advantage of all those extra opportunities, and that's where the fact that their offensive game relies so much on Jarron Cumberland, who's shooting just 40.4% from the field, can come back to bite them.
Players to Watch: De'Andre Hunter (Virginia), Admiral Schofield (Tennessee), Eric Paschall (Villanova), Carsen Edwards (Purdue), Jarron Cumberland (Cincinnati), Tyler Cook (Iowa), Jordan Ford (Saint Mary's)
Check out our other bracket breakdowns: East | Midwest | West
Questions and comments?
thescorecrowsports@gmail.com
Follow Us on Twitter @thescorecrow
Follow Us on Reddit at u/TheScorecrow
Follow Us on Facebook at The Scorecrow
Follow Us on Instagram at The Scorecrow
Follow Josh Elias on Twitter @_SunsofThunder_
Main Credit Image: [getty src="1133474351″ width="594″ height="396″ tld="com"]