John Lepore | October 2nd, 2018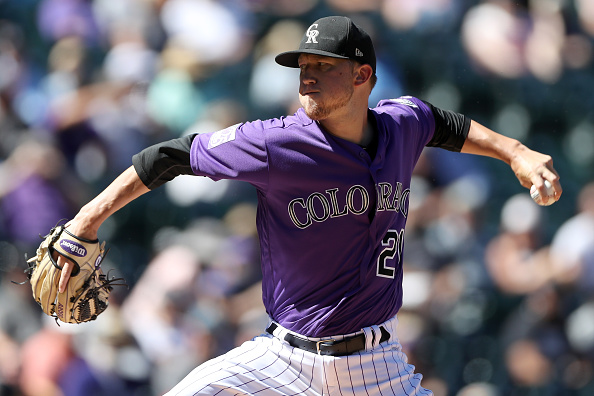 The Chicago Cubs host the Colorado Rockies in the National League Wild Card game tonight at 8PM ET. The game will feature two of the best left-handed starters in the National League in Jon Lester and Kyle Freeland. Let's take a look at the tale of the tape for both teams.
The Chicago Cubs vs. The Colorado Rockies
The Pitching Matchup
Jon Lester will be starting for the Cubs tonight. Ironically, his first postseason start ever was in game four of the 2007 World Series vs. the Rockies. He wound up winning that game pitching 5.2 innings of shutout ball. Through his career in the postseason as a starter, Lester is 9-7 with a 2.48 ERA and a 1.03 WHIP. This season Lester looked to be showing his age for a stretch. From June 26th – August 11th he had an abysmal 7.51 ERA with only one quality start out of nine games. Since then, Lester has turned it around as was predicted. Since his start on August 16th, Lester is 6-1, has a 1.71 ERA and a 1.23 WHIP.
Kyle Freeland has been arguably the Rockies' best pitcher down the stretch. In his last 5 starts, he is 4-0 with a 2.25 ERA. Freeland has also been almost immune to the long ball giving up only two HRs over 32 innings in that span. He doesn't have the extensive experience of Jon Lester, but the 25-year-old lefty is showing why the Rockies took him 8th overall in the 2014 draft.
The Lineups
There are a few hitters that do fairly well against Jon Lester. Matt Holliday, Nolan Arenado, Ian Desmond, and Charlie Blackmon are a combined 21-58 vs. the Cubs lefty. Trevor Story is getting hot at the right time. Over his last six games, he is slashing .400/.478/1.100 with four HRs and has only struck out twice. The interesting part is that Lester is actually better against right-handed batters. They are only slashing .250/.315/.381 against him.
No one on the Cubs has faced Kyle Freeland more than six times. Expect Joe Maddon to go with a heavy right-handed lineup against the Rockies' lefty. Left-handed batters are slashing .185/.264/.255 vs. Freeland. He has also only given up two HRs in 180 plate appearances to lefties. Kris Bryant and Albert Almora Jr. are a combined 4-11 with a triple and no strikeouts vs. Freeland.
What to Watch For
Trevor Story has been hot and Nolan Arenado led the league in HRs and crushes lefties to the tune of .368/.451/.747 with 15 HRs in 206 plate appearances. If Lester can navigate around those two, he may be alright. Kyle Freeland is starting his first ever playoff game. First inning jitters are something to be concerned about, but if he can get through that unscathed, he should be able to neutralize the Cubs offense.
This is a game of experience and analytics vs. youth and raw talent. If Freeland can get through the early going without his nerves getting the best of him, he will shut down the Cubs. The right-handed bats of the Rockies need to do some damage to the veteran Lester, but he knows how to pitch in big spots and very rarely gets blown out. The game comes down to the bullpen and the big hit, which will go to the Rockies. Ian Desmond has quietly put together a 20-20 season with 88 RBI. He will get the big hit and the Rockies will win 5-3.
Questions and comments?
thescorecrowsports@gmail.com
Follow Us on Twitter @thescorecrow
Follow Us on Reddit at u/TheScorecrow
Follow John Lepore on Twitter @jball0202
Main Credit Image: [getty src="1032883492″ width="594″ height="396″ tld="com"]