Frank Dyevoich | June 13th, 2018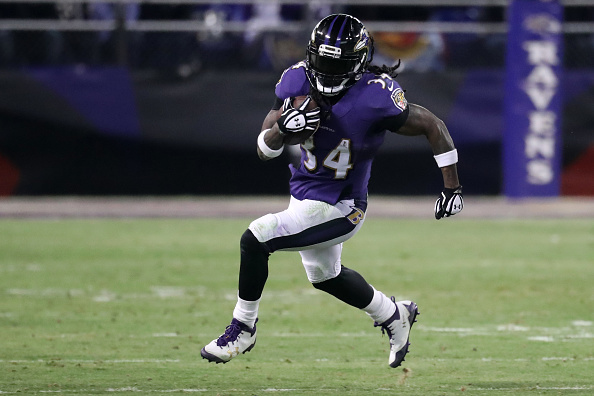 In a world of trying to predict the unpredictable, we need to key in on common occurrences in order to give ourselves an advantage over our less informed league mates. This year's occurrence is to avoid drafting Baltimore Ravens' RB Alex Collins at his current fourth-round ADP ranging between 37th and 45th overall.
Since the Ray Rice era ended, one thing has remained constant, the presumed RB1 for the Ravens' week 1 not only has drastically underperformed his draft position, but he has usually lost the job pretty quickly. In 2014, the starting RB was Bernard Pierce. He was drafted between the 5th and 7th round. He started 2 weeks and was quickly replaced by Justin Forsett, that year's waiver wire jackpot.
In 2015, Forsett was drafted in Rounds 2 or 3. He played in 10 games and only rushed for 641 yds with 3 TDs. He was outperformed in PPR leagues by the undrafted Javorius "Buck" Allen. In 2016, Justin Forsett was back as the RB1 after his injury, this time drafted between the 3rd and 6th rounds. He started 3 games and lost his job to the late round flier Terrance West, who went on to finish as the 24th best RB, barely getting any work until week 4.
In 2017, Terrence West was the Ravens' RB1 going into the season and he was drafted between the 5th and 7th round. He lost his job to the undrafted Alex Collins who finished as the 15th best RB. Buck Allen also went undrafted and finished as a top 24 RB in PPR. You get the picture.
If history tells us anything, the safe bet is not to use a valuable 4th round pick on the Ravens' RB1. He is being drafted over guys like Derrick Henry, Kenyan Drake, Rashaad Penny, Lamar Miller, and in some cases, I have even seen him drafted ahead of Jordan Howard and Joe Mixon. I would rather take every one of them ahead of Collins. Oh and just a reminder…
Do NOT forget about Kenneth Dixon.
Dixon was hyped up as a potential three-down back and gifted pass catcher before his injury. He played extremely well in the few games he appeared in at the end of the 2016 season. He was a consensus RB2 in PPR leagues going into the draft before he went down and the word out of Ravens' OTAs is that he is fully healthy and looks better than he did before. This may be typical offseason praise that comes out of every team's OTAs, or it may be a sign of things to come. Collins was cut by the Seattle Seahawks after a few years, and they desperately needed a running back. With the recent history of the Ravens' starting RB going into the draft season, and the talented Kenneth Dixon waiting in the wings for a measly 12th round pick, I will not be drafting Alex Collins in any of my leagues.  If we don't learn from history, we are doomed to repeat it.
Questions and comments?
thescorecrowsports@gmail.com
Follow Us on Twitter @thescorecrow
Follow Us on Reddit at u/TheScorecrow
Follow Frank Dyevoich on Twitter @Fantasy_Giant
Main Credit Image: [getty src="900128184″ width="594″ height="396″ tld="com"]
Advertisement