Kit Shepard | April 26th, 2019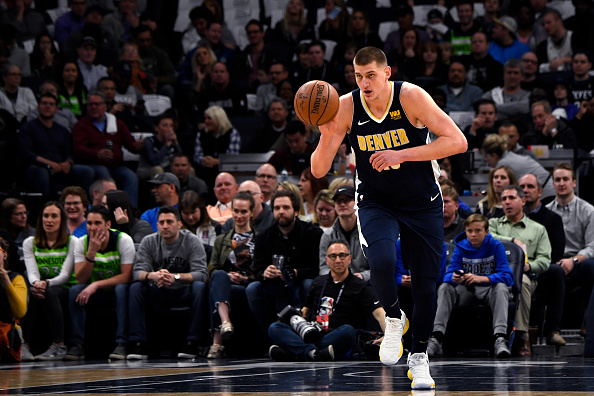 There is more skepticism around the Denver Nuggets than your typical two-seed. Despite challenging the Golden State Warriors for the top spot in the West for much of the year and finishing with a 54-28 record, the Nuggets' inexperience led to many questioning their playoff acumen, especially when they matched-up against the wily, veteran-laden San Antonio Spurs in the first round. And although the Texas outfit forced a game seven last night with a 120-103 victory at home, the performance of Nikola Jokic should give Denver heart that they have a superstar who can shine in the postseason for years to come.
Jokic personified the argument that the Nuggets would underachieve in the playoffs. A stellar regular season had earnt him his first all-star appearance and an all-NBA selection will certainly follow, but his lack of athleticism, labored style and supposedly passive nature on the court implied that he would struggle in the intensity of his inaugural postseason.
The Serbian center put those doubts to bed last night, lumbering his way to 43 points (a Nuggets playoff record), 12 rebounds and nine assists, as he displayed his sensational all-around offensive game. With usual running mate Jamal Murray struggling and Spurs stars LaMarcus Aldridge and DeMar DeRozan rolling back the years by sinking a plethora of mid-range shots, Jokic kept Denver in the game with sensational shot-making:
Plays dismissed the narrative that Jokic is too deferential; he had enough time to awkwardly hand-off to Murray and hope that his team-mate could create something from nothing, but he was willing to take on the responsibility himself, showing his ability to find ways to score when possessions go awry.
He played anything but hero ball, though, using his team-mates at the right moments:
Jamal Murray hits the corner three! #MileHighBasketball | #NBAPlayoffs pic.twitter.com/SU8G4sc3NP

— NBA Canada (@NBACanada) April 26, 2019
Here, Jokic has a clear mismatch against Patty Mills, who is a full foot shorter than him. Yet instead of hastily forcing the issue and thinking he has to score, the 24-year-old calmly waited for the Spurs to send multiple players to help Mills and, at the split-second when both Aldridge and DeRozan commit to him, found Murray for a wide open corner three with perfectly-timed pass. This was far from his most eye-catching assist of the night, but it demonstrated how Jokic's unselfish style helps the Nuggets, rather than hinders them.
The Joker and Denver are far more vulnerable on the other end of the floor and it showed in the fourth quarter last night as they simply could not get stops down the stretch, turning a game that was highly-competitive through three quarters into a blowout. However, an impressive emphatic block by Jokic (with 2:15 left in the opening quarter) revealed that, if nothing else, he brings effort on defense and is capable of making momentum-shifting plays:
https://www.youtube.com/watch?v=xhH9V5FtUko
Regardless, for all Jokic's heroics in game six, Denver was still defeated comprehensively, and he will need more help to prevent a first round exit. A Gregg Popovich Spurs team is one of the last sides that the young, unproven Nuggets would have wanted to face in a game seven, and the legendary coach will have a plan to expose every single Nuggets weakness that he has seen over the series.
But Jokic and co are heading home, and that alone should give them confidence. They went 34-7 at the Pepsi Center in the regular season, the best home record in the league. Meanwhile, the Spurs' 16-25 road record was the second-worst of any playoff team. History is on Denver's side too; the home team has won 104 of the 132 game sevens in NBA history.
A loss on Saturday night will ergo be a major disappointment, but it will be far from a catastrophe for Denver, as they have established their path to a title. In his first taste of the postseason, Jokic has silenced the naysayers by proving that he is more than capable of shouldering both the scoring and playmaking burden, and that he is not an outright liability on defense. Whether this is enough to get the Nuggets to the second round is to be decided but if it is not, their center's performances against the Spurs are a pretty good consolation prize for a team that simply wanted to end a five-year streak of finishing in the lottery at the beginning of the year.
For now, the Nuggets may be no more than an ordinary playoff team. But in Nikola Jokic, they have unearthed an extraordinary postseason player.
Questions and comments?
thescorecrowsports@gmail.com
Follow Us on Twitter @thescorecrow
Follow Us on Reddit at u/TheScorecrow
Follow Us on Facebook at The Scorecrow
Follow Us on Instagram at The Scorecrow
Follow Kit Shepard on Twitter @KitShepard
Main Credit Image:
[getty src="945529988″ width="594″ height="396″ tld="co.uk"]