Alex Kielar | March 21st, 2019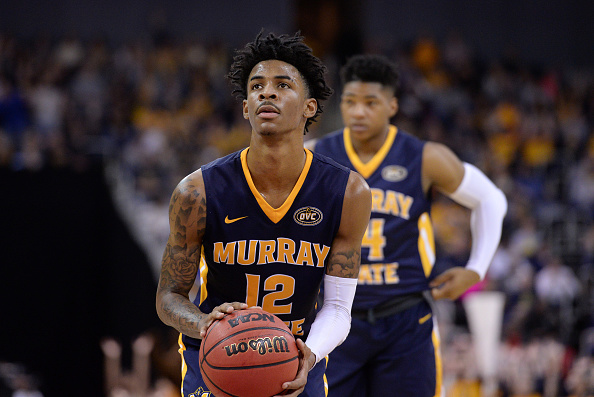 The West Region of this year's NCAA bracket has a lot of intriguing matchups and potential bracket-busting upsets. Gonzaga, with its pure dominance during the regular season, is the favorite to come out of the West. However, the Zags are coming into the tournament limping a bit after being upset by South Region # 11 Saint Mary's in the WCC Championship.
1. Gonzaga (at-large)
An at-large bid from the West Coast Conference, the Bulldogs have a little more motivation coming into the tournament after having their West Coast Conference title ripped from them by Saint Mary's. Their performance in the Conference title game was far from the level they had performed at all season long, which snapped a 20-game winning streak. If the regular season Gonzaga team shows up for every game during the tournament, they are primed to make a deep run and avenge their Sweet 16 loss at the hands of Florida State. Junior Rui Hachimura (20.6 ppg, 6.7 rpg, 61.3 FG%), the WCC player of the year, will be one of the keys to Gonzaga making a championship run, along with very capable shooters in junior Brandon Clarke (16.6 ppg, 8.5 rpg, 3.2 bpg, 68.8 FG%) and senior Josh Perkins (11.0 ppg, 6.6 apg, 82.6 FT%). The Zags space the floor well and play relentless defense, which can turn into fastbreak points, making it tough on whoever they are opposing.
2. Michigan (at-large)
After falling just short last season, losing to Villanova in the Championship game, the Wolverines are primed for another deep run in this year's tournament. Returning players from their run last year and the high-level play of freshman Ignas Brazdeikis (14.9 ppg, 5.2 rpg) make up a team very capable of returning again to the Final Four and the Championship. Sophomore Jordan Poole was a huge piece to the team's success last season and he continued to play at a high level this season (12.8 ppg, 3.0 rpg, 81.1 FT%), while Michigan navigated their tough Big Ten schedule. Michigan is ranked as the third best defense in the country, averaging only 58.8 points allowed per game, and they were seen easily beating defending champion Villanova by 27 and Final Four-capable North Carolina by 17.
3. Texas Tech (at-large)
After making a run to the Elite Eight last season, to ultimately fall to Championship-winning Villanova, the Red Raiders lost much of their team and essentially had to rebuild. The breakout level play of sophomore Jarrett Culver (17.9 ppg, 6.2 rpg, 3.7 apg, 48.7 FG%) helped Texas Tech maintain a high-level of play along with key transfers and their stifling defense that led the nation in opponent's shooting percentage, 36.8%, and second in scoring defense, holding their opponents to 58.6 ppg. Their defense is what will carry the Red Raiders through the tournament and what would be the main factor of them making a deep run.
4. Florida State (at-large)
Don't let the fact that the Seminoles didn't win the ACC Title game make you shy away from their potential in the tournament. A win over Virginia in the tournament helped increase their seeding and gave them a better chance of making a run. Senior Terance Mann (11.2 ppg, 6-4 rpg, 2.5 apg, 78.5 FT%) has been a huge asset to the Seminoles all season, and even he isn't their leading scorer. That title goes to bench player Mfiondu Kabengele (12.9 ppg, 5.7 rpg), which goes along with the fact that head coach Leonard Hamilton doesn't shy away from using his bench. Kabengele has been a force to be reckoned with all season long in the ACC. With many scoring threats possessed by the Seminoles, opponents will have a difficult time in the tournament keying in on one guy to guard and take out of the game, but without a pure take-over-a-game guy, the Seminoles have a hard time closing some games out, especially when they are tight.
5. Marquette (at-large)
Markus Howard has been one of the prime scoring guards in the country all season and is the prime reason Marquette is in the position they are in for the tournament. The junior national player of the year candidate averaged 25.1 ppg in the regular season, with notable performances against Buffalo, Kansas, and Creighton where he put up 45, 45, and 53 points, respectively. However, the Golden Eagles have limped into the tournament, losing four straight before having to go up against Murray St. and another top scoring guard in electrifying Ja Morant. The key for Marquette will be to rely on Howard but not too much that they can't run their offense without him. He will definitely be the center of their gameplan, however.
6. Buffalo (Mid-American Champ)
The Buffalo Bulls won their fourth MAC title in five years, as they are long and far the most dominant team in the conference. They have yet to turn their conference titles into deep tournament runs, but the team this year is capable of making it past the second weekend. Buffalo upset Arizona last year in the first round, and after key road wins at West Virginia and Syracuse, along with consistent play all season, they are the higher seed this year. The bench performance will be what determines how far they go this year and they are coming into the tournament on a red-hot 12-game winning streak. Nick Perkins came off the bench and was named the MAC player of the year. The Bulls perimeter shooting and defense is also important to their run.
7. Nevada (at-large)
With most of the team returning from last year's tournament run, most of the Wolf Pack probably still have the sour taste of being victims of last year's Cinderella team Loyola-Chicago. Nevada has the ability to come back from big deficits, but they have the tendency to fall behind early and often. This isn't something you want to see in March, as having to come back all the time will have a negative effect on how well they hold up. With their long and athletic players, they crash the boards very well and have at least three players averaging at least 4 rebounds per game. Senior Caleb Martin led the Wolf Pack in scoring with 19.6 ppg, as their team shooting range is a weakness and something that could be their downfall.
8. Syracuse (at-large)
The Orange trademark zone defense has been a force all season, and with teams that haven't seen them will have a hard time playing against it. Syracuse had big wins against Duke and Louisville this season, but their spotty offense at times will be what does them in against the top-tier teams. They have struggled all season in closing out games, especially in converting on ice-the-game free throws. Junior Tyus Battle was their leading scorer with 17.2 and will be back for round one after missing the ACC Tournament with a bruised tailbone. Look for the Orange to feed the ball inside to senior center Paschal Chukwu and the perimeter to high-leverage scorer Elijah Hughes. Senior guard Frank Howard will miss the first round game against Baylor for violating athletic department policy.
9. Baylor (at-large)
The Bears are entering the tournament on a four-game losing streak and have relied on graduate transfer Makai Mason from Yale as their main offensive playmaker since January when big man Tristan Clark went down and they had to rely more on guard-led offense. Mason has averaged 14.6 ppg and has been huge from behind the arc with a 35.7% three-point percentage.
10. Florida (at-large)
Two wins over SEC regular-season champion LSU are the reason the Gators are even in the tournament, as they sat at 9-9 in the SEC and 19-15 overall. Florida's defense is really going to have to step up and play at the highest of levels, as they don't have a consistent scorer or a high shooting percentage. Senior guard KeVaughn Allen is their leading scorer with 12 ppg and an 89.2 FG%. Their matchup with Nevada is a meeting between two teams who struggle to score at high levels, and the game will come down to the defenses and who can make the most shots down the stretch.
11. Arizona State (at-large)
Pac-12 freshman of the year Luguentz Dort will be a big key to the Sun Devils chances, as he averaged 16.4 ppg during the season. Arizona State had key non-conference victories over tournament teams Kansas, Mississippi State, and Utah State. If they can play at their best, they have a chance to make a run in the tournament, with a smothering defense and with crashing the boards very well. All of their starters average at least 3 rebounds per game and senior forward Zylan Cheatham leading with 10.4 rebounds a game. Dort can use his athleticism to make big plays happen and send the Sun Devils to the next round.
12. Murray State (Ohio Valley Champ)
With an offense led by future high-level NBA draft pick Ja Morant, the Murray State Racers rank in the top 15 in scoring, assists, and field-goal percentage. Morant is coming off of a steller Ohio Valley title game where he put up 36 points to lead the Racers to a title. The battle between Markus Howard and Morant is one of the most intriguing of the tournament and a very high possibility of a 12-5 upset. Morant's continued powerful play will be the main key to Murray State making a run in the Tournament.
13. Vermont (America East Champ)
Anthony Lamb has been a huge piece to Vermont's return to the NCAA tournament after being ousted last year in the first round, as he has had a major breakout this year with 21.6 ppg and 7.8 rpg. Vermont's defense is solid as well, leading the conference in points allowed per game. Vermont will look to senior guard Ernie Duncan to give them a spark from the field, as he can get hot quick, with a 42.5 3P% on the season. Vermont has the potential to make a run if their offense can keep up with other high-power offenses.
14. Northern Kentucky (Horizon Champ)
Northern Kentucky has an outstanding shooting team from the field, with three players with above 40 3P% and two with 55 or higher FG%. Senior Drew McDonald was the Horizon player of the year with 19.1 ppg, 9.5 rpg and a 40.9 3FG%. The fallout for Northern Kentucky is their porous free throw percentage, sitting at 66.5%, 312th in Division I. If they can make late-game free throws and convert on more opportunities, they can maybe pull off an upset. But with a tough matchup versus Texas Tech, they will have to be nearly perfect.
15. Montana (Big Sky Champ)
Montana was regular season and postseason Big Sky champions, which they were able to do because of their top 10 shooting, where they sit at 49.6% from the field. They have also shot at a 38% mark from behind the arc. Their shooting will have to really step up their game against a stout Michigan defense in round one.
16. Farleigh Dickinson (Northeast Champ)
The Knights of FDU come into the tournament confident even with their high turnover rate of 13.4 per game. They are top 30 in the country with steals and led the Northeast conference. Their FG% from behind the arc will be something to watch closely as they led the Northeast with a 40.3 3P%. With a tough defense in Gonzaga and converting of fastbreak points, things may get bad quickly for FDU if they play sloppy basketball. If they can shoot at a high level, they may be able to stick in the game.
Check out our other bracket breakdowns: East | Midwest | South
Questions and comments?
thescorecrowsports@gmail.com
Follow Us on Twitter @thescorecrow
Follow Us on Reddit at u/TheScorecrow
Follow Us on Facebook at The Scorecrow
Follow Us on Instagram at The Scorecrow
Follow Alex Kielar on Twitter @TPE_ScorecrowAK
Main Credit Image: [getty src="1129690139″ width="594″ height="397″ tld="com"]