Devin Davis| May 27th, 2019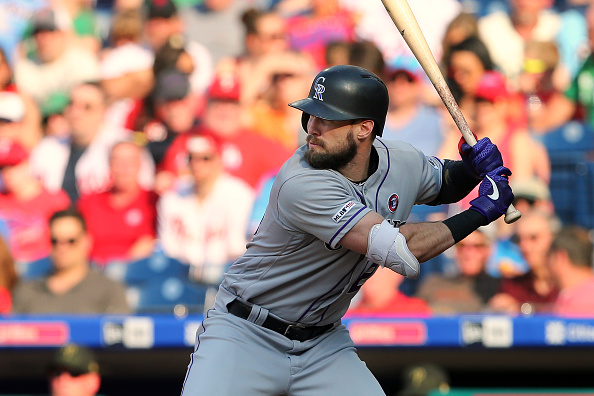 We are back this week with a Memorial Day version of Buy Low/Sell High. I hope you heeded the advice from last week as Max Scherzer tossed a gem and Domingo German struggled against the Orioles and Royals. This week, we continue to identify the deals you should be making as a fantasy baseball manager.
Buy Low:
David Dahl OF – COL
A young bat with consistent playing time and home games in Coors Field is poised to breakout. Unfortunately for Dahl, the start to 2019 has not been that breakout that everyone anticipated during the offseason. Despite having a .439 BABIP, Dahl has a less than impressive slash line of  .307/.354/.480 through 165 plate appearances. The problem for Dahl has been his abnormally high strikeout rate which currently sits at 31.9%. With an already impressive batted ball profile, all it will take is a reduction in strikeouts for Dahl to become a hot commodity.
J.T. Realmuto C – PHI
After leaving Marlins Park, Realmuto was supposed to improve and sustain himself as the best catcher in fantasy. However, that has yet to happen. Despite an increased hard-hit rate and barrel rate, Realmuto's ISO has inexplicably trended in the wrong direction. The counting stats have taken a hit despite moving to a better lineup and improving his swing. These numbers should begin to trend in the positive direction the rest of the way. Obviously, every fantasy player could use a stud at catcher and now is the best time to acquire one.
Sell High:
Austin Riley 3B/OF – ATL
A new prospect who has been on a tear since arriving in the Majors is the perfect recipe for a sell high candidate. Despite having the profile of a power hitter, five home runs in 11 games with a 0.386 ISO is clearly unsustainable for Riley. However, the most alarming sign for concern in Riley's profile is his walk to strikeout rate. Since arriving in Atlanta, Riley has two walks to 18 strikeouts. Throughout his minor league career, he has displayed a high strikeout rate. This lack of plate discipline will force Riley's statistics to regress as the bat cools off.
Brandon Lowe 2B – TB
Yes, another young player slugging way over their head. Lowe is near the top of the Majors with a .407 BABIP, but only has a .287 batting average to show for it. A hitter who strikes out at 36.5% of the time and fails to draw walks always raises my eyebrow. To be fair, Lowe has been crushing the ball with a 47.1% hard-hit rate but has conjured an unsustainable 28.2% home run to fly ball ratio in the process. As with any young player, there are positive and negative signs in Lowe's profile. However, as pitchers adjust, I would anticipate upcoming regression for Brandon Lowe.
Questions and comments?
thescorecrowsports@gmail.com
Follow Us on Twitter @thescorecrow
Follow Us on Reddit at u/TheScorecrow
Follow Us on Facebook at The Scorecrow
Follow Us on Instagram at The Scorecrow
Follow Devin Davis on Twitter @devindavis_14
Main Image Credit:  [getty src="1151308382″ width="594″ height="396″ tld="com"]