Travis Finkel | October 18th, 2018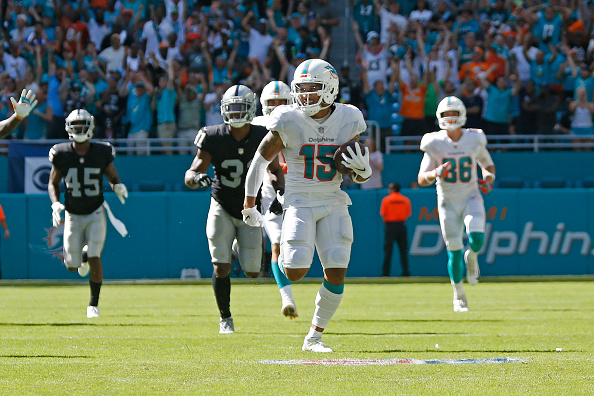 Has anyone noticed that my "boom" plays go boom a week or two after I feature them? So unfortunate in the timing. Albert Wilson, c'mon man! Went off this past week. And don't even get me started on Mason Crosby. Recommended him last week, and he saw plenty of opportunities and missed everything. If he hit all 6 of his kicks including his extra point attempt he would've had 21 points. 21. From a kicker. Then he goes and scores 17 against the Niners the next week.
Here are some of those ~late boomers~ if you will.
Albert Wilson (ft. Week 5) Week 6: 6 catches, 155 yds, 2 TD. 30 points!
Courtland Sutton (ft. Week 4) Week 5: scores his first career TD
C.J. Anderson (ft. Week 2) Week 3: scores only TD of the season
That Albert Wilson one really hurts me. I think he is the wide receiver to own in Miami. Amazing playmaking ability and better fits with Miami's QBs who are deep ball averse, which is why Kenny Stills has been struggling. Week 6 recap first then we'll get to Week 7 streamers. There a lot of big names to replace in Week 7. If you want a win, streaming the right guys will be the difference maker.
Week 6 Recap (Half PPR)
Andy Dalton: 17.2 pts, 229 yds, 2 TD, Solid. Mixon is a workhorse limiting demand for Dalton.
Baker Mayfield: 12.3 pts, 238 yds, 1 TD, 2 INTs. Disappointing. He turns it over a lot.
David Njoku: 15 pts, 7 catches, 55 yards, 1 TD. Finally scores a TD. Good for 5 catches a week
Austin Hooper: 17.6 pts, 9 catches, 71 yards, 1 TD. Impressively improved upon Week 5.
Cameron Brate: 8 pts, 1 catch, 15 yds, 1 TD. Made it count. Howard was a surprise Active.
Matt Bryant: 13 pts, 2/2 FGM, 4/4 XPM. Nice.
Dallas Cowboys: 12 pts, 7 PA, 1 INT, 1 FR, 3 sacks. Great week.
New York Jets: 10 pts, 34 PA, 3 INT, 1 FR, 1 TD, 0 sacks. Touchdown on the second play.
Antonio Callaway: 3.9 pts, 2 catches, 9 yds. 10 targets. More disappointing Browns play.
Ito Smith: 9.1 pts, 22 rush yds, 1 TD, 2 catches, -1 yd. The third game in a row with a TD.
Teams on Bye in Week 7: Green Bay, Oakland, Seattle, Pittsburgh
Notable Players on Bye: Aaron Rodgers, Jimmy Graham, Jared Cook, Russell Wilson, Ben Roethlisberger, Vance McDonald
Quarterback
Mitch Trubisky (CHI)
Mitch Trubisky is on fire as of late averaging 35.4 points over his past two games. The Bears QB has nine passing touchdowns and is averaging 335 passing yards in those two games. He has only one interception in that span and is averaging a fantastic 50 rushing yards. His rushing ability gives him at least a three-point cushion each week with the rushing touchdown upside. This week the Bears host the Patriots. The offense will be key. This New England defense offers a nice matchup for Trubisky, at home. Through the air, the Patriots are 22nd in yards and 29th in touchdowns given up. Confidence should be high for Trubisky and so should our trust in him right now. After struggling in the first half against the stout Dolphins defense, it looked like Trubisky was back to his old ways. A strong second half restored my faith in him and his fantasy viability. The long-awaited emergence of pass-catching Tarik Cohen has seemed to give Trubisky a security blanket and made him more comfortable in the pocket. I have a lot of confidence in Trubisky to score 20 fantasy points.
Eli Manning (NYG)
Yeah, Eli Manning. This week against the Falcons offers the Giants an opportunity to put their offense together. The Falcons defense is decimated by injury and is frankly just a defense to target for fantasy purposes. 30th in air yards allowed and tied for most passing touchdowns surrendered, the Falcons are a dream matchup for a struggling offense. The Giants can be successful on offense without trying to do too much at once as the Falcons are bottom ten in yards/attempt defense. You probably still have a bad image of Eli thanks to last Thursday's game. However, Manning scored 19 points in 2 of the three prior weeks so he is capable of being a reliable fantasy quarterback for a given week. This matchup is his best yet by far, and with the game in a dome there are no weather concerns. If you want to buy into the redemption narrative that isn't a bad play either. Another primetime opportunity for Manning and the Giants in a potential "upset" road win.
Next Man Up Baker Mayfield (CLE) vs. Tampa Bay – best matchup but his injured ankle makes me more bearish this week
Tight End
C.J. Uzomah (CIN)
Last week was C.J. Uzomah's first week as the lone tight end in the Cincinnati Bengals offense. Uzomah had six catches for 54 yards, good for TE12 (Half PPR). Pretty good for his starting debut and not scoring a touchdown like some tight ends finishing ahead of him. Being the featured tight end for Andy Dalton is usually a fruitful designation. Tyler Eifert was a touchdown machine when healthy and Uzomah seems to be already heavily involved. Six receptions on seven targets are very encouraging and automatically makes Uzomah a top streaming option, especially this week. The Bengals face the Chiefs which is certain to be a high-scoring affair. The Chiefs defense is very bad against the pass, as displayed on Sunday Night Football against the Patriots. The Chiefs have been bad all year against the pass, locking in Uzomah for a nice target share with obvious touchdown upside. I would be very confident if he was my starting tight end this week.
Ricky Seals-Jones (ARI)
Ricky Seals-Jones has quietly received six targets in 4-of-6 games this season. He has not made those targets count every week, hence why I say quietly. Last week was Ricky's (Ricky's sounds better than Seals-Jones so I'm gonna call him Ricky) best game by far of the season going for 69 yards on five receptions. That was against a supposedly top defense in Minnesota. Josh Rosen has provided a spark to the Arizona offense and Ricky and Christian Kirk have been the beneficiaries in the passing game. The Cardinals host the Broncos this week on Thursday night. The matchup may seem a little daunting based on name value, but the Broncos defense has struggled as of late during the team's four-game losing streak. The Broncos have given up the most rushing yards this season. They will need to fix this problem against David Johnson. That should draw away the focus of the linebackers freeing up space in the middle for Ricky. Von Miller and Bradley Chubb will be rushing Rosen a lot meaning Rosen will need to get the ball out quick on shorter routes. Jermaine Gresham will be used as the blocking tight end freeing Ricky for pass-catching duties. Finally, Denver is the 11th best matchup for tight ends this season so far if all that matchup analysis wasn't enough. He's a bit risky but I think the risk could turn to reward this week.
D/ST
Indianapolis Colts
The Colts host the Bills this weekend. The Bills are always the main target when picking/streaming defenses so that makes it very simple. To make it sweeter, Josh Allen will not play in this game. Instead, it will be Derek Anderson, the 35-year-old quarterback who went 2-for-8 for 17 yards last season and has been a backup for effectively the past eight years. No matter how average the Colts defense is, they are a good bet to force turnovers. The speed of the NFL is not something easily acclimated to and in this case, it benefits the Colts. Definitely, the number one streaming defense of the week even though Mr. Interception Nathan Peterman won't start. There's a chance he enters the game in relief, though.
Washington Redskins
The Cardinals are a popular pick to stream this week but I like the Redskins better. The Cardinals can't stop the run and the Broncos are too deep at receiver to stop all of them. The Redskins, however, take on the Cowboys at home. I don't expect Dallas to repeat their performance from a week ago. The Redskins are one of the top rushing defenses in the league, mitigating Dallas' strength, Ezekiel Elliott. Washington has surrendered the fourth-fewest rush yards this season meaning Dak Prescott might have to throw the ball. I'll take that chance all day with Josh Norman and Quinton Dunbar as my corners. The Redskins are a strong, underrated defense and a good streaming option this week.
Kicker
Adam Vinatieri (IND)
Dome game. They have a pretty good offense at moving downfield but up they are up against a solid pass defense. Double-digit fantasy points in 4-of-6 weeks.
Deep "Boom" Flex Plays
Duke Johnson (RB, CLE)
The Browns will play the Buccaneers this weekend who present one of the best matchups for every offensive position on the Browns. Duke Johnson has had a very limited role, surprisingly, but his involvement seems to be on the rise. Last week he had over 100 yards from scrimmage on two carries and four receptions. Duke has great playmaking ability but just hasn't been used the way he was the past few seasons. He has a chance to be heavily involved in the passing game out of the backfield in a possible shootout against Tampa. He can do a lot with only a few touches so if he sees the same or an increase in touches he has double-digit potential in PPR formats. He can also be added as a stash should the Browns come to their senses and use him as they did in previous seasons.
Mike Williams (WR, LAC)
Tyrell Williams went boom last week, and this week might be Mike Williams' turn. Mike Williams has struggled as of late since his start to the season but the Titans offer Mike Williams a good matchup. The Titans have a solid run defense so the ball could be in Philip Rivers' hands often. Adoree Jackson will likely cover Tyrell Williams leaving Malcolm Butler to cover Mike Williams. Malcolm Butler has struggled mightily this season and Mike Williams should physically dominate Butler. Williams is one of the best pure red zone threats at wide receiver in the league. Williams was featured earlier in the season as a deep boom and scored a touchdown that week so let's keep the streak rolling for Mike Williams with a touchdown this weekend.
If you're liking what I'm throwing out here every week, send a Twitter follow my way (@TravisFinkel) and be sure to keep coming back every week for more.
Questions and comments?
thescorecrowsports@gmail.com
Follow Us on Twitter @thescorecrow
Follow Us on Reddit at u/TheScorecrow
Follow Travis Finkel on Twitter @TravisFinkel
Main Credit Image: [getty src="1043953636″ width="594″ height="396″ tld="com"]