Matt Bishop | April 19th, 2019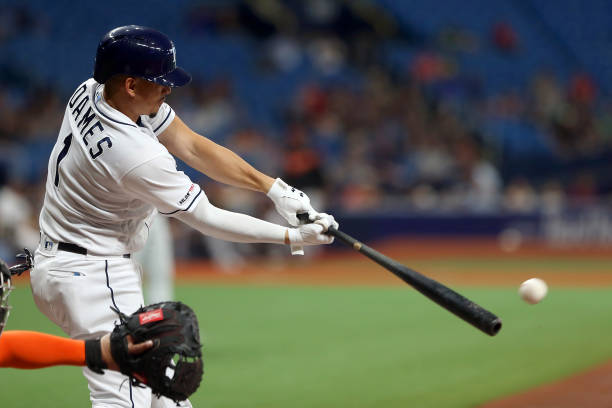 Not to say that pitching sucks, but the pitching has kinda sucked this year. With more rumors of a rebirth of the juiced baseball, more elite pitchers are getting shelled and leaving their starts earlier than expected, while elite names and young prospects are flourishing. The following point totals are from a standard head to head CBS points league. I feel that sometimes overall points can put a player's value in better perspective than roto can, so here are a few of the top hitters and pitchers:
TOP HITTERS
12-22, 2 2B, 4 HR, 12 RBI, 6 R, 1 SB, 5 BB 3 KO (48 Points)
10-25, 6 HR, 10 RBI, 8 R, BB, 6 KO, GSHR (45 Points)
12-22, 2B, 3B, 3 HR, 9 RBI, 7 R, SB, 4 BB, 7 KO, HP (40 Points)
6-26, 2B, 4 HR, 12 RBI, 5 R, 1 SB, 4 KO (39 Points)
9-27, 2B, 5 HR, 10 RBI, 6 R, 6 KO (35 Points)
7-19, 2 2B, 4 HR, 8 RBI, 5 R, SB, BB, 3 KO, 3 GDP (34 Points)
8-21, 2B, 2 HR, 9 RBI, 6 R, 2 SB, 3 BB, 3 KO (34 Points)
10-20, 2B, 3 HR, 6 RBI, 5 R, 4 BB, 2 KO, HP (34 Points)
7-18, 4 HR, 8 RBI, 7 R, 3 BB, 3 KO, CS (33 Points)

Cody Bellinger, 1B/OF LAD

8-22, 2B 2 HR 4 RBI 5 R 2 SB 7 BB 3 KO (32 Points)
TOP PITCHERS
12 INN, 7 HA, BBI, 20 K, ER, W, 2 QS (47 Points)
4.1 INN 4 K 5 S (43.3 Points)
German Marquez, SP COL
14.0 INN 8 HA 11 K 5 ER W L CG SO QS (43 Points)
Gerrit Cole, SP HOU
13 INN, 8 HA, 3 BBI, 17 K, 5 ER, W, 2 QS (41 Points)
Justin Verlander, SP HOU
12 INN, 9 HA, 2 BBI, 17 K, 4 ER, W, 2 QS (41 Points)
Kirby Yates, RP SD
4 INN, 2 HA, 2 BBI, 8 K, 4 S (40 Points)
Zack Greinke, SP ARI
13.2 INN, 11 HA, 2 BBI, 15 K, 5 ER, W, 2 QS (39.67 Points)
Julio Teheran, SP ATL
11 INN, 11 HA, 5 BBI, 9 K, 7 ER, 2 W, QS (36 Points)
Felipe Vazquez, RP PIT
4.2 INN, 5 HA, 2 BBI, 7 K, W, 2 S (35.67 Points)
Justin Verlander is 36 years old and still throwing gas, including this gem that he spun on Sunday (6.0 IP 2 HA 1 ER 0 BB 11 K) where his velocity nearly touched triple digits in his final inning of the game. The arm has not fallen off yet and Verlander still continues to pay dividends on early draft day investments. Just a beast.
Alex Bregman is a historic slow starter in April and one who struggles to get it going right out of the gate. But I have good news. Bregman appears to have broken the mold thus far with career highs in almost every metric that is important. And as of April 17, he has already exceeded his career high home run total in April with 2 HR. While his walk rate is down and his strikeout rate is up, his hard hit rate weighted against last April has significantly increased and his flyball and line drive rates are massive career highs. I am aware that one month is a small sample, but try to remember the historic tear he went on last season before the All-Star break and just think of how insane a full season of elite Alex Bregman production could be. I'm intrigued.  
Ivan Nova had 12 swinging strikes on Saturday (6.0 IP 4 H 0 BB 1 ER 5 K) and still got the loss against a hobbled Yankees squad. Nova hasn't thrown a slider since 2012, but appears to have reinvented his secondary offering and is now throwing it 17.8% of the time. That's a career high and that's weird. What is even stranger is opposing batters are hitting .200 against the slider, which has yielded a 21.7% swinging strike rate. That's insane. And while the 32-year-old has been around the block and never really shown us much, we have seen older pitchers reinvent themselves by developing new offerings and it is certainly not out of the question.  Ivan Nova is pretty much available everywhere (13% owned CBS, 4% Yahoo, 2% ESPN), so just keep an eye on him. He could be cooking up something and may be useful if you're desperate for pitching.
Season
Team
FB%
SL%
2010
Yankees
64.1% (93.1)
2.1% (85.2)
2011
Yankees
61.5% (92.6)
11.5% (85.7)
2012
Yankees
53.9% (93.0)
14.0% (87.3)
2013
Yankees
60.5% (93.0)
1.4% (86.7)
2014
Yankees
66.2% (91.9)
2015
Yankees
65.2% (93.0)
2016
2 Teams
64.8% (92.6)
2017
Pirates
68.1% (92.8)
2018
Pirates
66.9% (92.9)
2019
White Sox
57.4% (91.8)
17.8% (86.3)
Michael Pineda had 11 swinging strikes on Saturday (6.0 IP 8 H 0 BB 3 ER 5 K) on his way to a win against the Detroit Tigers. He is currently sporting a 3.00 ERA and hasn't had an ERA under 4.00 since 2014. He is also impressing with a 9.0 K/9 and a microscopic 1.20 BB/9. He appears to be throwing his fastball more (55.6%) and his slider less (32.9%), but yielding an 18.3% swinging strike rate on his slider. Still too early to tell, but Pineda may be putting it together. He could be a good buy-low candidate.
Blake Snell had 19 swinging strikes (35% *CSW) on 82 pitches (6.0 IP, 1 H 1 BB 9 K) against Blue Jays on Saturday with a 30.4% SwSt rate on his curveball. He continues to silence the haters and is blossoming into an elite arm. While most expected regression in his profile, Snell owners from last year can attest to the way he could carve through an explosive lineup on a start by start basis and was a model of consistency. It was announced on Tuesday that Snell would hit the Injured List with a broken toe and is only expected to miss one start. He's elite and health concerns should be a non-issue.
*CSW= Called Strikes + Whiffs (Developed by Pitcher List and explained here)  
Chris Archer yielded 11 swinging strikes (32% CSW) on 94 pitches (7.0 IP 4 H 2 BB 1 ER 9 K) against the Nationals on Saturday with a 21.2% swinging strike rate on the slider. Currently carrying a 2.00 ERA, which is the lowest ERA of his seven-year career, his 12.0 K/9 is also a career-high mark. Archer is throwing his slider less (36.2%) while mixing in his changeup more (13.3%) which has resulted in a career-high 13.8% swinging strike rate. Opposing batters are hitting .100 against his slider, which has produced a bonkers 30.2% swinging strike rate on the season. This may be the Chris Archer that everyone has been waiting for. You may be able to acquire him cheap, so strongly consider going after him.  
Caleb Smith had 13 swinging strikes (33% CSW) on 99 pitches (6.0 IP 1 H 3 BB 0 ER 6 K) on Saturday at home against the Phillies. He is currently carrying the lowest ERA (2.65 ERA) and the highest strikeouts per nine (11.12 K/9) of his young career. His current 32.2% strikeout rate is fueled by his career low contact rate (69.8%) and his career high swinging strike rate (14.3%). Opposing batters are hitting .143 against his slider with a 17.5% swinging strike rate, but his changeup may be his better pitch. His changeup is blanking opposing hitters to the tune of a .067 batting average and an 18.0% swinging strike rate. The Marlins love the changeup (see Trevor Richards). Caleb Smith should still be available in most leagues (65% CBS, 32% Yahoo, 16% ESPN). Scoop him up while you can.   
DROP
*Nick Pivetta, SP PHI (9.45 ERA 2.18 WHIP 9.45 K/9 3.38 BB/9)
*As I am writing this, Nick Pivetta just got sent down to Triple-A, so this still plays, but these stats are from Week two. I wrote this prior to the demotion:
I'm hearing crickets.  Where are all the Nick Pivetta truthers now? Pegged as America's Sleeper, Pivetta owners are in panic mode and Shane Bieber is having the season that people expected from Pivetta:   
2.03 HR/9
23.1% HR/FB
9.45 ERA 5.10 FIP 3.97 xFIP.
Career high line drive rate (30.6%)
career-high hard hit (38.0%).
This may be significant, but his fastball velocity is down almost 1.0 MPH this season. All 4 pitches have a negative pVAL this season and he is sporting a career low chase rate, or o-swing (26.0%). His career low swinging strike rate (8.3%) is down almost 4% from 12.0% in 2018, while his contact rate (82.4%) is a career high. He only has a 12.0% swinging strike and -0.8 pVAL on his curveball. He had a 15.4% SwSt rate and 5.2 pVAL on his curveball in 2018.
Exit velocity up almost three mph and he is a danger to himself and others. Bench him, trade him or drop him. Just get him off your team somehow.
WAIVER WIRE PICKUP
Willy Adames, SS TB (36% Owned CBS, 26% Yahoo, 12% ESPN)
In Willy Adames' first seven games, he went 1/27 hitting .037. In his last seven games since April 6th, Adames is hitting .480/.567/.720 (1.287 OPS) with 1 HR and 3 doubles. He is also carrying a 13.3% BB rate and 20.0% K Rate with a 52.6% hard contact rate. He is a former Top 100 Prospect in baseball and the Rays #1 prospect for 3 seasons who showed the ability to steal 10+ bases and hit for average. Currently hitting eighth in the Rays lineup and could slowly move into the heart of this potent order. Willy Adames could fill the stat sheet and this feels like the right team to do it on.
BUY LOW
Travis Shaw, 2B/3B MIL
Travis Shaw is currently hitting .186/.340/.256 (.595 OPS) with a career-high 15% BB rate. While his 32% strikeout rate is well above his career high of 25%, he is chasing pitches at a career low of 24.1%. Shaw hit 32 HR 73 R 86 RBI last season on a .241 average with a .242 BABIP. His 46% hard contact rate this season is well beyond his career high of 39%, but his contact rate is at a career low of 72%, which is down from 81% last year. This is significant.
Shaw doesn't strike out much and walks a ton, all while making contact at a healthy clip. I don't see Shaw producing the exact same numbers, but I believe he could be due for a second half similar to Matt Carpenter last season.
SELL HIGH
Pete Alonso, 1B NYM
I love Alonso, don't get me wrong, but this week he hit .315 (6-19) with 1 double and 3 HR. That is not sustainable in any world. His current .360/.439/.860 (1.299 OPS) is incredible for a rookie slugger and his 12% walk rate even more impressive. His 57.6% hard contact rate, paired with his 33.3% barrel rate and 94.5 mph exit velocity have fantasy owners salivating, but I believe a plateau period is coming and he may begin to struggle for an extended period of time being he is only a rookie. And right now, at a time where he is mostly hitting home runs with few doubles, his counting stats may take a dive when the home runs tail off. His value should be at an all-time high right now and you should be able to sell high before a slump kicks in. I believe Alonso will be a major league star long term, but may not hold value all season.
Questions and comments?
thescorecrowsports@gmail.com
Follow Us on Twitter @thescorecrow
Follow Us on Reddit at u/TheScorecrow
Follow Us on Facebook at The Scorecrow
Follow Us on Instagram at The Scorecrow
Follow Matt Bishop On Twitter @Bishphat
Main Image Credit:
[getty src="1137831134″ width="594″ height="396″ tld="com"]