Frank Dyevoich | December 2nd, 2018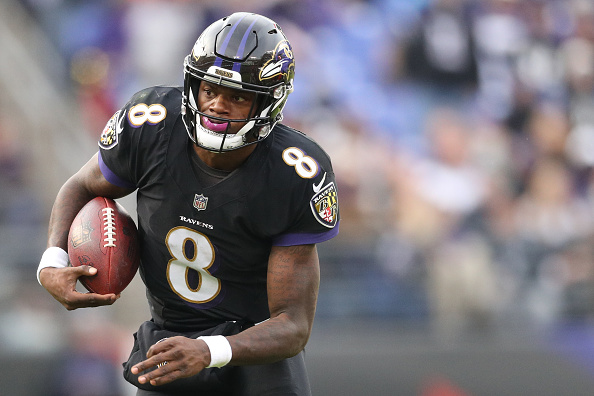 Win and get in. Lose and your season is over. That is the situation that most fantasy owners find themselves in heading into Week 13. Your season is on the line so it is crucial not to start the duds. I hope you do not need someone to tell you that Aaron Jones and Phillip Lindsay are top-ten options this week, so let's dig s little deeper to find those gems that will carry your squad to a victory this week. The following lineup recommendations are based on this week's matchups:
Start 'Em
Quarterbacks:
Jameis Winston vs. CAR – It is finally Winston's job for good. The Bucs need to know if Winston can be their franchise QB or if they should be looking to move on next year so they are going to let Jameis do his thing and rise or fall with him. Last week he had his best game of the season efficiency wise. He had a 76% completion percentage and it was the only game where he did not throw an interception. This week he gets the Panthers, who have allowed five of the last six QBs to score at least 20 fantasy points. I expect the Panthers to be ahead in this one so look for Winston to have 35+ pass attempts. Winston has excellent receiving weapons and should shred this defense for at least 25 fantasy points: 322 yards, 3 TDs, 1 INT and 31 rush yards.
Lamar Jackson vs. ATL – Jackson gets another start against another horrible defense and he should once again finish as a back-end QB1. Jackson is a threat for 100+ rushing yards every week, and as a QB, anything you get in the passing game is just gravy. He has a floor of 20 fantasy points, but he still has yet to really break out on the ground. You know before the season is over he is going to have a game where he breaks two long TDs and has 150+ rush yards. It is more likely that a game like that happens at home, but though this will be his first road game, there is no team better to play on the road as the Falcons are allowing an average of 25+ fantasy points to opposing QBs. Projection: 211 yards, 1 TD, and 127 rush yards and a TD.
Phillip Rivers vs. PIT – Phillip Rivers is quietly having an MVP caliber season. He has never had a game this season with fewer than two passing TDs, and he has only thrown six INTs. Now, Melvin Gordon is expected to be sidelined at least a few weeks so his volume should go up. This week they get the Steelers on the road so Rivers is going to have to go toe to toe with Big Ben if the Chargers are going to have a chance at winning this game. You likely drafted Rivers as a QB2, but do not over think this one. He is a top-ten QB this week.
Ben Roethlisberger vs. LAC – Hopefully, you listened to me last week and sat Big Ben on the road against the Broncos because he only had one TD and two INTs. However, Big Ben is also known for bouncing back in a huge way when he travels back home. The Steelers are fighting for the number one seed in the AFC with the Chargers, the Chiefs, and the Patriots, and this week they get to knock the Chargers down a peg. The Chargers are the second-best defense versus opposing QBs, but Big Ben tends to defy the odds at Heinz Field. Further, there is an underlying storyline here because Rivers and Big Ben were drafted in the same year and there are constant debates about who is better. They are both going to the Hall of Fame so I say just sit back, relax and enjoy the fireworks. Projection: 372 yards, 3 TDs, 1 INT.
Jared Goff vs. DET – Goff is coming off of a bye so he has had extra time to prepare for this matchup. The Lions are allowing an average of 22+ fantasy points to opposing QBs and have allowed 20+ points in their last three games, including backup for the Bears, Chase Daniel. I expect the Rams to come out of the gates swinging in order to put the league on notice that intend to win it all this year. Further, Sean McVay and the Rams love to run up the score on their opponent, so even if this game is a blowout, Goff could still be throwing bombs in the fourth quarter. Projection: 329 yards, 3 TDs, and 1 INT.
Running Backs:
Spencer Ware vs. OAK – This is a no-brainer. Kareem Hunt is on the Commissioner's Exempt List and he has been released by the Chiefs in the wake of the release of the despicable video that shows him assaulting a 19-year old female. His career might very well be over. This means that Spencer Ware is now the RB1 for the Chiefs and he needs to be started as such. Spencer Ware is a top-five RB for the rest of the season and a must-start every week from now until your championship. Hopefully, if you are a Hunt owner you listened to me over the past several weeks and picked up Ware weeks ago. If you didn't, sorry to tell you that Hunt is droppable in all formats except dynasty. Projection: 79 yards, 1 TD, and 5 receptions for 43 yards.
Austin Ekeler vs. PIT – Ekeler is a rock-solid RB1 in PPR leagues until Melvin Gordon returns. Last week, Ekeler had 10 receptions for 68 yards on 11 targets and that was with the Chargers blowing the Cardinals out of the water. This game should be highly competitive so Ekeler is likely to see 12+ targets. Further, Ekeler has been a fantastic runner between the tackles this season, averaging just under six yards per carry. No matter how the Chargers get the ball in Ekeler's hands this Sunday Night, he is a lock for 15-20 touches. Projection: 61 rush yards, 9 receptions for 96 yards and 1 TD.
Gus Edwards vs. ATL – Edwards has back to back games with 100+ yards and he is looking to make it three straight. The Falcons are near the bottom of the league in fantasy points allowed to opposing RBs with an average of 22 points per game, and they are dead last in receptions allowed to RBs with an astounding eight per game. The Ravens would be wise to get Edwards a few receptions in space against this defense and we could see his best game yet if he scores. Projection: 126 yards, 1 TD, and 3 receptions for 28 yards.
Lamar Miller vs. TEN – Miller has been up and down all season, but he has been on fire lately. I recommended sitting him the last two weeks because he was facing stout run defenses and he made me look like a fool by getting 20 carries one week and going completely ballistic last week with 162 yards and a TD on only 12 carries. This week, the Browns are coming to town, so Miller should feast. The Browns have allowed an opposing RB to score a TD or rush for 100+ yards or both in five of their last six games. Start Miller in this juicy matchup at home. Projection: 97 yards, 1 TD and 3 receptions for 22 yards.
Josh Adams vs. WAS – Adams has finally emerged as the RB1 for the Eagles and he celebrated winning the job by rushing for 84 yards and a TD on a whopping 22 carries. However, not in the box score is a 50-yard TD run called back by a penalty so his day could have been even bigger. Adams is averaging 5.2 yards per carry this season, and this week he faces the Redskins who have allowed an RB to have over 100 total yards or a TD or both in every game since Week 8. Continue to ride Josh Adams all the way to your championship. Projection: 96 yards, 1 TD, and 3 receptions for 23 yards.
Chris Carson vs. SF – Carson is coming off of back to back games with 16+ carries and a TD, and he is likely to make it three in a row. The 49ers have not been good at stopping the run this year, allowing 18 fantasy points per game to opposing RBs, and they just released their best run stopper after another domestic violence incident so it should be even worse. The Seahawks should be up early against their rivals at home so look for Carson to be fed heavily in the second half of this game. Carson gets his fourth 100+ rushing yard game on Sunday. Projection: 117 yards, 1 TD, and 2 receptions for 17 yards.
Theo Riddick vs. LAR – Riddick should be the featured RB for the Lions this Sunday. They will be trailing relatively early in this game and Kerryon Johnson has been ruled out again so Riddick will see all of the RB touches in the passing game. Riddick is a lock for 10+ PPR points this week and if he scores, he could finish as a back-end RB1. Further, the Rams allow an average of five receptions for 50 yards per game to opposing RBs. I expect Riddick to surpass those numbers quite easily this week. Projection: 37 yards and 8 receptions for 76 yards.
Wide Receivers:
Mike Williams vs. PIT – The WR2 role on the Chargers has been a tale of two Williams' all year. Mike Williams came out swinging, but Tyrell Williams emerged in the middle of the season and put down three straight WR2 weeks. Now Tyrell is banged-up and it's time for Mike to shine again. Last week Rivers found Mike Williams in the endzone twice. This week I expect more volume for Mike in a high scoring shootout between two HOF QBs. Projection: 5 receptions for 72 yards and 1 TD.
Tyler Lockett vs. SF – Lockett has been incredible this season. He has remained healthy all year and only has three games where he did not score a TD. This week he takes on Richard Sherman and the 49ers, but he should run circles around them. The 49ers are allowing an average of 25 fantasy points per game to opposing WRs, and Lockett has been the best WR on his team. Further, the Seahawks are still fighting for a playoff spot so Russell Wilson is going to continue to ball out and Lockett is a primary benefactor. Projection: 6 receptions for 79 yards and 1 TD.
Josh Reynolds vs. DET – Reynolds has filled in nicely for the injured Cooper Kupp this season. Since Kupp is on IR, Reynolds is a WR3 with upside every week. This week he faces the Lions who are going to matchup their best cornerback Darius Slay on Brandin Cooks. The rest of the Lions' secondary is terrible so Robert Woods (an obvious must-start) and Reynolds should see plenty of targets. Last game, he had six receptions for 80 yards on eight targets, and his role should continue to grow as he gets more comfortable in the offense. Projection: 6 receptions for 87 yards and 1 TD.
Bruce Ellington vs. LAR – This one is a volume play since Matthew Stafford is likely to throw it over 40 times on Sunday. Ellington has emerged since the departure of Golden Tate and the injury to Marvin Jones, and he's averaged eight targets per game over his last two. He should easily top that this week and finish as a WR3 with upside in PPR leagues. Projection: 8 receptions for 72 yards and 1 TD.
Adam Humphries/Chris Godwin vs. CAR – Jameis Winston is starting to find his groove and this week the Buccaneers are going to be in a shootout. Humphries and Godwin are in for a heavy workload since all of the defensive attention will be on Mike Evans. Further, the Panthers are allowing 24 fantasy points per game to opposing WRs and DeSean Jackson has been ruled out so expect Humphries and Godwin to see a bump in their usual targets. Projection: AH 7 receptions for 82 yards and 1 TD/ CG 6 receptions for 93 yards.
Josh Doctson vs. PHI – Doctson has been Colt McCoy's favorite receiver since Alex Smith was lost for the season. He's a physical wide receiver who is able to high-point the football and come down with contested catches. This week he faces the Eagles whose secondary is riddled with injuries. I expect him to see between seven and 10 targets on Monday night, and I think he has a good chance to get in the end zone. Projection: 6 receptions for 71 yards and 1 TD.
Christian Kirk vs. GB – The lone bright spot for the Cardinals recently has been Christian Kirk. He has out-targeted Larry Fitzgerald in back to back weeks, and he should be in line for a bump in targets this week since they will likely be trailing for most of this game. It appears that the Cardinals made the right choice with Christian Kirk, so look for them to feature him the rest of the way in order to build chemistry with Josh Rosen for 2019. Projection: 6 receptions for 83 yards.
Tight Ends:
Greg Olsen vs. TB – Olsen has been disappointing the past two weeks. He has failed to score more than 10 PPR points in back to back games, and last week he did not even reach 10 receiving yards. This week however, the Panthers take on the Bucs who are allowing the fourth-most fantasy points to opposing TEs. Olsen will bounce back in a big way this week. Projection: 5 receptions for 62 yards and 1 TD.
Jordan Reed vs. PHI – Reed has been McCoy's favorite target the past few weeks, and this Monday Night he is going to be heavily relied on if the Redskins stand a chance at beating the Eagles. Reed was limited in practice all week, but the Redskins fully expect him to be ready to play. Fire him up as a top-ten play this week. Projection: 7 receptions for 81 yards.
Matt LaCosse vs. CIN – This is a deeper league and Daily Fantasy Sports (DFS) dart throw this week. LaCosse is now a full-time starter due to the season-ending injury to Jeff Heuerman, and he should see between 6-9 targets each week. This week he faces the Bengals who are allowing the fifth-most fantasy points to opposing TEs. Projection: 5 receptions for 47 yards and 1 TD.
Defense/Special Teams:
Seattle Seahawks vs. SF – The 49ers do not even know who their starting QB is going to be, and Seattle is one of the toughest places to play on the road. I expect Seattle to have several sacks this week and force at least two turnovers.
Green Bay Packers vs. AZ – The Packers are a different team at home and they are going to be looking to destroy the Cardinals after a brutal divisional loss to the Vikings last week that basically ended their playoff hopes. The Cardinals are allowing an average of 16 fantasy points to opposing TEs, easily the worst in the league.
Denver Broncos vs. CIN – Von Miller and Bradley Chubb are going to eat Jeff Driskel for breakfast. I expect at least three turnovers in this game and I'd be shocked if the Bengals scored more than 13 points.
Sit Em'
Quarterbacks:
Matt Ryan vs. BAL – Ryan has cooled off recently and we as fantasy owners need to adjust our lineups accordingly. In his last five games, he has only surpassed two TDs once, and this week the Ravens are coming to town. Baltimore is the fourth-best defense versus opposing QBs, allowing an average of only 220 passing yards and 17 fantasy points per game. Ryan is going to have a mediocre day on Sunday so if you need a win to get into your playoffs you would be wise to look elsewhere. Projection: 241 yards, 2 TDs, 2 INTs.
Baker Mayfield vs. HOU – Mayfield went off last week for four TDs on only 26 pass attempts and he has back to back games with over a 143.0 Quarterback Rating. But this week you would be wise not to chase those points. Mayfield's recent QB1 performances have come against some of the worst pass defenses, but this week he takes on one of the best. The Texans are the fifth-best defense versus opposing QBs, and Baker is coming to their house. He may finish as a back-end QB1, but he is not going to be a top-ten option and help you get into your fantasy playoffs. Projection: 219 yards, 1 TD, 1 INT, and 32 rush yards.
Carson Wentz vs. WAS – Wentz is not the same player that he was in 2017 when he played at an MVP level until he tore his ACL. He lost is Offensive Coordinator and QB coach in the offseason and his production has suffered because of it. Over his last two games, Wentz has thrown for one TD and three INTs. Further, Head Coach Doug Pedersen has stated that he wants to get RB Josh Adams more involved going forward, which will limit Wentz's pass attempts even further. The matchup with the Redskins is a decent one as they have allowed an average of 20 points per game to opposing QBs, but with Golden Tate messing up the entire chemistry of the passing game and Josh Adams to see an increased workload, the smart decision is to fade Wentz this week. Projection: 268 yards, 2 TDs, 2 INTs, and 22 rush yards.
Matthew Stafford vs. LAR – Stafford has been terrible lately, averaging just over 10 fantasy points per game over his last four games. He also has three games with fewer than two TDs over the same span. Further, Stafford is down two starting WRs and a stud rookie RB so I expect a blitz-heavy approach from the Rams. If this game gets out of hand early, look for Stafford to make a bunch of mistakes when he is in catch-up mode. Projection: 310 yards, 2 TDs, 2 INTs, and 1 FUM.
Running Backs:
Marlon Mack vs. JAX – Mack is expected to clear the NFL's concussion protocol before the game on Sunday, but it is wise to fade him this week. The Jaguars seem to have given up on the season, but their run defense is still top of the league. Further, when Mack played the Jags in Week 10 they held him to 29 yards on 12 carries. I expect the Colts and Andrew Luck to take full advantage of the Jags secondary, and if Jalen Ramsey does not play then the Colts might pass it 40 times in this one. With your playoffs on the line, Mack is too risky to trust. Projection: 57 yards and 2 receptions for 19 yards.
Adrian Peterson vs. PHI – Since AP went off against the Giants in Week 8 he has been downright disappointing. Since Week 8, AP is averaging a measly 3.1 yards per carry and he has failed to top 68 rush yards over the same span. Further, the entire offensive line is banged-up, and Colt McCoy does not exactly strike fear into the hearts of defenses which leads to AP constantly seeing stacked boxes. You can't trust AP this week if you need a win to get into your playoffs. Projection: 49 rush yards.
Tevin Coleman vs. BAL – Coleman had a golden opportunity this year to prove that he can be a feature RB for another team and he flat out blew it. Coleman has only scored two rushing TDs on the year, and his last one came in Week 7. He managed to save fantasy owners last week with a last-second TD, but he still had under 11 fantasy points in a PPR. This week you must fade Coleman in a brutal matchup against the Ravens who have only allowed five rushing TDs all year. Coleman may have left millions of dollars on the table due to his mediocre performances this season, so do not let him ruin your title hopes by taking you RB spot in Week 13. Projection: 32 rush yards and 4 receptions for 31 yards.
LeGarette Blount vs. LAR – Do not go chasing the points with LeGarette Blount. He saw a season-high 19 carries last week, but the Lions were facing a backup QB and had the lead most of the game. In the four games prior, he did not have more than 7 carries in any game. This week the Lions are definitely going to be trailing and Theo Riddick should get the bulk of the RB touches in this one. If you have to start one of them this week, it is Riddick and it is not close. Projection: 34 yards.
Wide Receivers:
Ravens WRs vs. ATL – The Ravens are too and oh cents starting Lamar Jackson but the wide receivers have to suffer because of it. Willie Snead was the most productive WR the first week and it was Michael Crabtree last week, even though John Brown saw the most targets. It is a disaster that you must avoid if you need a win to get into your playoffs.
Eagles WRs vs. WAS – I have no idea why the Eagles traded for Golden Tate, but since he has arrived, the entire passing offense has been in disarray. Alshon Jeffery was a weekly WR2 and now you're praying that he gets a touchdown and avoids laying an egg in your lineup. The only person that you can trust in this passing game moving forward is Zach Ertz. Otherwise, you can't trust anyone else to get you into the playoffs or carry you through them once you make it.
Tyler Boyd vs. DEN – Boyd is going to have a tough matchup this week and it is wise not to trust Jeff Driskel to make him a viable fantasy starter. Boyd is also expected to see a ton of Broncos' cornerback Chris Harris in the slot. Further, A.J. Green is back this week so he will see most of the targets in the passing game, relegating Boyd back to role player status. Don't expect Boyd to put down his usual WR2 numbers this week, and likely moving forward. Projection: 4 receptions for 47 yards.
Jarvis Landry vs. HOU – Landry has been a colossal bust this season. He just can't get it done as the number one wide receiver in an offense. Even in PPR, he has struggled to score double-digit fantasy points. The last two weeks the Browns have played the Bengals and the Falcons, two bottom of the barrel pass defenses, and Landry combined for 10.2 PPR points. This week he gets the tough Texans' defense so it is not likely that he scores his third TD on the season (he had nine last year). This offense runs through Nick Chubb now, and until the Browns get a viable WR1 to take the pressure off of Landry, he is a FLEX at best moving forward. Projection: 4 receptions for 31 yards.
Sterling Shepard vs. CHI – Shepard has been decent this season considering how badly the Giants have struggled. However, he must be benched at all costs this Sunday. The Giants are playing the Bears this week who will sack Eli Manning at least four times. Shepard simply will not have enough time to let his routes develop this week. Its Odell Beckham and Saquon Barkley and that is it. Sit all other Giants. Projection: 3 receptions for 31 yards.
Tight Ends:
Jimmy Graham vs. AZ – Graham is dealing with a broken thumb that he has chosen to play through. If that was not enough of a reason to fade him this week, how about the fact that he has not had more than two receptions in any game the past three weeks, and he has averaged only 2 targets per game in that same span. Projection: 2 receptions for 24 yards.
Jonnu Smith vs. NYJ – Smith has been on fire lately, but think this is a huge letdown game for those hoping he can carry you into the playoffs. The Jets have two stud safeties in Jamal Adams and Marcus Maye, and they are allowing a putrid five points per game to TEs. I expect Smith to face tight coverage all game and come crashing back to earth. Projection: 3 receptions for 36 yards.
Questions and comments?
thescorecrowsports@gmail.com
Follow Us on Twitter @thescorecrow
Follow Us on Reddit at u/TheScorecrow
Follow Frank Dyevoich on Twitter @Fantasy_Giant
Main Credit Image: [getty src="1063384158″ width="594″ height="396″ tld="com"]