Matt Bishop | April 10th, 2019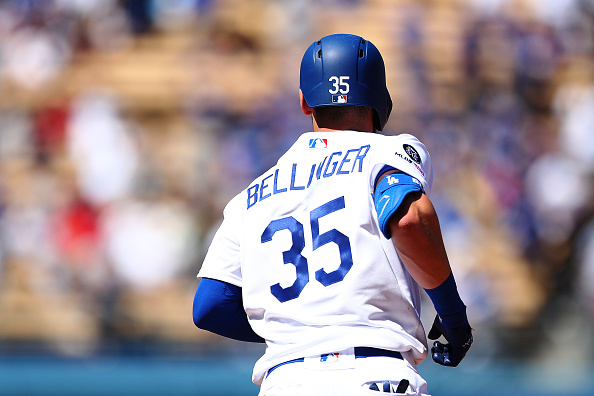 No, it doesn't. I'm totally kidding. Listen, dude. It's Week 1. I know it's easy to tell you not to panic when you lost by 100 or dropped 5 spots in your roto rankings, but Week 1 losses hurt and they cut you deep. And no matter how long the season is or how deep you think your team may be, you don't feel whole for a while. So there is really not much I can tell that you already don't know. But please remember that everything you are about to read should be prefaced with "I know it's a small sample size, but" and is simply an observation or highlight of something that is outside the norm compared to a player's career profile
WEEK 1 HITTING CATEGORY LEADERS:
Cody Bellinger, 1B / OF Los Angeles Dodgers 
.455/.489/1.023 (1.512 OPS) 7 HR 17 R 18 RBI
After taking home Rookie of the Year Honors in 2017 where he slashed .267/.352/.581 (.933 OPS) with 39 HR 87 R 97 RBI, Bellinger slumped hard in his 2018 sophomore campaign, hitting only .260/.343/.470 (.814 OPS) with 25 HR 84 R 76 RBI. But 2019 has brought new life for the sweet-swinging lefty masher, who currently leads baseball in almost every statistical category including home runs (7), runs (17) and RBI (18). Clearly a hot streak, but could this be his breakout season? Bellinger's chase rate at pitches outside of the zone (O-swing) is at 17.7%, which is a career low and almost 11% lower than his 2018 campaign. His swinging strike rate also resides at a career low 6.1%, which is down more than 6% from 2018. Both metrics are in the Top 20 in baseball and shouldn't be ignored. Not to mention his contact rate is at a career-high 85.5%, which is up 13% from last year. With a more patient plate approach and career-high contact and hard hit percentages, Cody Bellinger could sneak into the Elite Tier if this production continues.
Domingo Santana, OF Seattle Mariners
.311/.415/.622 (1.037 OPS) 4 HR 10 R 15 RBI 3 SB
After struggling to find playing time in Milwaukee and slumping hard at the plate in 2018, Domingo Santana was written off and forgotten. Only 1 year removed from a 30 HR / 15 SB season in 2017, the newly acquired Christian Yelich and Lorenzo Cain would occupy the Brewers outfield, delegating Santana to a bench role. He was later dealt to the Mariners in the off-season, where he was assured everyday at-bats. And the fantasy owners that reached for him in drafts this season were rewarded with a Grand Slam in the first game of the year in Japan. Santana is a big bodied power hitter with a good eye and patient approach at the plate (11% career BB rate), who can also chip in steals. His 36% flyball rate and 47% hard contact rates are both career highs and well above previous marks. Santana also strikes out at an alarming clip (31.5% career K rate), so if we see him maintain a strikeout rate around 20%, this might be for real. Everyday playing time can only drive his stock higher and this could be a career year.
Trey Mancini, 1B / OF Baltimore Orioles
.385/.432/.821 (1.252 OPS) 5 HR 11 R 11 RBI
It seems like Trey Mancini has been on everyone's breakout list for the last few years, but has underwhelmed his last 2 seasons in Baltimore. But Mancini has been scorching hot to start the 2019 season, slashing .385/.432/.821 (1.252 OPS) with 5 home runs, helping lead the lowly Orioles to a respectable 5-6 record in the AL East. His o-swing (28.6%) and swinging strike rate (10.7%) are at career lows, while his contact rate (77.3%) and hard hit percentage (43.8%) are career highs. Probably not very sustainable, but his 9% BB rate and 18% K rate are very encouraging. If the plate discipline continues to improve, a breakout could be possible.
Nomar Mazara, OF Texas Rangers
.258/.361/.516 (.877 OPS) 2 HR 6 R 7 RBI
56.0% HARD CONTACT
Here's another post-hype sleeper that everyone is waiting on, but this isn't about that. This is about the change that Mazara made to his batting stance. He was always a player with a wide-open batting stance starting his front foot almost outside the batter's box, never seeming to get set in his stance. This season, he has moved his front leg more towards the middle and appears to have his feet under him. This is dumb, I know, but there are a lot of smart people who are still very high on him. His 11% walk rate is already a career high, while his 16% K rate is a career low. Pair this with a 56% hard contact rate (9th best in MLB), when his hard contact has never even exceeded 37%. I know it's early, but this could be it.
I'm not going to write about pitchers this week because I'm a little sleepy, but I am going to say this. Trevor Bauer (0.64 ERA 0.57 WHIP 10.93 K/9 4.5 BB/9) is trolling us all and messing with our emotions. In his 2nd start of the young season, Bauer uncharacteristically walked 6 batters. The last time he walked 6 batters in a game was in 2015. This was also combined with a 31-pitch third inning, where he loaded the bases only to get out of the jam by throwing a barrage of breaking balls. I'm convinced that Bauer walked some of these batters on purpose only to troll his critics and show us how good his newly developed breaking pitches really are. If anyone would do it, you know it would be Trevor Bauer. With a full season of health, I don't see how he doesn't win the Cy Young.
Questions and comments?
thescorecrowsports@gmail.com
Follow Us on Twitter @thescorecrow
Follow Us on Reddit at u/TheScorecrow
Follow Us on Facebook at The Scorecrow
Follow Us on Instagram at The Scorecrow
Follow Matt Bishop On Twitter @Bishphat
Main Credit Image: [getty src="1139546140″ width="594″ height="396″ tld="com"]