Chazz Bradner | September 4th, 2018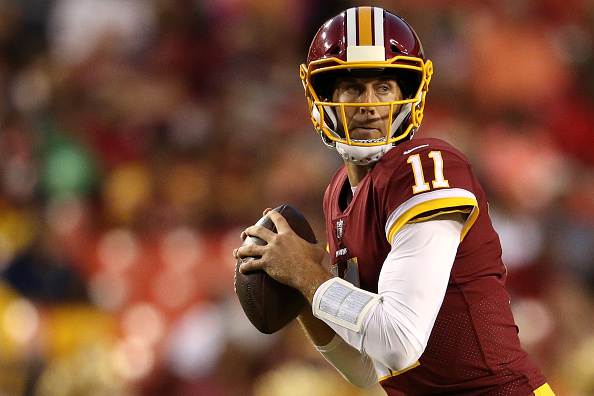 With the departure of Kirk Cousins and the addition of Alex Smith. Will the Washington Redskins finally make that push to becoming a playoff contender in the competitive NFC East?
Washington Redskins Season Preview
Recap of Last Season
The Washington Redskins were one of the many teams that were decimated with injuries last season, especially along their offensive line. The defense showed promise at times but was too inconsistent, especially when stopping the run. The offense could not function properly with the many injuries and the poor rushing attack, so they suffered mightily. Washington finished the season with an underwhelming 7-9 record, continuing to be the Jar Jar Binks of the NFC East.
Strengths This Year
The Washington Redskins greatest strength this year could possibly their greatest weakness of last season, the defensive line. Last year 1st round rookie out of Alabama, Jonathan Allen suffered a season-ending foot injury in week 6. Allen was able to register 10 tackles and a sack before being injured, but numbers do not give him his credit. Allen was a force clogging up running lanes, taking on double teams, and pressuring the passer. There was a noticeable difference once he became injured. That defensive line also contains Matt Ioannidis, who showed much upside last year and is looking to have a breakout season. Washington continued to show the man crush they have on the Alabama defense by drafting in the first round defensive lineman, Da'ron Payne. Looking on the offensive side, Washington added quarterback Alex Smith to now lead their team, who they received in a trade. Smith is a proven winner in this league, entering the playoffs 4 of the last 5 seasons. Smith is also coming off a lot of momentum, having his greatest season as a pro last year while in Kansas City. The Redskins offensive line, when healthy is one of the best in the league. When thinking about the offensive line, the first name that comes to mind is all-pro Trent Williams. Williams is arguably the best tackle in the game and is still in the prime of his career. Alongside Williams is up-and-coming guard Brandon Scherff and right tackle Morgan Moses helping to lead in the trenches. Chris Thompson is also a notable strength for the Redskins. Thompson racked up 244 yards on the ground, and 510 through the air before suffering a season-ending knee injury, but showed he can be one of the leagues most dynamic players when healthy.
Weaknesses This Year
With the season-ending injury to rookie running back Derrius Guice, the running back position desperately becomes a weakness this year. Though I said Chris Thompson is a strength for this team, he is only a 3rd down back. Washington still needs a bell cow to carry the workload. The Redskins decided to go with future hall of famer, Adrian Peterson. Now, when somebody hears future and the phrase "hall of famer" they automatically think positively. However, the Redskins were about 3 years too late. Peterson is now a 33-year-old running back who showed flashes of his former self last season. But flashes are not enough. Because of all the punishment running backs take, they practically age in dog years. Now at the age of 33, time is closing in and it should be close to pulling the plug on Peterson's career. Peterson ran for 529 yards and averaged 3.2 yards per carry last season before suffering a season-ending neck injury in week 12. Another weakness of this Washington team is their secondary. We all know what Josh Norman can do, but what about the other side of him? Quinton Dunbar will start as the other outside corner for the Redskins, and this leaves some fans a little worried. Dunbar has played well and shown much promise, but is he ready to step into such a big role? The Redskins sure think so since they cut the veteran, Orlando Scandrick in favor of the younger cornerbacks. This move also opened up the nickel corner spot for the young Fabian Moreau. Moreau has shown great upside and athleticism but will have to fill the big shoes of Kendall Fuller, which will not be an easy task.
Additions/Improvements
The Redskins are now led by veteran quarterback Alex Smith who replaced Kirk Cousins. Smith has had great success in the league and adds mobility and consistency to this offense. Smith is coming off his greatest season, throwing for 26 touchdowns to only 5 interceptions, leading the Chiefs to a playoff berth once again. First-round pick Da'ron Payne is also a big addition to this roster. Payne is a 320 lb tackle who did nothing but cause havoc while playing at Alabama. His specialty is stopping the run, and occasionally catching touchdowns from the backfield, showing off his sweet feet. Washington also drafted 6th round defensive tackle, Tim Settle to improve the line. Settle has shown even in the preseason that he can have an immediate impact on this defense.
Subtractions/Regressions
Of course, the first subtraction when thinking of this team is the departure of captain Kirk Cousins. Cousins has thrown for over 4,000 yards and at least 25 touchdowns in each of the 3 seasons he started. Those are not easy numbers to put up, especially with the lack of supporting cast he received from the Redskins the past couple years. Washington also lost nickel cornerback Kendall Fuller, who looks like he is becoming one of the young stars at the position. Fuller recorded four interceptions and shut down many slot receivers over the course of the season. This next subtraction might not count in the eyes of many people since he has not yet played an NFL play. However, Derrius Guice is still a huge subtraction for the Redskins. Guice tearing his ACL left Washington with a broken heart and scrambling for a running back to replace him.
Prediction
The Washington Redskins are a team that shows promise but are not great at any particular position group. They are lead by a proven quarterback, but history has shown us that in order for Alex Smith to be successful he has to have a reliable running attack. Last season when Kansas City running back Kareem Hunt ran for at least 80 yards they went 8-1. When Hunt ran for anything less than 80 the Chiefs went 2-5, it is essential for Washington to establish a consistent running threat. The defense should be improved from last season, but that amount of improvement might not be good enough to compete in the stacked NFC East. I see the Redskins finishing with a 7-9 record missing the playoffs once again. Though they should be improved as a whole, the Redskins are facing a grueling schedule that does not show any mercy, especially in the latter half of the season. The Redskins will remain the Jar Jar Binks of the NFC East for the time being.
Questions and comments?
thescorecrowsports@gmail.com
Follow Us on Twitter @thescorecrow
Follow Us on Reddit at u/TheScorecrow
Follow Chazz Bradner on Twitter @__chazz301
Main Credit Image: [getty src="1022799004″ width="594″ height="396″ tld="com"]